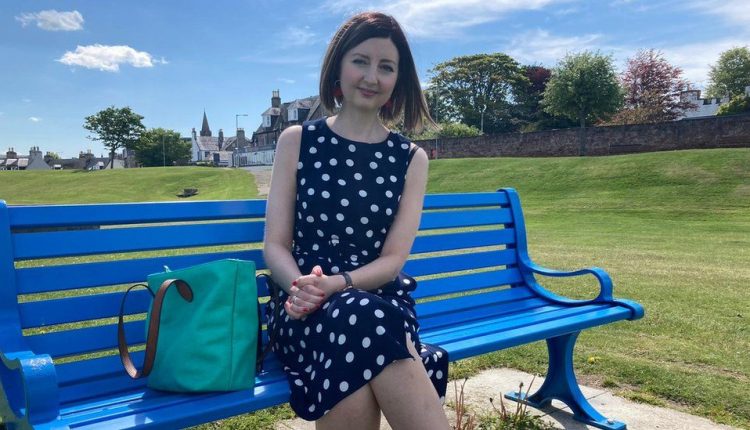 Patients with low immunity anxious despite vaccine
Kirsty Mills has been fully vaccinated against Covid but she is one of thousands of "immunocompromised" patients who are still not sure how effective it will be for them.
The 28-year-old was diagnosed with autoimmune hepatitis and liver cirrhosis about nine years ago.
Because of her condition she takes immunosuppressants drugs to block a substance in the body that can cause inflammation.
This means she has has had to take extra steps to protect herself from infection ever since for years.
"Prior to the pandemic, I was hyper alert to possible infections," she told BBC Scotland's The Nine.
"Now, I think coming out of shielding has made me slightly more anxious to be with bigger groups of people," the medical systems specialist says.
"I wouldn't be in a rush to join a nightclub or anything anytime soon."
Kirsty, from Nairn in the Highlands, has had both doses of the Covid vaccine but worries about how protected she will be.
"Having an immune-suppressed condition makes you realise that you can't plan perfectly for everything and the uncertainty of Covid is not a huge amount different to that."
Avoid exposure
Adults with weakened immune systems, or who are immuno-suppressed, are less able to fight off infections naturally. They include people receiving chemotherapy or radical radiotherapy for cancer and those with serious immune disorders.
Recent studies suggest they do not receive as much protection from Covid vaccines as other people.
They are being encouraged to receive one of the Covid-19 vaccines but are also advised+ to continue to avoid exposure to the virus.
"I think there is a maybe a little bit of doubt in my mind as to whether the vaccines are as effective in somebody like myself who takes immunosuppressants and has a bit of a funky immune system at the best of times," Kirsty says.
"I'm a bit wary that they might not have the same effect as somebody with a 'normal' immune system. There's a lot that we don't know at the moment."
Walking her dog, Poppy, on a nearby beach has been a comfort to Kirsty throughout lockdown but she is determined to see more of Scotland when she feels it is safe enough.
"If I was to dwell on it too much, I would just never leave the house again so it's a bit of a balance, I think," she says.
After being diagnosed with rheumatoid arthritis nine years ago, John Paton is still learning all there is to know about his condition.
"It's an incurable, progressive, inflammatory disease," he says.
Despite having both vaccines, the retired lawyer does not feel able to return to normality.
"I've been keeping away from other people and I still make sure I'm not in crowded places," he says.
"I don't feel as confident as other people do and I'm going to have to continue to watch how things evolve and make my own decisions."
The 68-year-old spends much of his time researching the latest Covid guidance for those who are immunosuppressed.
"It's changing all the time, even if you're paying real attention," he says. "There's an awful lot of misinformation going on and I'd have liked to have seen more consistent messaging."
Mr Paton, from Edinburgh, is worried about the impact of new variants.
"It's too soon to be absolutely assured that we're going to be safe if we mix," he says. "My rheumatologist said if you go through an airport, you're going through a petri dish.
"Having an immune-suppressed condition makes you realise that you can't plan perfectly for everything and the uncertainty of Covid is not a huge amount different to that."