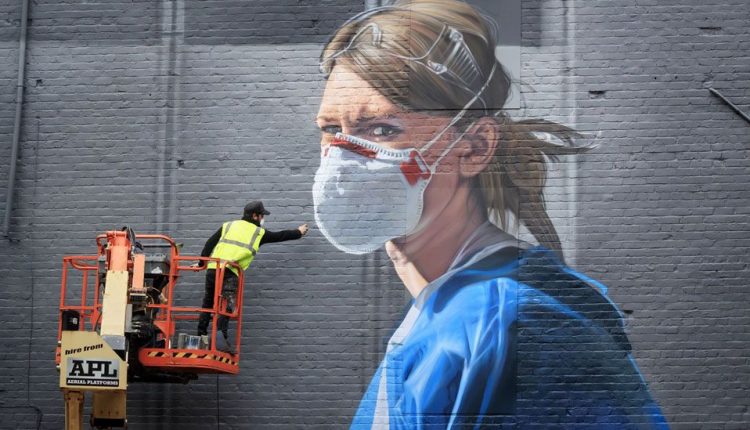 How significant is a day without Covid deaths?
This is the first day the UK government has formally announced zero coronavirus deaths since the pandemic began.
It sounds like a milestone worth celebrating and something we have all been waiting for – even as the variant first identified in India (now dubbed the Delta variant by the World Health Organization) spreads across the UK.
But if there is one thing we have learned about tracking coronavirus, it is that any figures that accompany it come with caveats.
Reports of daily deaths are often lower at weekends and at the start of the week because less counting takes place while statisticians are off – and adding in Monday's bank holiday will make this figure still less certain.
Just because no deaths were announced on 1 June does not mean for certain that no deaths actually occurred. Often the figures are revised once death certificates are examined for precise details of date of death.
But the situation has been transformed since the height of the second wave of the pandemic, when daily deaths were measured in four figures.
'Steady decline'
In the last three months, death rates, the numbers of people being admitted to hospital and catching the virus have all gone steadily in the right direction – down. And add to that the increasing numbers of people getting their first and second doses of vaccines.
100,000 deaths: Grim milestone in an abnormal year
The lives lost in a single day
Your tributes to those who have died
At the beginning of the year, the UK was in a very different place. We saw the devastating peak of the second wave, fuelled by the more transmissible Kent variant.
In the first week of January, for example, the average number of people who had had a positive coronavirus test stood at about 59,660 (this figure takes into account the daily average over a period of seven days). This compares with 2,270 in early May.
The picture in the UK's hospitals was similar. In mid-January there were some 38,411 patients with confirmed Covid-19 in hospital. By mid-May the figure was around 1,200.
Now, for the first time since September, that number has dipped below a thousand.
But make no mistake, that is a lot of people in hospital, some on ventilators. Sadly, not everyone will survive.
And in some parts of the UK the "Delta" variant from India is driving hospital admissions back up again.
'Better treatments, better trends'
When it comes to lives lost, in mid-January the average for people who had had a positive coronavirus test and died within 28 days of this test was 1,248.
Compare that with the daily average in early May when just 12 deaths were reported. It is a big decline.
Lockdowns, vaccinations, an improved understanding of coronavirus and better treatments have all helped bring down these numbers.
But as ever, there still needs to be a note of caution.
In the second wave of England's epidemic in the autumn and early winter, schoolchildren and young adults experienced a much faster rise in infections than other age groups – most likely because they had more opportunities to mingle.
Many under-50s are yet to have their jabs, with vaccination rates among people from ethnic minorities lagging behind the average.
The easing of lockdown may have an impact on infection rates, and we are still awaiting a definitive assessment of the impact of schools reopening.
And then there are emerging variants to contend with, including the Indian variant which has been causing spikes of infection in some areas.
Scientists advising the UK government believe it does spread more easily, although early data suggests vaccines remain effective after two doses.
The questions that experts will be trying to answer is whether they have got the balance of measures right and have put them in place at the right time to prevent things from getting out of control.
In fact, if we look solely at the current definition of "coronavirus deaths", there has been a moment a bit like this before – a day with zero deaths recorded at the end of July.
But at the time, the government in England was using a different definition (which counted any death after a positive test) and reported 38 of those deaths on that day.
All these deaths had happened more than 28 days after a positive test, so they are not counted by today's definition of a coronavirus death which occurs within 28 days of a positive test.
So if you go back and look at those July figures now, that was the first "zero deaths" day.
It just goes to show we cannot pin our hopes on a single figure or a single day. It might say "zero deaths" by the government's tally today, but that does not mean zero caution.
The ultimate message is things are getting better but it is not over yet.