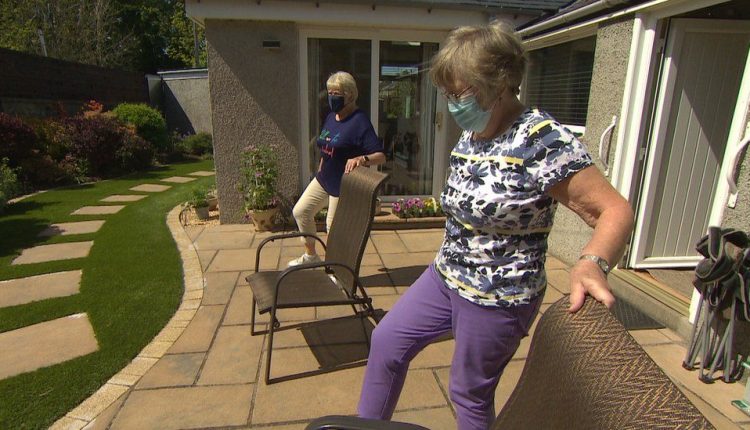 Lockdown may have led to loss of strength and mobility
Older people are in danger of losing the ability to do daily tasks because of the pandemic, according to experts in ageing at Strathclyde university.
The researchers say that after the closure of vital support services during lockdown, it is important that people get back to being physically and socially active as soon as possible, to stop any decline.
Two thirds of people over 50 say they are now less active than they were before the pandemic.
About half fear that spending so much time at home has led to a loss of strength and mobility, according to a new survey by Age Scotland.
Getting back in shape after the Covid lockdown
Long Covid fatigue 'cut by regular exercise'
Kathleen Hendry, 78, used to attend a strength and balance class run by occupational therapists in Aberdeen. But it had to be suspended because of coronavirus.
She says she's been struggling to keep her strength up.
"We need to get people back attending these groups where they can be physically, mentally, socially active for their health."
"My exercise has been quite different, not structured as you would have in the classes," she says.
"I really want to try and maintain my physical ability, absolutely, because I just want to go on. My mother lived to 104 and she was very, very active so I want to follow her role model."
Occupational therapist Janet Thompson says the loss of vital services is having an impact on older people's ability to live their lives to the full.
"What we are finding is that people are not as fit, they are not as able," she says. "Falls have gone up in older people as well, so we can see that there's going to be some work to do to get back to where we were."
'Hold off the ageing process'
To try to keep her motivation up, the OT team connected Kathleen with an app called LifeCurve, which reminds her to keep doing daily activities.
It's based on a model developed by researchers at Newcastle University, that says we lose the ability to do certain things in a particular order, as we age.
Early in the curve, a person would still be fit enough to go for a proper hike or a brisk walk. As they age, it would get harder to do things like cut their own toenails, cook a hot meal or do some light housework.
The older they get, the more they might struggle with just getting up and dressed or eating independently.
But the theory says the journey along this curve can be faster or slower, and that people can hold off the ageing process by keeping up these regular tasks.
'Less exercise and more TV' than first lockdown
'I'll never go back to the gym again'
The academics at Strathclyde University are now using the app to gather data on users' levels of activity, as Scotland emerges from the pandemic.
Researcher Susan Kelso says that even when we stop doing these activities for a while, if we pick them back up again, the ageing process can effectively be reversed.
'Killing with kindness'
She says: "There's an idea that, well I'm getting older so I kind of should be used to this, I'm not going to be as fit and active as I used to be, so I just have to accept that as part of getting older. Our message is, no you don't. If you've lost that ability, you can quite quickly get that back.
"There's that phrase of killing with kindness, you say, 'Och mum, you sit down, I'll make you a cup of tea, I'll go to the shops for you'.
"That's the wrong thing. Get your mum up, get your dad up, and say, 'You come with me to the kitchen, you come with me to the shops, and let's walk up and down the aisles and you can push the trolley for a bit of support.' And all of that will have a big impact over time on somebody's ability to stay active and mobile in later life."
Many support services and organised activities for older people are just getting started again as restrictions ease.
Brian Sloan from Age Scotland says almost half of the 3,000 people who responded to their survey had reduced their social interactions significantly, and 53% of respondents stated that the pandemic had made them feel lonelier.
He says the health impacts of loneliness are the equivalent of smoking 15 cigarettes a day.
"We need to get people back attending these groups where they can be physically, mentally, socially active for their health."
He says apps and technology can help.
"It's a combination of all these things and the great thing we have seen is where family and friends can play a part in this and help older people to embrace it."