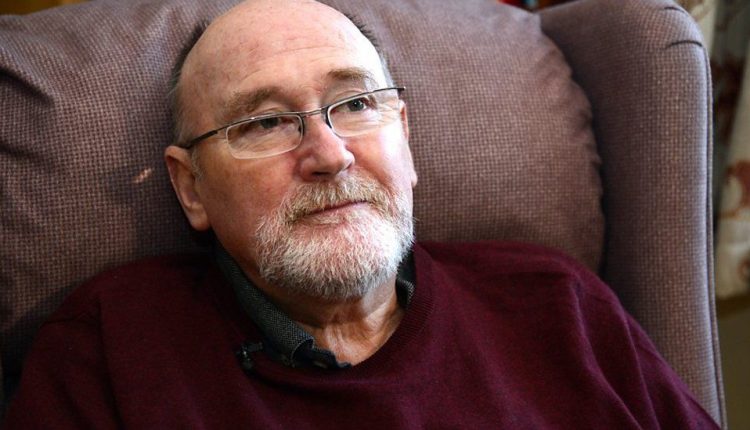 Assisted dying campaigner Noel Conway dies aged 71
Campaigner Noel Conway, who brought a legal challenge against the ban on assisted dying in the UK, has died at the age of 71.
Mr Conway, of Shropshire, had motor neurone disease and only had movement in his right hand, head and neck.
He took his campaign to the Supreme Court, arguing for his right to die, but lost the appeal in 2018.
His wife Carol said he had died at home on Wednesday after deciding with his family to remove his ventilator.
She said the local hospice team and ventilation nurses had "ensured Noel had a painless and dignified death, demonstrating empathy and concern for us all".
"Ultimately, Noel wanted the choice of an assisted death and I hope his campaigning will bring this option closer to becoming a reality for other terminally ill people in this country."
"Noel was in control, which was so important," Mrs Conway said.
"Ultimately, Noel wanted the choice of an assisted death and I hope his campaigning will bring this option closer to becoming a reality for other terminally ill people in this country."
He composed a statement in which he said his quality of life "has dipped into the negative".
He asked Dignity in Dying, which supported his legal action, to release his final words after his death.
"My voice has depleted to the extent that many people cannot now tell what I say and my eyesight recently deteriorated," he wrote.
"I'm already a paraplegic and I cannot use my hands or fingers but I am aware that my neck muscles are weakening as are my mouth and speech muscles.
"I recognise that the time has come to take the decision now to do something about this.
"I am not leaving it until I'm completely bed-ridden and unable to communicate at all."
He wrote how he felt he had "no alternative to ending my life without pain and suffering and without compromising others".
"This is not something I would have chosen."
Mr Conway, a former lecturer, argued the current law is an unjustifiable interference with the right to respect for private life under the European Convention on Human Rights.
However, in September 2018 his legal battle for reform ended when the Supreme Court rejected his bid to appeal against a High Court ruling that refused him the option of assisted dying.
He wanted a doctor to be allowed to prescribe a lethal dose when his health deteriorated, but the current law means any doctor who did so risked 14 years in prison.
After the ruling, he said his remaining options were to "effectively suffocate" by removing his ventilator, or spend thousands travelling to the Dignitas assisted dying clinic in Switzerland to end his life and have his family risk prosecution.
Should there be a right to die?
Assisted dying: What is the law outside the UK?
I face unbearable death, man tells court
Mrs Conway said her husband had been left with "considerable anxiety" when he had decided to remove his ventilator on Wednesday due to "the uncertainty over how long this would take for Noel and what he might experience".
In his statement, Mr Conway said he understood it could take him up to eight hours to die after removing his ventilator.
Mr Conway was totally dependent on it to breathe and Dignity in Dying released a statement to say he had taken it off to hasten his death.
The campaign group paid tribute to Mr Conway, saying: "Noel will be remembered as a loving husband, father, grandfather, friend, lecturer, mentor and for playing an instrumental role in bringing us closer to having a safe, compassionate assisted dying law in this country."
The campaigner, who lived in Garmston, near Shrewsbury, spoke openly about how he felt "entombed" by his illness since his diagnosis in 2014 and could not accept the standard of living he expected at the end of his life.
His case was among several high profile attempts to challenge the UK's law on assisted dying, and divided opinion.
Care Not Killing, which had opposed Mr Conway's appeal, argued his case failed to give enough weight to "the sanctity of life" and that a complete ban on assisted suicide and euthanasia was the safest law.
If you have been affected by any of the issues raised in this article, support is available via BBC Action Line.