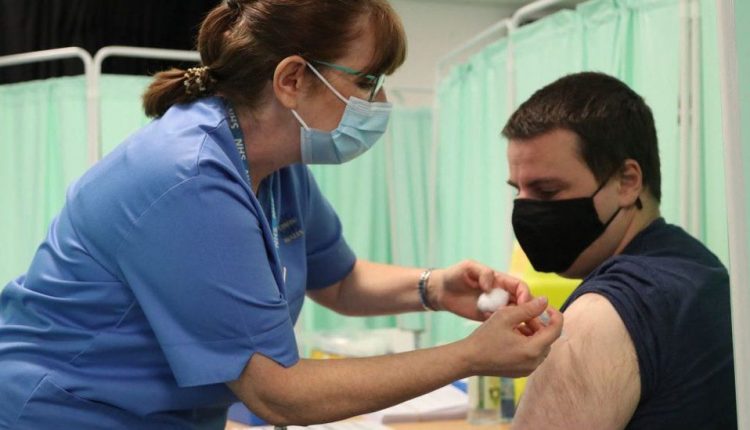 Covid vaccination: All adults in Wales offered first jab
All adults in Wales have been offered a Covid jab, which the Welsh government says is six weeks ahead of schedule.
Data published by Public Health Wales on Sunday shows 2,213,050 people have been given a first vaccine dose – 70.2% of the population.
Wales' vaccine rollout is ahead of every world nation with a population of more than one million people.
Health Minister Eluned Morgan said reaching the milestone before the original July target was "remarkable".
Wales remains ahead of the other UK nations in the total proportion of the population given a first jab.
Clinics are now accelerating second doses amid growing concerns about the spread of the delta variant.
Third covid wave inevitable, warns health minister
How many people have been vaccinated in Wales?
Social distancing could remain in Wales all year
"Wales is leading the world when it comes to the percentage of our population who have been vaccinated," said Baroness Morgan.
"However, we are not being complacent. I want to encourage younger adults to take up this offer of the vaccine and we don't want to see anyone left behind.
"We are keen to see 18 to 39-year-olds vaccinated and hope to reach our milestone of 75% take-up in this age group by the end of this month.
"Please take up your vaccine appointment; it offers protection to you, your loved ones and your communities and it is our best route out of the pandemic."
"We are worried about the black-Caribbean and black-African up-take, in the middle years.
We are appealing that vaccination matters for black lives because you are more at risk."
In the meantime Wales' case rate has risen again, climbing to 15 per 100,000 people, the highest since 16 April.
This is not unexpected, give the easing of restrictions and is still well below the other UK nations and all English regions, though concerns are growing over the spread of the Delta variant.
Officials plan to offer second doses to adults by September, while jabs for schoolchildren and boosters for older groups may be offered in the autumn.
First Minister Mark Drakeford promised the second jab programme would be as quick as the first, if supplies allow.
Wales is slightly behind England and Scotland when it comes to fully vaccinating people. In all, 1,378,010 people (43.7%) in Wales have now had a second jab.
While take-up in some groups is exceptionally high, such as 90% among over-50s, there is concern that some people have still not accepted a vaccine.
Will people in Wales get booster jabs?
The head of the Welsh government's vaccine programme said planning was already underway to begin offering a third booster jab from September – or possibly sooner if supplies allow.
Volunteers in Wrexham have already been given a third Covid vaccine as part of a UK-wide trial.
"We are planning for various scenarios. That will involve supply, whether people have the same vaccine as they had the last time and who will get done," said Dr Richardson.
"We know the most vulnerable, those over-80, those in care homes, the groups that were one to four, they would be the first in line because they were the first to have the vaccine."
'Concern for minority groups'
Dr Richardson, however, she was worried about low vaccination rates among some ethnic minority communities and deprived communities.
"We are doing a lot of engagement trying to understand why some people are not taking up the offer," Dr Gill Richardson told BBC Radio Wales.
"We know there are pockets, particularly in some of ethnic minority and our most deprived communities.
"We are worried about the black-Caribbean and black-African up-take, in the middle years. We are appealing that vaccination matters for black lives because you are more at risk."