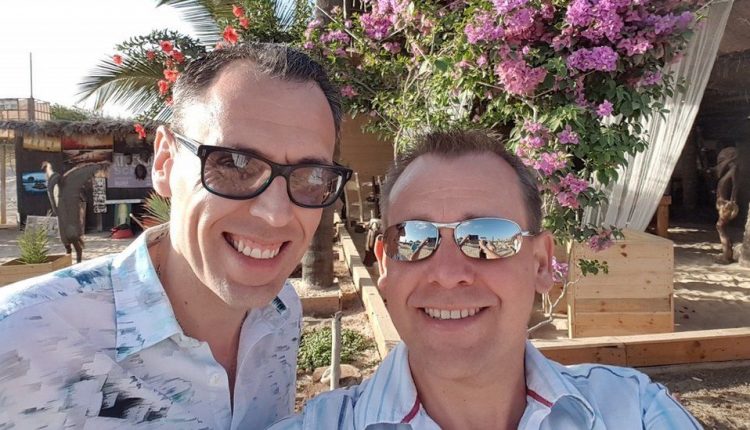 Blood donation: Gay couple 'thrilled' after rules change
Married couple Carl and Martin have given blood in what the Welsh Blood Service has described as a "landmark" moment.
Until now men who have sex with men had to wait three months before donating.
From today, gay men in sexually active, monogamous relationships can donate for the first time.
Anyone who has had anal sex with a new or multiple partners in the past three months will have to wait three months to donate – regardless of their gender.
It follows a review by the Fair (For the Assessment of Individualised Risk) steering group, which concluded switching to an individualised, gender-neutral approach was fairer and maintained the safety of the blood supply.
The review's recommendations are to be implemented by all four UK nations.
"These changes are welcomed, but there is still a great deal of work to do in achieving absolute equality in the blood donation space."
'Thrilled'
Carl, from Newbridge, in Caerphilly county, said beforehand: "I am absolutely thrilled to be booked in to donate under these changes…
"It is only fair in today's society that everyone's behaviours should be treated the same and not by the gender of their partner."
His husband Martin added: "Today is a very special day for Carl and I.
"Together we can now make potentially lifesaving donations to help patients in need."
He said his own family had benefited from blood donation in the past: "My father had numerous blood transfusions and I am forever grateful to those donors for their support.
"My niece also received many blood transfusions during her treatment for leukaemia – she is now thankfully in full remission and I am absolutely delighted to potentially help someone like her recover from such a serious illness."
LGBT campaigner Shane Andrews from Cardiff is also booked to donate for the first time on Monday.
He said: "I am delighted… today is my first donation but it definitely won't be my last.
"I feel honoured to commence my lifesaving journey on World Blood Donor Day but also during Pride month."
The Welsh Blood Service said it needed about 350 blood donations each day to maintain a steady supply of vital blood and blood components to 20 hospitals across the country.
Its service director Alan Prosser said: "We are thrilled to mark World Blood Donor Day by welcoming more people into our lifesaving team of blood and platelet donors.
"From today, more people can safely donate thanks to a new and fairer eligibility criteria.
"Whilst blood services are not responsible for setting the rules around donation, we are delighted that our work in collaboration with the Fair steering group has led to the new regulations."
Zoe Gibson, head of nursing at Welsh Blood Service, said: "Patient safety is at the heart of everything we do.
"All donations are tested for significant infections before they are sent to hospitals to maintain the safety of the blood supply chain."
Blood Equality Wales said: "It is great to see these changes coming into force, especially after so many people in the LGBT+ community have fought and campaigned for changes to the rules around blood donation for such a long time.
"These changes are welcomed, but there is still a great deal of work to do in achieving absolute equality in the blood donation space."
Davinia Green, director of Stonewall Cymru, also welcomed the changes, saying: "This represents an important first step towards a donation selection policy entirely based on an individualised assessment of risk."
What questions will potential blood donors now be asked?
Before donating blood, people will have to complete a donation safety check and will be asked whether, over the last three months, they have:
Had a sexually transmitted disease (including gonorrhoea)
Taken part in chemsex (defined as sexual activity, often in groups, under the influence of stimulant drugs, excluding cannabis, alcohol and Viagra, to enhance sexual experience)
Had anal sex with multiple partners or a new sexual partner with or without a condom or other protection.
If the answer is "yes" to any of these questions, they will not be eligible to give blood for another three months.
In addition, they will be asked whether they:
Regularly have anal sex with or without a condom or other protection with more than one person
Take pre-exposure prophylaxis for HIV (Prep) continuously
Have ever had syphilis
If their answer is "yes" to any of these questions, they will not be eligible to give blood.
In order to become a blood donor you must also be in good general health, over 17 years old and under 66 years old for your first donation, and weigh at least 50kg (7st 12lb).
Other reasons that can prevent you from being able to give blood include being pregnant or having a tattoo, piercing or semi permanent make-up in the past 120 days.
People can check their eligibility to donate online.