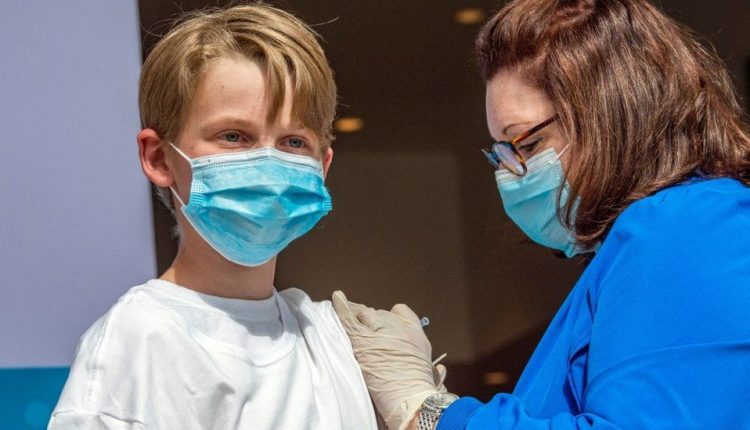 Covid: Children aged 12-17 unlikely to be offered vaccine in UK
Mass vaccination of 12 to 17-year-old children against Covid-19 is unlikely to be recommended soon, the BBC understands – but certain groups of children may be offered a vaccine.
Official advice from the UK's vaccine committee, the JCVI, to the government is expected shortly.
The reason behind the decision is unclear, but children are known to be at extremely low risk from the virus.
Vaccinating all over-18s with a first dose by 19 July is the aim in England.
Across the UK, giving first doses to as many adults as possible and bringing forward second doses, is now a priority.
There has been much speculation over whether children were going to be included in the UK's mass vaccination programme against Covid-19 after regulator the MHRA approved Pfizer's use in 12 to 15-year-olds recently.
But the Joint Committee on Vaccination and Immunisation (JCVI) – the committee of UK vaccine experts which advises the government on the best approach – has not yet made any formal recommendation as to whether all teenagers should be vaccinated.
"We will be guided by our expert advisers, and the government has asked the JCVI for its formal recommendation. We will update in due course."
Current advice is that 16 to 18-year-olds can be offered a Pfizer jab if they are in a priority group, or live with someone who has a weakened immune system.
The committee may be waiting for more safety data on children who have been vaccinated in other countries, such as the US, before making its decision.
Should all children get a Covid vaccine?
How can I get my second jab sooner?
Jabs to be compulsory for England care home staff
The MHRA's approval was based on trials of the Pfizer vaccine in 2,200 adolescents in the US which showed it was safe and effective, but this is a relatively small number.
At the same time, the UK's stock of Pfizer and Moderna vaccines is being prioritised for adults aged 18 to 40 – who are not being offered AstraZeneca – meaning supplies available for children are currently low.
However, for the experts there are a whole host of factors to consider, including the benefits and risks for children, as well as other wider ethical issues.
'Finely balanced issue'
Children's risk of severe disease from Covid is tiny, deaths are extremely rare and have only occurred in children with profound underlying and life-limiting conditions. The direct benefits to them of vaccination would be low.
Some people question whether it's morally right to vaccinate children in the UK, when so many millions of other people in the rest of the world are still unvaccinated.
On the other hand, vaccinating children could reduce infections across society, help protect adults and the vulnerable who are most at risk, and keep schools open.
"This is a very finely balanced issue and a difficult decision," says Prof Calum Semple, professor of outbreak medicine and child health from the University of Liverpool, who is also a member of the scientific advisory group, Sage.
It's possible the government is not rushing any decision because it wants to see the impact of vaccinating all adults in the UK on virus cases, which have been rising steadily since the end of May.
A target of giving two doses to two-thirds of the UK's adult population was set by the prime minister on Monday – but that is principally the over-40s, who are due to receive the AstraZeneca vaccine.
There are concerns there are not enough Pfizer or Moderna vaccines to start vaccinating younger age groups any earlier.
A Department of Health and Social Care spokesperson said: "No decisions have yet been made on whether people aged 12 to 17 should be routinely offered Covid-19 vaccines.
"We will be guided by our expert advisers, and the government has asked the JCVI for its formal recommendation. We will update in due course."