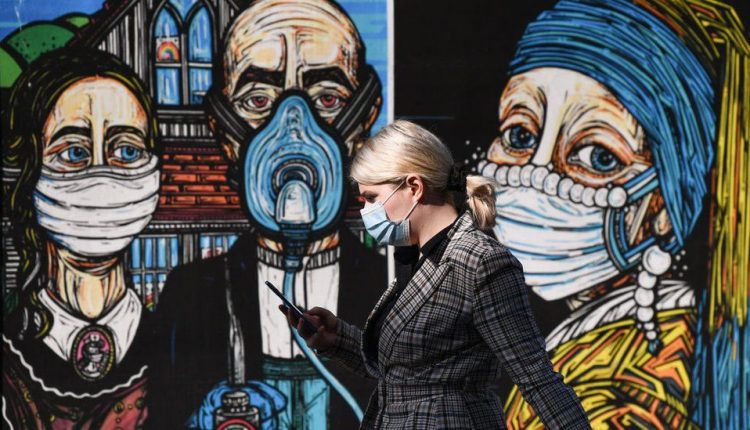 Is the coronavirus pandemic over at last?
Everything changed as we endured wave after wave of Covid infection – school, work, healthcare, holidays, even hugs – but as Scotland loosens most of its remaining restrictions, is the coronavirus pandemic over at last?
"Nearly", says Francois Balloux, director of the Genetics Institute at University College, London.
While he predicts "a few flares and outbreaks" in Europe this winter, Prof Balloux says he is "pretty confident" that in countries with high rates of vaccination, including the UK, the pandemic phase of the virus will be over by the spring.
"We are seeing the lights at the end of the tunnel," he reckons.
Those lights first glimmered in the depths of winter when the UK became the first Western country to authorise a mass vaccination campaign.
It was too late to stop a winter wave of infections, which peaked in Scotland in January with an average of 65 people dying with Covid-19 each day.
"Things were tough before. They're phenomenally tough now."
But since then, nine in 10 adults in Scotland have received one shot of a coronavirus vaccine and more than seven in 10 have had both doses, a similar story as for the United Kingdom as a whole.
According to Our World in Data, a website tracking the pandemic, this makes the UK one of the best-protected major nations on earth, along with Canada and Spain.
The effects have been dramatic. This summer saw an even bigger wave of recorded cases than the winter, peaking on 30 June. This time though deaths didn't come anywhere near 65 per day. In fact they never rose above a daily average of eight.
So does this mean we are approaching "herd immunity", that point when so many people have protection from Covid, thanks to antibodies generated by vaccination or infection, that the virus runs out of bodies to infect?
"No", says Lauren Ancel Meyers, director of the University of Texas Covid-19 Modelling Consortium.
In fact, she tells BBC Scotland's The Nine, achieving herd immunity is now "probably impossible" because of the highly transmissible Delta variant of the virus and its potential to infect the 85% of the world's population which is not yet fully vaccinated as well as some vaccinated adults in so-called breakthrough infections.
So while the existing vaccines may have enabled us to reach herd immunity with earlier strains of the virus, Delta, it seems, is just too transmissible.
"It's looking unlikely that we'll ever get to a point around the globe that we have enough immunity that Covid goes away for good," says Prof Meyers.
Prof Balloux agrees that the virus will become "endemic", joining the 200 or so other seasonal respiratory viruses in circulation, although whether it will be more like a light cold or a serious influenza is difficult to tell at this stage.
"You already see the dramatic drop in hospitalisations and death," he says, adding: "I appreciate it sounds terrible but eventually everyone will have been infected, probably more than once."
"These vaccines are very good, but they don't block transmission completely."
That last point is backed up by a paper published on medRxiv on 31 July (which has yet to be peer reviewed and should therefore be treated with some caution) in which scientists in the US state of Wisconsin suggest vaccinated individuals who become infected with Delta may pass the virus to others.
The danger in this scenario, argues Prof Meyers, is the emergence of another variant which dodges the existing vaccines not only in terms of transmission but in its ability to cause severe illness and death.
"As long as the virus is circulating either in pockets in our own communities or in other parts of the world, we will face the risk of emerging variants that evade the vaccines that we're using today," she warns.
"We know this virus is highly mutable and it can change in ways that make it spread faster, that make it potentially deadlier, that make it look unfamiliar to our immune system. Those are very plausible scenarios."
Prof Balloux is not so concerned. He thinks a "slow drift" in the evolution of the virus is more likely and just now he is "pretty confident" that there will not be a sudden mutation creating "a super virus".
Either way, as more and more adults are vaccinated, there is now a growing focus on children, with questions about the extent to which they are spreading the virus.
Vaccinations are now being offered to 16 and 17-year-olds and the requirement for entire school classes to self-isolate following a positive test is being relaxed.
'Angry and frustrated'
Huda, who is 10 years old and lives on the southside of Glasgow, has had to self-isolate from her school four times, as well as going into quarantine twice more with her entire family.
She says: "Most of my life I've been really happy but ever since Covid came I've been really angry and frustrated with it."
"I think now's the right time to be lifting restrictions", adds her father Omar who worries about what he calls a potential economic and mental health tsunami.
"I feel it should be done slowly," says Huda's mother Ammara. "I like that it's going at a slower pace. I feel like if it went too fast, there might be another surge."
In the United States there is another surge right now, with cases concentrated in states with relatively low vaccination rates, including the giants of Florida and Texas which together are home to some 50 million people.
"Our hospitals and our [intensive care units] are filling at an alarming rate," says Prof Meyers, referring to the situation in her home city, the Texan state capital Austin.
Right now and in the coming years, she says, the communities and countries which cope best with Covid will be those with well-informed citizens willing to adapt rapidly to such surges by quickly re-introducing mask-wearing, mass testing and social distancing.
'Incredibly busy'
Even here in Scotland, where the number of Covid patients in hospital is now well below the levels of the first wave in spring 2020 and the second in January 2021, the pressure on health services remains intense, according to public health experts.
Hospitals, surgeries and other services are "incredibly busy" says Jackie Hyland, health protection consultant for NHS Lanarkshire.
Infection control measures such as limiting the number of patients who can enter GP surgeries at any one time have led to delays in community care which in turn have resulted in more patients seeking treatment at emergency departments, sometimes unnecessarily, says Dr Hyland.
"In a lot of ways, the whole system has actually ground to a halt," she adds.
"Things were tough before. They're phenomenally tough now."
The National Health Service will be living with the legacy of Covid-19 for years to come says Dr Hyland, who wants patients to help out by using services appropriately and being kind to NHS staff, some of whom she describes as exhausted and traumatised.
Dr Hyland also says people should get tested regularly to identify and help control outbreaks – and they should have a Covid vaccination.
She too anticipates the virus becoming endemic and expects to manage it from a public health perspective like any other respiratory virus, taking action to stop clusters from running out of control, and identifying and protecting the most vulnerable patients.
It feels as if we are moving into a new phase in which developed nations at least are now in a much better place to deal with Covid than they were in the dark, early days of the pandemic when an effective vaccine was a dream not a promise.
So while Covid may not be over yet, there is hope it seems.
"We have the medical resources," says Prof Meyers. "We have the knowledge."
You can watch James' full report on The Nine on the BBC Scotland channel at 21:00 on Monday.