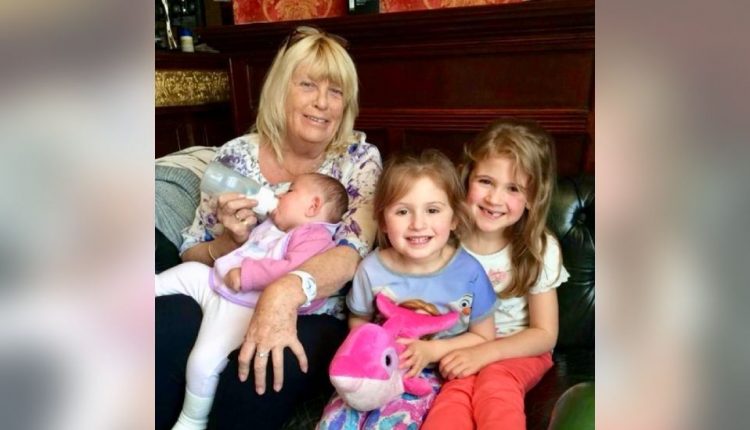 Rhyl cancer patient suffered from 'alarming failings' at Glan Clwyd Hospital
Significant failings by hospital staff led to avoidable suffering for a cancer patient before her death, a report has concluded.
Ann Jones, 69, of Rhyl, died in August 2019, with bowel cancer.
However the Public Services Ombudsman found complications after surgery were not properly identified and weight loss blamed on psychological factors, rather than the pain of a bowel obstruction.
Betsi Cadwaladr University Health Board has apologised to Mrs Jones' family.
The report, which refers to Mrs Jones anonymously as Mrs M, said it was impossible to know if she could have been saved had she been correctly diagnosed.
"The council fully accepts the findings and recommendations made in this report and we are making sure these are implemented with the relevant staff and departments involved."
However it added: "The uncertainty surrounding whether an opportunity to surgically intervene was lost… [and was] an injustice to Mrs M and her family."
It added: "These failings impacted upon [her] human rights in terms of her dignity but also her quality of life. There was also an impact on the patient's family's rights in terms of witnessing her debilitating decline."
The report has brought only some consolation for Mrs Jones' family.
"The most relevant part is that she shouldn't have suffered," said her daughter Charlotte Finlay.
"I don't think anything stays with us more than that. She should not have suffered for eight to nine months with that pain. There should've been more done."
Mrs Jones underwent colon surgery in February 2019 at Glan Clwyd Hospital in Bodelwyddan, Denbighshire.
Catalogue of failings in cancer patient's care
Longest A&E waits in nine years as admissions rise
Woman's death leads to health board warning
She returned home but was readmitted in May before being transferred to Llandudno Community Hospital.
She went home again in July, only to return Glan Clwyd Hospital on 3 August.
By then she was deemed too unwell to survive surgery and died on 24 August of acute peritonitis – inflammation caused by an infection.
"She had scans as early as March and the results show that she had a blockage of her bowel when she could've been strong enough to be given the chance for an operation back then," said Mrs Finlay.
"As a family that'll never leave us, that question of 'would she be here if she would've been operated on in March?'"
Ombudsman Nick Bennett later added: "This tragic case involved an alarming, systemic misdiagnosis. Numerous significant failings and deficiencies took place before, during and after Mrs M's discharge from hospital."
Denbighshire council was also criticised for the inadequate home care support offered to Mrs Jones when she was discharged from hospital.
A further complaint that both the health board and council failed to issue a co-ordinated response to the family after Mrs Jones died was also upheld.
The council issued their response six months after the health board.
The report recommended both organisations give fulsome apologies to Mrs Jones' family, that the health board paid £5,000 for the distress caused, and staff were given feedback and training to learn lessons from what happened.
Gill Harris, deputy chief executive at Betsi Cadwaladr University Health Board, said: "We sincerely apologise for the failures in care and for the way the subsequent complaint was handled.
"We accept the findings and recommendations in full and we are currently working with the relevant clinical teams to implement the necessary improvements."
Denbighshire council said it was "sincerely sorry" for the distress caused to the family and had issued a written apology to her husband.
A council official added: "The council fully accepts the findings and recommendations made in this report and we are making sure these are implemented with the relevant staff and departments involved."