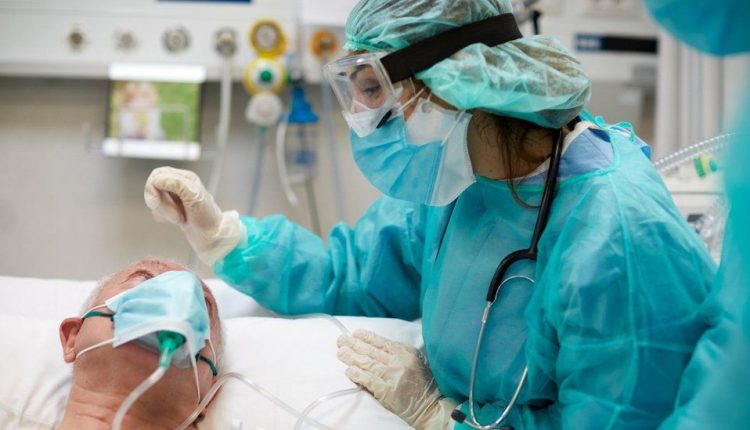 Huge gulf in hospitals' ability to contain Covid
A major analysis of the spread of Covid within hospitals has shown a massive gulf in ability to contain the virus during the first wave.
Overall, more than one in 10 people in hospital with Covid actually caught the virus while they were there.
But the analysis of 314 UK hospitals showed that ranged from just one in 100 cases caught in hospital, to more than one in four.
The researchers said the wide variation needed "urgent investigation".
"Even hospitals with literally thousands of patients coming in there are
outstanding examples of infection control."
Stark difference
The study, by nine UK universities and published in the Lancet, analysed hospital data from two-thirds of Covid patients in the first wave.
They estimate between 5,700 and 11,900 people were infected in hospital.
"There will be tragedy behind this story, people that came into hospital with one problem, caught Covid and sadly died," one of the researchers, Prof Calum Semple, from the University of Liverpool, said.
There was a stark difference between general hospitals, which the researchers said could not be explained by the number of patients coming in the door.
Reliable tests
"Even hospitals with literally thousands of patients coming in there are outstanding examples of infection control," Prof Semple said.
"There's a number of factors – we know there were challenges around PPE [personal protective (or protection) equipment] at the start."
The design of some hospitals – such as those with more side rooms – would also affect how easy it was to contain Covid.
The availability of testing, which is now used to separate Covid and non-Covid patients, may also have been an issue.
"Reliable tests in the emergency department, that come back within the hour, has been a game-changer and has made my life a million times easier," critical-care consultant Dr Annemarie Docherty, from the University of Edinburgh, said.
More infectious
Specialist residential hospitals had even bigger challenges with the virus spreading.
More than two-thirds of Covid cases in mental-health hospitals were caught there.
Things are improving, though.
The average proportion of cases caught in hospital was 11% in the first wave but now stands at 2-5% despite the emergence of the more infectious Delta variant, first identified in India.
Part of this will be down to understanding of the virus and how it spreads, such as airborne and asymptomatic transmission, that has emerged since the early days of the pandemic.

Dr Doherty said: "The underlying reasons for these high rates of transmission in hospitals at the peak of the first wave must be investigated, so that we can improve safety and outcomes for our patients.
"Rates are considerably lower a year on, and people should not be deterred from attending hospital if they are unwell."
A spokesman for NHS England said infections were proven to be less common in hospitals than other places.
"Hospital infection rates account for less than 1% of all Covid cases since the pandemic began and since asymptomatic tests kits were made available for the first time by the government's test-and-trace programme in November, millions of staff have been tested to help to keep infection rates as low as possible," he added.