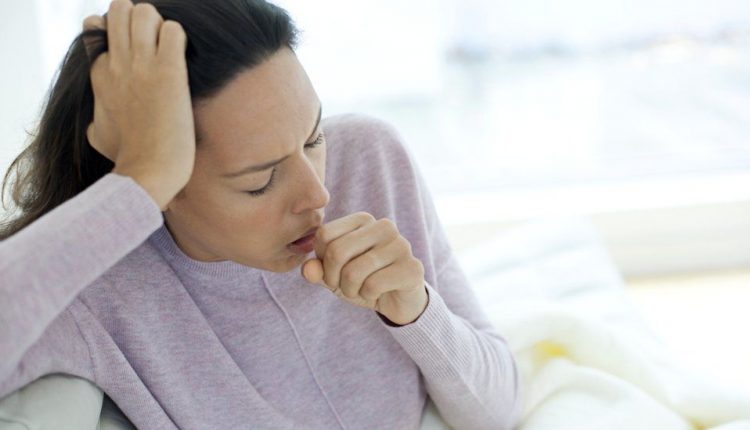 Don't ignore cancer signs, says new NHS England boss
Tummy pain or a cough that does not go away could be cancer and these symptoms should be checked out, the new head of the NHS in England is urging.
Thousands of people could be risking their lives by delaying seeking medical help, Amanda Pritchard says.
Cancers detected at an early stage can often be treated quickly and easily.
But research suggests three in five people don't want to bother the NHS, while others are simply not aware of common cancer symptoms.
NHS England chief executive Ms Pritchard said cancer services were now "running at full speed with new, innovative ways of working in place".
However, over the past year 10% fewer people than normal have started cancer treatment in England and people are being encouraged to come forward.
"What we need is for GPs to have better access to diagnostic tests in
the community and training to use them appropriately so that our decision to refer
can be as informed as it possibly can be."
Signs and symptoms
Experts believe abdominal cancers – throat, stomach, bowel, pancreatic, ovarian – and urological cancers – prostate, kidney and bladder – are the most likely to go unrecognised.
They account for 44% of all cancer diagnoses and two in five deaths from cancer in England, NHS figures show.
Possible signs of these cancers include:
discomfort in the tummy area for three weeks or more
persistent diarrhoea
constantly feeling sick
blood in your urine
If you have any of these symptoms for three weeks or more, you are advised to tell your GP.
Any other unusual changes, such as a lump in the tummy area, post-menopausal bleeding, or unexplained weight loss, can also be signs of cancer and mean you should speak to your GP.
Lung cancer symptoms, which are often missed, include:
a cough for three weeks or more that is not Covid
chest infections that keep coming back
coughing up blood
tiredness or lack of energy that does not go away
'I could have been in a much worse position'
Declan Goddard, a police officer and kidney cancer patient, said he was leading a healthy life when he was diagnosed aged 43.
"If you do have something really quite minor that's bothering you, it's definitely worth getting it checked out.
"If I hadn't, I could have been in a much worse position now," he says.
Declan had no symptoms but he went along to his GP with a minor bladder issue and that's when his cancer was picked up.
He said his treatment had not been disrupted by the pandemic and the staff had been fantastic.
"You get a specialist nurse contact. You can always get a message to the consultant provided for you – and it's just quite straightforward. It's just very slick really."
Face-to-face appointments
Prof Peter Johnson, national clinical director for cancer at NHS England and NHS Improvement, said although GPs were "incredibly busy" at the moment, and many consultations were taking place by telephone, there was scope for seeing patients in person.
"If you've got these kinds of symptoms, you probably do need to see somebody face to face and all our GPs can see people face to face," he said.
GP's leaders say about 56% of appointments are being delivered in person and if a physical examination is necessary "it will be facilitated".
They caution that some cancers can be difficult to diagnose and may crossover with other less serious conditions.
"What we need is for GPs to have better access to diagnostic tests in the community and training to use them appropriately so that our decision to refer can be as informed as it possibly can be," says Dr Gary Howsam, vice-chairman of the Royal College of GPs.
'Open and ready'
NHS England chief executive Amanda Pritchard said: "People should not feel like they cannot trouble the NHS, which is open and ready to treat people."
She said new ways of working included "mini cameras that patients can swallow to check for bowel cancer and Covid-friendly cancer drugs that patients can take at home".
She said it was important that people recognised common symptoms of cancer and made an appointment with their GP to get a test "that could ultimately save their life".
Since March, the numbers of people referred to cancer specialists in England have returned to pre-pandemic levels but the latest NHS figures show there are still delays for some.
In June, more than 5,200 patients for example waited more than 28 days to be seen by a specialist.
And in the same month, the percentage of urgent cancer referrals – made within two weeks – was slightly down on May at 85% (195,372 patients). The target is 93%.
A spokesperson for the Scottish Government said it was vital that people raised any health worries with their doctor and continued to go to regular check-ups and appointments when invited.