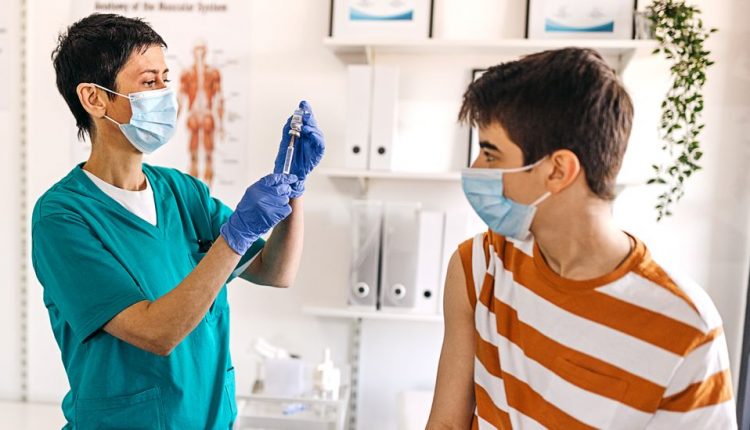 Not enough benefit to offer all teens Covid jabs
The UK's vaccine advisory body has refused to give the green light to vaccinating healthy children aged 12-15 years old on health grounds alone.
But the JCVI said the government could consider wider issues including disruption to schools.
Ministers across the UK have asked chief medical officers to look at whether that tips the balance.
Meanwhile, an extra 200,000 teens with underlying conditions will now be eligible for two doses.
Doctors identified that children with chronic heart, lung and liver conditions were at much higher risk of Covid than healthy children.
A group of 150,000 children with conditions such as severe neurodisabilities, Down's syndrome and severely weakened immune systems as well as those living with vulnerable adults are already eligible.
This is out of a total of three million children in this age group across the UK.
The decision on healthy children was based on concern over an extremely rare side effect of the Pfizer vaccine which causes heart inflammation.
"The committee will continue to review safety data as they emerge."
But as children are at such low risk from the virus, they decided that vaccination would offer only "marginal gain" and, therefore, there was "insufficient" evidence to offer mass vaccination for this age group.
Why vaccinating all teens is a difficult decision
NHS England prepares jabs plan for 12-15-year-olds
Third Covid jab advised for most vulnerable 1%
Prof Wei Shen Lim, chair of Covid immunisation for the Joint Committee on Vaccination and Immunisation said it was "taking a precautionary approach".
"The margin of benefit is considered too small to support universal Covid-19 vaccination for this age group at this time.
"The committee will continue to review safety data as they emerge," he added.
The JCVI's advice is that children aged 12 to 15 with the following conditions should be offered a vaccine:
haematological malignancy
sickle cell disease
type 1 diabetes
congenital heart disease
Children with poorly-controlled asthma and other respiratory conditions which can result in severe illness from Covid should also be offered vaccination.