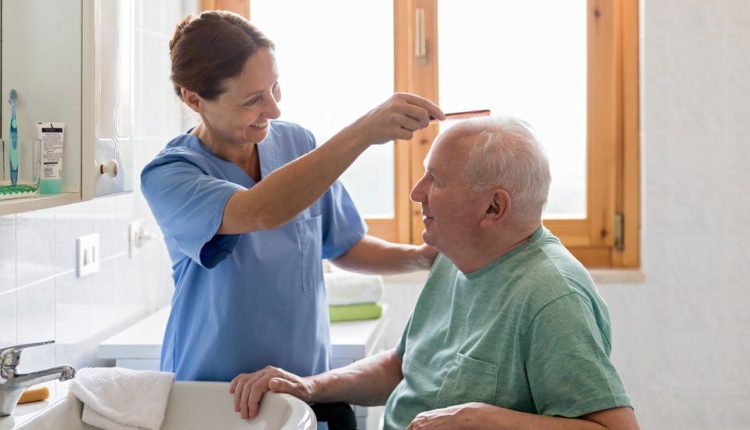 Social care: Plans for reform in England likely this week – sources
Plans to overhaul England's social care system are likely to be unveiled this week following government talks this weekend, the BBC has been told.
Boris Johnson promised to fix the social care system when he became prime minister.
But the prime minister is facing pressure from his own MPs not to increase National Insurance to pay for it – an idea that is being considered.
Government sources said meetings have been going on throughout the weekend.
It is widely accepted that major changes are needed to the social care system, which helps older and disabled people with day-to-day tasks such as washing, dressing, eating and medication.
The current system is under pressure after past governments failed to fund it properly or bring in reforms. But bringing in a shake-up would cost billions of pounds.
The nine problems facing social care right now
Earlier this week, the government did not deny newspaper reports that it was considering increasing National Insurance contributions by at least 1% to improve social care and tackle the NHS backlog.
National insurance is paid by workers until they reach the state pension age. For someone on average earnings of £29,536 a year, a 1% increase in National Insurance would cost them £199.68 annually. Employers also pay NI.
Many Conservative MPs are against tax rises to fund any reforms.
And some point out that it would break the party's manifesto commitment at the last election, when they promised not to raise National Insurance, income tax or VAT.

What are the challenges facing social care?
An ageing population means growing demand
However, council spending in England is about 3% lower than in 2010
Age UK estimates 1.5 million people in England don't get the help they need
The fees local authorities pay for care – in a person's own home or a care home – vary hugely
People who don't qualify for free care are often charged more, with no maximum limit on costs
There are huge staff shortages – Age UK estimates there are about 45,000 vacancies

Among the Tories who are against the idea is the MP Marcus Fysh, who said he was "alarmed at the apparent direction of travel" of the government, and calling it a "socialist approach to social care".
He wrote in the Sunday Telegraph: "I do not believe it is Conservative to penalise individuals of working age and their employers with higher taxes on their employment when our manifesto promised not to."
Many other Tories accept that a tax rise is needed – but say it should not be National Insurance because that could hit younger and lower income workers harder, while pensioners would not have to pay.
On Saturday, former Tory prime minister Sir John Major backed this view, saying: "The government are going to have to take action to deal with social care and that is going to mean an increase in taxation.
"I don't think they should use National Insurance contributions, I think that's a regressive way of doing it. I would rather do it in a straightforward and honest fashion and put it on taxation," he said at the FT Weekend Festival.
Earlier this week the ex-health secretary Jeremy Hunt said that there should be a new "health and care premium" added to tax, rather than raising National Insurance or income tax.
Labour has also voiced its opposition to an increase to National Insurance, but leader Sir Keir Starmer will come under pressure to set out how he would fund the reforms.
Government sources say plans to reform social care and give extra funding to the NHS should become clear this week.
The social care system is devolved across the four nations, meaning governments need to develop solutions unique to their own region.