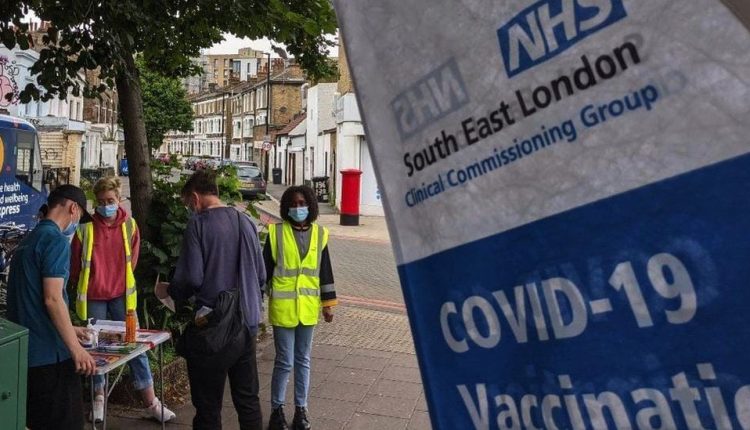 Covid: How can missing five million be persuaded to have the jab?
The Covid debate has recently centred on whether teenagers should have the vaccine and when the most vulnerable will receive booster jabs. But a third group is of real concern among scientists and politicians – the five million or so adults yet to have a first dose.
"Amelia", 34, has had about four months to get a coronavirus vaccine but so far has quietly refused. She does not want her identity revealed, because she is worried she will receive abuse.
"I do feel guilty," Amelia says. "I never mention it to anyone, because I think they'll judge me or think I'm an anti-vaxxer. It does feel like I'm hiding from everyone.
"I am healthy and young and I don't like putting things in my body," she says, recalling refusing a flu jab when pregnant. "I was fine, so I guess I think it'll be the same with coronavirus.
"I know I should get a vaccine. I thought I had built up the courage to do it on a few occasions. But then I saw something on social media which scared me and I couldn't – I'm petrified."
"Trying to persuade those people it is the right thing to do to get vaccinated
would make a significant difference."
'Committed refusers'
The UK has administered more than 48 million first doses so far.
But attention is increasingly falling on those who haven't had it. Speculation has centred on which dancers on Strictly Come Dancing have so far not taken up the offer, as well as how many Premier League footballers are potentially unvaccinated.
Exactly how many people are yet to receive a Covid jab is unknown, but the government estimates it's around five million people aged 16 and over in England (11%).
Multiple studies show coronavirus vaccines are highly effective at preventing serious illness and side-effects are rare. Yet the reasons for not having it vary.
A "very small number" of people are unable to be vaccinated for medical reasons, according to the government, while behavioural psychologists say "committed vaccine opponents" who believe in conspiracy theories are unlikely to change their minds.
But it's argued the unvaccinated who have safety concerns, or distrust institutions, those who are sceptical or indifferent, such as Amelia, could still be reached with the right support and access.
So how do you convince someone to have the vaccine?
Identifying a person's "trigger" motivation is seen as a highly effective way of tackling vaccine scepticism or indifference.
"This can be a wide range of things," cognitive psychologist Stephan Lewandowsky, from Bristol University, says.
Research suggests reminding people of the common good – protecting a grandparent or parent – helps them realise "they have a social responsibility – and they may be more willing".
"Some can't be bothered – but if it's around the corner and you give them a free hotdog, like in Germany, then that can be really successful."
Amelia says her trigger would be not being able to go on holiday without having had a vaccine.
How many people have been vaccinated so far?
Under-30s vaccine questions answered
The vaccine fertility myths that just won't go away
And in some areas of the UK, schemes have been running to find people like Amelia and work out what their trigger points may be.
In South Tyneside, teams spent the summer going door to door and stopping people in the street to try to maximise vaccine take-up and reduce high coronavirus rates.
They quickly noticed those failing to come forward were mostly young men from poorer areas.
In one of the most deprived wards, Simonside and Rekendyke, only 48% of men aged 18-29 and 39% of men aged 16-17 have had a first dose.
But in the least deprived, Cleadon and East Boldon, the proportions are 83% and 79%.
"The lesson is clear – there is a clear, direct relationship between the level of deprivation and vaccine uptake, among young men at least," Matt Brown, from the South Tyneside Clinical Commissioning Group, says.
"The gap between young women is far less dramatic. These young men don't understand Covid-19 can cause them serious harm and are also perhaps in jobs where you can't take an hour off work to get a vaccine."
To reach this group, pop-up vaccine sites have been set up in places such as pubs and outside Newcastle United's football stadium, St James' Park.
The team also tries to have people on hand who can speak foreign languages, including Urdu and Polish, as well as clinicians who can deal with medical questions.
"Our focus is to help young people understand the risks," Matt says.
A team in south London is also trying to locate the elusive vaccine hesitant.
Lambeth is a young and diverse borough and data for England shows vaccine take-up is lower among younger age groups and those belonging to certain ethnic minorities.
However, staff on the ground prefer to take a more universal approach.
"This is not about just one ethnicity," Lambeth Clinical Commission Group community pharmacist, Ash Soni, says. "This is not about just one age – this is about reaching our entire population."
One of the borough's pop-up vaccine services is a blue bus with the word "welcome" dotted on it in different languages.
Nicknamed the "worry bus", it parks outside mosques, Tube stations and supermarkets. Trained staff speak to passers-by who have not yet been vaccinated and ask them why, without judgement or pressure.
"We've heard so many reasons," Mr Soni says. "Some people fear the vaccine is too new, so we talk about how they have been created and rigorously tested.
"Take the technology used for the Pfizer vaccine; it was previously used for viruses like Middle East respiratory syndrome (Mers), it's not brand new.
"We hear from people who fear the vaccine puts a microchip in them and we explain that is false – where would we even fit it?"
This "cycle of change", or finding a person's trigger, can take time, patience and multiple conversations – but experts say most do eventually come round.
Lighter controls
Earlier this month, the prime minister and his advisers announced their winter plan, emphasising the importance of reaching those who had so far not taken up the offer of a jab.
Pushing vaccination levels up was the key to maintaining lighter controls, chief scientific adviser Sir Patrick Vallance said. "Trying to persuade those people it is the right thing to do to get vaccinated would make a significant difference."
For Amelia, "the cons outweigh the pros" – at least for now.
"If they said I couldn't go on holiday to Disneyland with my kids without a vaccine then that would sway it for me," she says. "One morning I think I will wake up and decide to do it. I'm just not there yet."