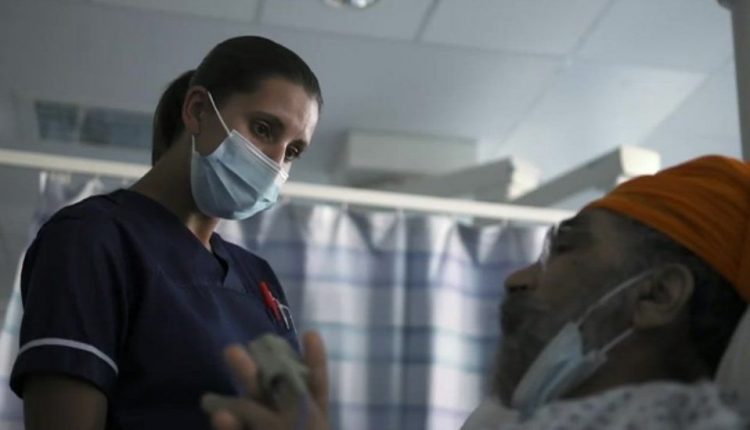 QE Hospital Birmingham: Winter looms with staff 'hanging on by a thread'
A hospital's staff are already "hanging on by a thread" as the NHS heads into winter, a critical care consultant says.
Dr Dhruv Parekh described the pressure on workers at the Queen Elizabeth (QE) Hospital in Birmingham as "immense".
Medics are currently dealing with Covid patients plus increasing numbers of emergency cases while also trying to catch up on non-emergency care.
The trust running the QE said it expected winter "to be really tight".
Winter and associated illnesses create pressures for hospitals each year. But the NHS is wary that amid a pandemic – and one where challenges are yet to play out as colder weather approaches – those conditions could be exacerbated.
In the meantime, the QE is feeling the strain just days into autumn, according to Dr Parekh.
He said staff were having to make difficult decisions every day on what they could and could not do due to the increased workload from Covid and non-Covid patients.
"Having these secure areas in terms of cubicle spaces, negative pressure areas, we hope we will be able to provide better quality of care to our patients."
"Sometimes we have to have a leap of faith and go ahead with things, but knowing that actually, 12 hours later, we are going to be pressurised and may be even more stretched," he said.
"We [are] hanging on by a thread and some days, you know, I do wonder how we are going to get through that particular day."
The QE is run, along with three other sites, by University Hospitals Birmingham (UHB) NHS Trust – the biggest NHS trust in England.
Staffing levels at the hospital is one of the biggest factors behind current conditions, Dr Parekh says, with some colleagues having left the NHS due to the pressures of the pandemic.
"Not because they don't want to continue to help and work, but they can't work in this environment anymore," he explained.
Dr Parekh also urged the public to have the Covid vaccine. He said that among the hospital's current admissions, 70% of patients had not been jabbed.
"Please have it," he said, "because having less Covid admissions allows us to really look after patients who have been waiting for a long time and all the emergencies."
The trust has seen a rise in the numbers of patients attending A&E, with more than 32,500 in August – an increase of more than 3,000 compared to 2018.
The trust's chief operating officer Jonathan Brotherton said one big approaching pressure could be in children's intensive care.
"There are some real demands coming through right now in terms of the number of children who are sick," he said.
"There is a regional network that looks to smooth out where there are peaks and troughs in demand but it is going to be tight, it is going to be really tight."
Can England avoid 'lockdown lite' this winter?
PM warns Covid risk remains as he unveils England's winter plan
Latest news and updates for the West Midlands
The trust has invested in infection control doors and doubled the number of resuscitation beds in preparation for the next few months.
Emergency care consultant Azam Majeed said he believed such changes would help with winter pressures.
"Having these secure areas in terms of cubicle spaces, negative pressure areas, we hope we will be able to provide better quality of care to our patients," he said.
Earlier in September, the government unveiled its plans for tackling Covid in autumn and winter in England.
"Plan A" promotes vaccines and testing to stop the NHS being overwhelmed. "Plan B", to be adopted if the NHS comes under "unsustainable pressure", includes a return to face masks.