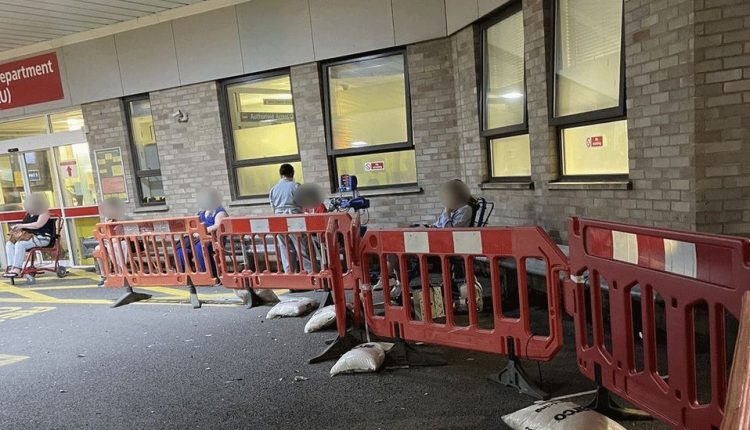 Addenbrooke's Hospital: A&E patients made to wait in car park
Patients waited for hours in a "cold, filthy" car park outside a hospital's A&E department, a mother has said.
Maria, whose daughter had a four-hour wait for an X-ray, described the scene at Addenbrooke's Hospital in Cambridge on Thursday as "absolutely shocking".
"You think you may have pneumonia, you're coughing horribly, and you're in the cold – it's not the best place to be," she said.
The hospital trust said there had been an "extremely high demand" for A&E.
It apologised to patients who had a long wait and said space within the hospital had been reduced due to social distancing and Covid safety.
Earlier this month, the hospital erected a marquee outside A&E to reduce ambulance handover delays.
"In addition, because of Covid safety and social distancing, the emergency department has a reduced number of treatment spaces and seats in waiting areas."
'Watching all these horrors'
Maria, who did not want to give her full name, said about six patients were outside both the main A&E and the separate Covid A&E when she and her 20-year-old daughter arrived at 19:00 BST.
"When we were sent round to the Covid A&E, the panorama was this horrible car park with ambulances and people, some sitting. I couldn't even see a chair for us," she said.
"[They said:] 'You have to wait outside, it could take lots of hours'.
"We were in disbelief, the people around us didn't look well at all, the woman next to us was throwing up, and in front of us, ambulances were arriving.
"We were watching all these horrors coming in.
"It's absolutely shocking."
Maria described the car park as "filthy", with no toilets other than in the hospital, and said her daughter was told not to "come in and out" due to infection control.
Blankets were given out but some patients left as they were too cold, she said, and she went home to gather warm clothing.
Having been referred by her GP earlier that day, her daughter was finally admitted at 23:00 BST and discharged the next day with antibiotics.
Maria, 57, who lives in Cambridge, said she felt sorry for hospital staff, who were doing what they could.
"If they are not provided with what they need, it's not going to work," she said.
"The whole chain is absolutely not working."
A spokesperson from Cambridge University Hospitals Trust said the hospital quickly prioritised patients who were seriously unwell.
"We apologise to patients who have had to wait longer than we would like for treatment," they added.
"Our emergency department has been experiencing extremely high demand.
"In addition, because of Covid safety and social distancing, the emergency department has a reduced number of treatment spaces and seats in waiting areas."