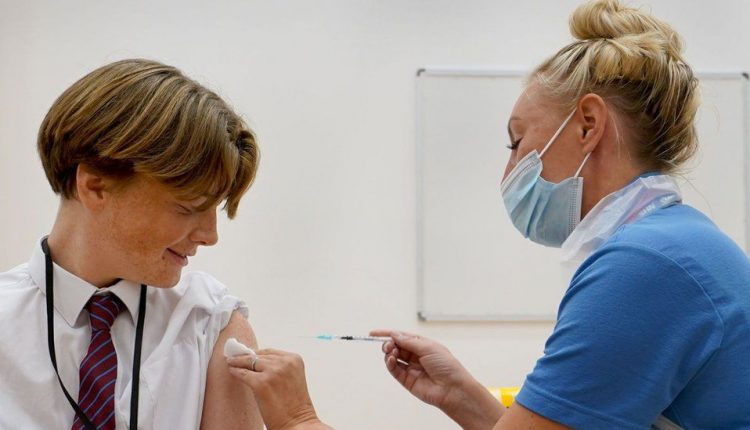 Most teenagers willing to have Covid jab – study
Most children and young people aged nine to 18 are willing or eager to be vaccinated against Covid, a large survey in England suggests.
It is one of the first polls to ask pupils, rather than parents, their views on teenage Covid jabs.
Carried out during the summer term, the responses from more than 27,000 students at 180 schools reveal half would opt to get protected.
More than a third were undecided and just over one in 10 would decline.
The findings, published in the journal EClinicalMedicine, were carried out before the UK recommended all children aged 12 to 15 should be offered one dose of the Pfizer/BioNTech Covid jab.
Experts now say although Covid is rarely a serious illness in children, vaccinating those over 12 is beneficial.
It cuts their risk of catching and spreading the virus and should mean fewer have their education disrupted as a result.
"The young people we've spoken to are saying that we need to use social media channels. That maybe celebrities getting involved might be a route that they would listen to more."
Like any medicine or intervention, there are some risks or side effects to consider too.
To help young people reach an informed decision, experts are calling for accessible information – on social media platforms such as TikTok for example – clearly setting out the benefits and risks.
What difference will jabbing young teens make?
Covid vaccination begins for UK 12 to 15 year olds

Should I get vaccinated?
Vaccination is a personal choice.
Research shows Covid vaccines help:
reduce the risk of getting seriously ill or dying from Covid
reduce the risk of catching or spreading Covid
protect against Covid variants (newer versions of the virus)
One very rare side effect with the vaccine, that young people should be aware of, is heart inflammation.
Symptoms of it include a fluttering, fast-beating or pounding heart, shortness of breath or some chest pain.
The chance of it happening is a few in a million.
When it does occur, it is usually mild and people quickly make a good recovery.
Catching coronavirus can cause it too, plus carries the added risk of other complications, such as serious illness or long Covid for some people.

The survey, carried out in schools across Berkshire, Buckinghamshire, Oxfordshire and Merseyside, also found:
younger pupils were more hesitant about the vaccine than older teenagers
students who were hesitant were also more likely to spend longer on social media, attend schools in deprived areas, and feel as though they did not identify with their school community
Young people who thought they had already caught Covid in the past were more likely to opt out of having a vaccine.
Vaccination is still recommended, even if you have recovered from Covid, however.
One of the researchers, Mina Fazel – an associate professor from the University of Oxford – said it was vital to get trusted advice out to young people.
"Young people might not want their peers, their teachers, or even their parents to know about their choice to get vaccinated," she said.
"It could be that they are worried what their friends think, for example, and what they may need is a way to get vaccinated while feeling safe and comfortable. We must ensure these opportunities are provided for.
"The young people we've spoken to are saying that we need to use social media channels. That maybe celebrities getting involved might be a route that they would listen to more."
As part of England's vaccine drive, a film featuring rugby stars – including Sam Underhill, Alex Goode and Dan Robson – will be played out at stadiums across the country from this weekend, urging young people to get their Covid vaccine.