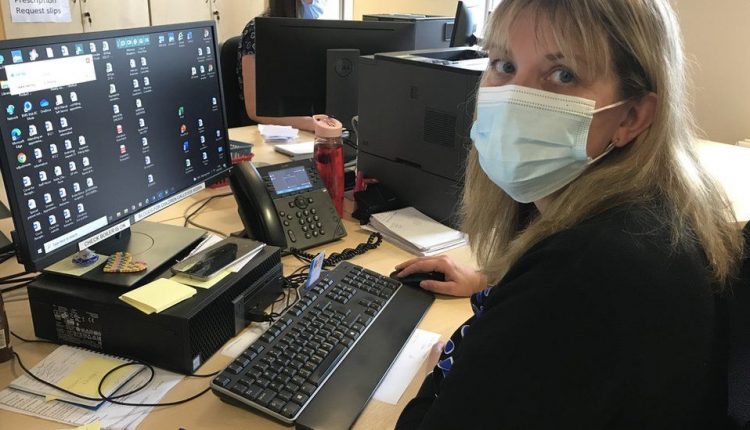 GP staff abuse has "no place in the NHS"
The abuse of staff at GP surgeries has "no place in the NHS", a healthcare boss has said, following complaints it has risen during the pandemic.
Dr Joanne Watt, GP chairwoman of the Northamptonshire Clinical Commissioning Group (CCG), said she understood patients' frustrations as surgeries battle with increased demand.
But she said the reports of abuse were "extremely upsetting and demoralising".
A receptionist told the BBC she had "never seen this level of abuse".
Claire, who works at Harborough Field surgery in Rushden and has been employed by the NHS for 34 years, said staff were being verbally abused on a daily basis and it was "becoming the norm and it shouldn't be".
"We work within the rules we're given. It's very upsetting, we've been reduced to tears," she said.
"Don't patronise me. May I remind you, you are an employee and not a doctor,
don't you dare you talk to me like that."
The latest NHS staff survey found one in three staff claimed to have experienced at least one incident of bullying, harassment or abuse from service users, their relatives or other members of the public, in the year to March 2021.
Chloe, who started working at the same surgery in April, said some days were "tough, but you have to adapt".
"You do get patients who do get personal but you just have to listen, take a minute and get back to it."
The times you get "lovely comments, it really does help," she added.
Meanwhile, Teresa, a receptionist who works in neighbouring Bedfordshire, told the BBC the abuse she had recently received was "awful".
She said she had been sworn at, and when she had to call a patient to organise an appointment was told: "Don't patronise me. May I remind you, you are an employee and not a doctor, don't you dare you talk to me like that."
"We have to ask questions, that's what we do," she said.
Dr Watt said: "Abuse of any kind has no place in the NHS. We understand the patients who are abusive are frustrated and it is not intentionally directed at our staff, but it is still extremely upsetting and demoralising for them.
"I would urge patients to remember that they are speaking to a person with emotions and feelings when they talk to frontline workers."
She added that General Practice had been "working tirelessly throughout the pandemic" and demand for services had increased in recent months.
"Please be kind, we are doing our best to help you," she said.