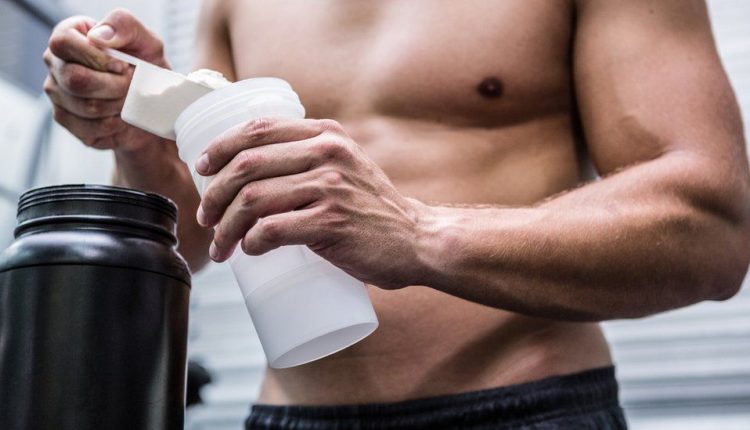 Doctors alerted to dangerous dry scooping workout trend
Doctors are being warned about a dangerous pre-workout trend called dry scooping that some gym-goers are doing.
It involves eating protein-rich powder supplements neat, rather than diluting them in water, as recommended by manufacturers, to make a drink.
Researchers, who are giving a talk at a US medical conference, are worried young teens may try it, spurred on by a flurry of internet videos of the fad.
They scanned TikTok, counting the millions of likes.
"So, there is a risk of over-consuming caffeine, especially if using more than once a day, or just consuming the powder, where you may consume more than the recommended amount."
Health warning
Pre-workout powders typically contain lots of amino acids, vitamins and other ingredients, such as caffeine.
The idea is to give the body a boost before a workout to help stamina, although the science around it is patchy.
But there are known risks from taking on too many energy-boosting stimulants.
A big dose of caffeine, for example, can cause heart-related side effects, including palpitations and extra or missed beats.
A scoop of powder might pack as much caffeine as five cups of coffee, say the researchers from the Cohen Children's Medical Center in New York.
This jolt can cause "an increase in blood pressure and heart rate, potentially leading to disturbances in heart rhythm".
And accidentally inhaling the powder into the lungs could cause choking or an infection or pneumonia, say the researchers.
In the UK, the products are regulated as foods rather than medicines, but must be deemed safe for consumption to be able to be sold in shops to people 18 and over.
Some powders sold online may not be from reputable suppliers or contain the ingredients listed on the pack.
Several have since been banned for containing substances such as a synthetic amphetamine called DMAA and a stimulant called synephrine.
Recent newspaper articles have also highlighted the dangers after a 20-year-old social media influencer from the US, called Briatney Portillo, posted about purportedly having a heart attack that she links to dry scooping.
Student's heart failure linked to 'excessive' energy drinks
US teen died after drinking caffeine too quickly, coroner says
Why coffee could be good for your health
Gaining popularity
The study researchers analysed 100 videos posted on the TikTok social network channel, using the hashtag "preworkout" for their search.
Only eight of them showed the powder being used in the correct way.
More than 30 featured dry scooping, with individuals putting a scoop of undiluted powder into their mouth followed by a few sips of water or liquid.
These amassed more than eight million likes.
The researchers warn in their presentation for the American Academy of Pediatrics meeting: "Physicians should be aware of the pervasiveness of pre-workout, dangerous methods of consumption, and the potential for accidental over-consumption, inhalation, and injury."
Nutrition scientist Bridget Benelam, from the British Nutrition Foundation, said: "Pre-workout powders typically contain caffeine along with other ingredients such as creatine, amino acids and vitamins.
"There doesn't appear to be much research on the benefits of these products, although there is some evidence that caffeine may improve sports performance in some cases. These studies are typically done in athletes, and so it's not clear how relevant this is for the wider population.
"The levels of caffeine in these products vary from the equivalent of about one to over three cups of filter coffee, if made up according to the manufacturer's instructions.
"So, there is a risk of over-consuming caffeine, especially if using more than once a day, or just consuming the powder, where you may consume more than the recommended amount."
Keeping hydrated by having enough water or fluid as you exercise is also important.
The British Heart Foundation advises:
you should be having six to eight glasses of fluid a day whether you are training or not
listen to your body – if you're thirsty or sweating by the bucketload then drink
you can definitely drink too much water, so don't overdo it
The same applies to caffeine