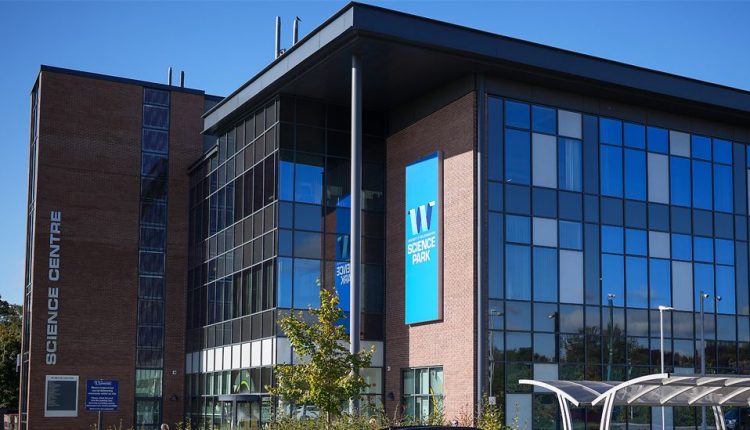 Investigation ordered into Wolverhampton Covid lab test failings
The head of the UK Health Security Agency (UKHSA) has ordered an investigation into why it took a month to identify a laboratory giving incorrect Covid test results.
Dr Jenny Harries said it was "not clear yet" what went wrong at the private lab in Wolverhampton.
About 43,000 people in England and Wales may have been wrongly told their Covid-19 test was negative.
Testing at the lab has been suspended and those affected are being contacted.
Concerns were raised when people had positive lateral flow tests (LFTs), but negative follow-up PCR results from the lab between 8 September and 12 October. Most of those affected live in the south-west of England.
The error could mean thousands of people infected with Covid were wrongly told to stop isolating, and may have infected others.
Dr Harries, chief executive of the UKHSA and head of NHS Test and Trace, said local public health teams had been querying tests over the last few weeks, but it was only in the last few days that the problem was pinpointed.
"It is the location of the laboratory, combined with the geography and the time period, that has allowed us to understand this now," she said.
"We're looking into what went wrong with that particular testing centre,
but it doesn't affect the overall numbers."
"I want to make sure if there are any further problems with other laboratories we can absolutely spot them as quickly as possible."
Dr Harries said she would conduct "a serious incident investigation" to make sure it doesn't happen again.
Covid test lab suspended over wrong results
Covid: Secret filming exposes contamination risk at test results lab
Coronavirus testing lab 'chaotic and dangerous', scientist claims
Prime Minister Boris Johnson said people "should not be concerned" by the lab's suspension.
"We're looking into what went wrong with that particular testing centre, but it doesn't affect the overall numbers," he said.
Only a few thousand out of the 43,000 affected by the wrong result could potentially still be infected now and they will be contacted first, by text and email, to recommend they have another test.
Prof Alan McNally, from the University of Birmingham, told the BBC he was "astonished" by the revelation and could not work out how so many tests could be incorrect.
"It comes down to quality control and quality assurance, oversight and management," he said.
"I cannot fathom the failings that would lead to this level of false negative results."
The UKHSA said about 400,000 samples had been processed by the privately-run lab and it estimated 43,000 people may have been given incorrect negative test results, with 4,000 of those from Wales. Some may also be in the south-east of England and scattered across the country.

'I completely trusted the PCRs'
Graham Loader, from Newbury, says his family have had three positive LFTs, all followed by negative PCR tests taken at the testing site at Newbury Showground in West Berkshire.
He said each time the family got a positive LFT but negative PCR test, they assumed the LFTs must have been at fault.
"I think we just blamed the LFTs because they were a bit basic," he said.
"I thought they must be detecting something from a cold and be an error."
His wife, a school teacher, had felt a bit unwell but didn't have the classic symptoms of coronavirus. She took a few days off before returning to work after a negative PCR test.
Mr Loader, who coaches a boy's football team, thought he had come down with a cold.
He added: "I completely trusted the PCR, so I feel bad for all the people I've been in contact with."

All samples from the lab, where Immensa Health Clinic Ltd runs the testing operations, are now being sent to other labs.
Government records show that Immensa, which was founded in May 2020 just months after the start of the pandemic, has been awarded contracts for Covid testing by the Department of Health valued at £181m.
UKHSA said all other labs are working normally and there are no technical issues with the test kits themselves.
Dr Will Welfare, public health incident director at UKHSA – which replaced Public Health England, said: "As a result of our investigation, we are working with NHS Test and Trace and the company to determine the laboratory technical issues which have led to inaccurate PCR results being issued to people.
"We have immediately suspended testing at this laboratory while we continue the investigation."
He said the public should remain confident in using both kinds of test, and continue to get a follow-up PCR test after a positive LFT.
The company said it was "fully collaborating" with health officials on the matter and added it had already analysed more than 2.5 million samples for NHS Test and Trace.
Many coronavirus testing sites in England and Wales are likely to be affected by the lab errors, including one at Newbury Showground used by the Loader family.
On Thursday evening West Berkshire council told people who had received a negative result at the site between 3 and 12 October, to book another test.
For several weeks, there have been widespread reports in the south-west of England of people testing positive with LFTs, but then later testing negative after a PCR test.
Scientists had called for the issue to be looked into quickly, with one study suggesting positive LFT results were very accurate and should be trusted.