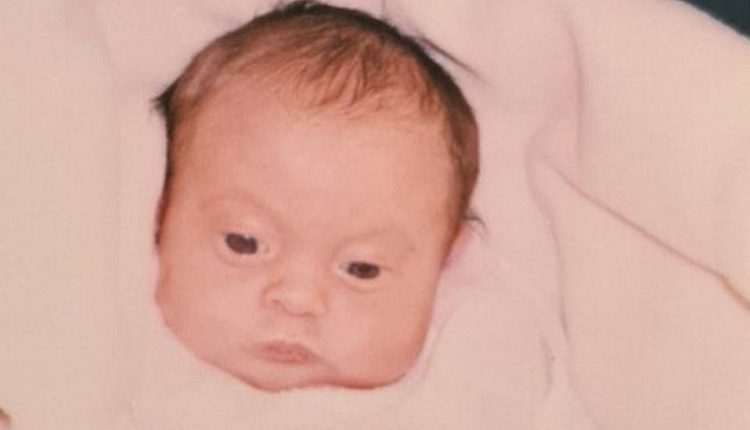 Baby loss awareness: Our experience should not be a 'whispered secret'
It was the look on the face of the sonographer that told one mother something was wrong with her baby.
Sharon Gorvett was 20 weeks pregnant with her third child in 2004 when a doctor told her that her unborn daughter was "incompatible with life".
She was automatically booked for a termination, but surprised her doctors when she said she did not want one.
She is now taking part in an exhibition to help awareness for baby loss, and give other parents "a little hope".
Doctors thought Ms Gorvett's daughter Sophie had Edwards Syndrome, a rare but serious condition where most babies die before or shortly after being born, due to organ defects.
Children with the condition often die before or shortly after birth, with 5-10% living beyond their first year.
The silence of stillbirth
Fathers urged to talk after baby loss
Choir formed in memory of mum's stillborn daughter
"Of course it's very precious, she's still my child, my baby, and I want to spend as
much time with her as possible."
Ms Gorvett said she had not been asked, and had not agreed to a termination, but was automatically given a slot for one.
"They explained what was involved and I said: 'No, it's not something I want to do'," she said.
At one point she said the consultant asked her: "Are you telling me that this pregnancy is very precious to you?".
"Of course it's very precious, she's still my child, my baby, and I want to spend as much time with her as possible," she said.
She was told her daughter would either pass away in the womb, while she was being born or shortly after birth.
She was told most parents in her situation did not want interventions to help the baby if anything went wrong.
"Well, I'm not most parents," she said.
Sophie was born early at 5lb 12oz born and "was a little fighter" and "so pretty", said her mother.
"I didn't even have a bed for her to sleep in because I didn't think I'd be leaving the hospital with a live baby.
"We had to stop on the way home and buy a Moses basket for Sophie."
'We made the days count'
The family spent 13 weeks with Sophie, and said even though her life was short, it was filled with love, and with the small beautiful things we often take for granted in our day-to-day lives.
She said: "We took her to see the cows and we picked a bluebell for her. She felt the sun on her face and we showed her the moon.
"We took her out, like you would any other baby, visited family and friends, took lots of photos and just made every day special."
When Sophie's heart started to fail, the family went away to a cottage where she died.
"We were out walking by the side of the Brecon canal. She took about three breaths and she was gone. She didn't struggle, it was very peaceful. We've since planted a pink Hawthorn tree there and put a plaque where she passed away."
"Our family was complete when she was there, and now she's not there, it'll never be complete, but she's still very much with us, I've told my grandchildren all about their aunty Sophie, and we still mark her birthday every year,
"She was my daughter from the moment I found out I was pregnant, and she will always be my daughter."
'Baby loss shouldn't be a whispered secret'
Ms Gorvett is one of a number of women taking part in a new digital exhibition which aims to offer more support to grieving parents.
Partly funded by The National Lottery Community Fund, 'You're Not Alone' calls for more open discussion around life limiting genetic birth disorders.
The project has been created by the Mold based charity, Same but Different but in conjunction with Soft UK, who provide information and support to families affected.
Photographer and Founder of the Same but Different charity, Ceridwen Hughes, said the project aims to raise awareness about the importance of talking about grief through baby loss, whilst celebrating the lives of the babies, no matter how short their lives.
She said baby loss often feels like a "whispered secret."
She added: "No-one knows what to say to a grieving parent and often people are too afraid to even say the child's name for fear of causing more upset and yet the parents I have spoken to yearn to remember and celebrate the lives of their child, no matter how short their life."
For Ms Gorvett, taking part in the project was a way to honour Sophie's memory, 17 years after she was born, and also to remind medical professionals that all parents really want is "a little hope", and the recognition that their children are individuals who should be assessed on their own merit.
If you've been affected by the issues discussed, help and support is available via BBC Action Line.