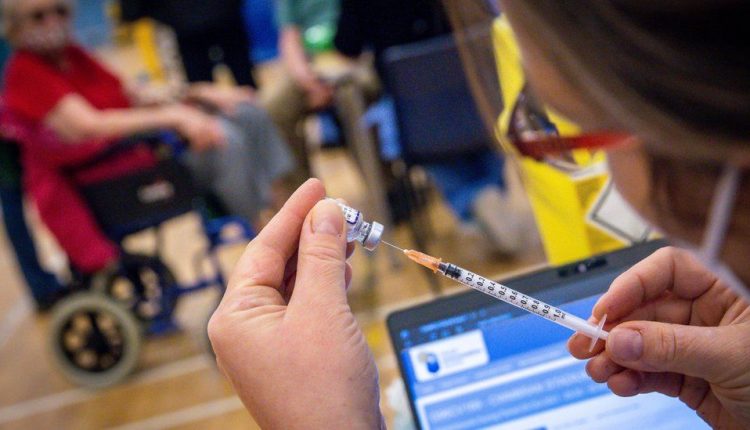 Covid in Scotland: Figures show booster gap in high-risk groups
A significant number of Scots most at risk from Covid are still waiting for a booster jab despite receiving their second dose more than six months ago.
Just over 616,000 people in the top priority vaccine groups are now due their booster – but only 511,807 jabs have been given, figures show.
Scientists say an effective pre-winter booster programme is vital to protect those most vulnerable from Covid.
The Scottish government said its booster programme was "on track".
The UK's Joint Committee on Vaccination and Immunisation (JCVI) advised in September there should be an interval of at least six months between second and third doses.
Is the pace of the Covid booster rollout too slow?
Booster jabs 'pushed back', say opposition MSPs
"In addition to delivering the Covid-19 vaccine boosters, this year we are offering a record number of free flu vaccines to help protect the people of Scotland. It is the biggest ever flu vaccination programme in Scotland reaching over four million people."
There is no breakdown available in Scotland on who the third doses have been given to, but as with the initial vaccine programme, the highest priority groups are being targeted first.
Public Health Scotland (PHS) figures indicate there are 104,000 people in these groups who have passed six months since their second dose, but are yet to receive a booster.
Other older age groups show a similar pattern.
Prof Andrew Watterson, a public health researcher at the University of Stirling, said the vaccines offered "decreased protection" over time, and that it was important for immunity to be boosted before winter.
"Winter will bring more respiratory illnesses and make more people – and especially already vulnerable and highly exposed people – even more vulnerable to the combined serious effects of Covid," he told BBC Scotland.
Scotland and the rest of the UK had a quick start to its vaccination programme, which began last December, jabbing the most vulnerable with first doses ahead of almost every other country in the world.
However, it means the country now has large number of elderly people who were vaccinated earlier and may now be seeing some of that protection fade.
PHS data shows an increase in the proportion of older people being admitted to hospital with Covid over the past few weeks.
In May and June, the over-80s were typically accounting for about 6% of weekly admissions, but this had risen to almost 18% in the week up to 12 October.
Prof Watterson said: "It's possible but not known that delayed boosters might cause increased hospitalisation – but effects would be less severe generally after double-jabbing even if immunity is waning.
"At what point the waning becomes significant is another question not yet fully answered and will probably vary between individuals."
The JCVI has recommended that everyone over 50 should be offered a third dose of a Covid vaccine, along with front-line medical staff and younger adults with some underlying health conditions.
The Scottish government estimates there are about 3,375,000 people in the nine priority categories in Scotland. All of them will eventually be invited for a booster jab.
PHS figures relating to the most at-risk groups – including residents and staff in care homes for older adults, as well as front-line health and social care workers – show that 616,285 are now due a booster having received a second dose more than six months ago.
This leaves a gap of 104,478 people who can now receive the booster, but are yet to receive it.
This group also includes the clinically extremely vulnerable, 16-64 year olds with underlying health problems and unpaid carers aged 16 and over.
Focusing on the over-50s population group, 889,677 people now had their second jab more than six months ago, leaving about 377,872 people potentially waiting for their booster.
However, some of the over-50s may be counted in other priority groups, if for example they are a care home worker or have an underlying health condition.
Programme began 'as soon as possible'
Daily figures on booster vaccines are only available from 13 October, but they show that, on average, about 25,000 jabs are being administered a day.
Health Secretary Humza Yousaf said Scotland's booster programme was prioritising those at the highest risk of both Covid-19 and flu.
"We started this as soon as possible following the JCVI advice – that the booster dose should be offered no earlier than six months after completion of the primary vaccine course," he said.
"It is important to note that many people in the original early priority cohorts of the initial vaccination programme had already had a six-month gap prior to this JCVI advice.
"In addition to delivering the Covid-19 vaccine boosters, this year we are offering a record number of free flu vaccines to help protect the people of Scotland. It is the biggest ever flu vaccination programme in Scotland reaching over four million people."