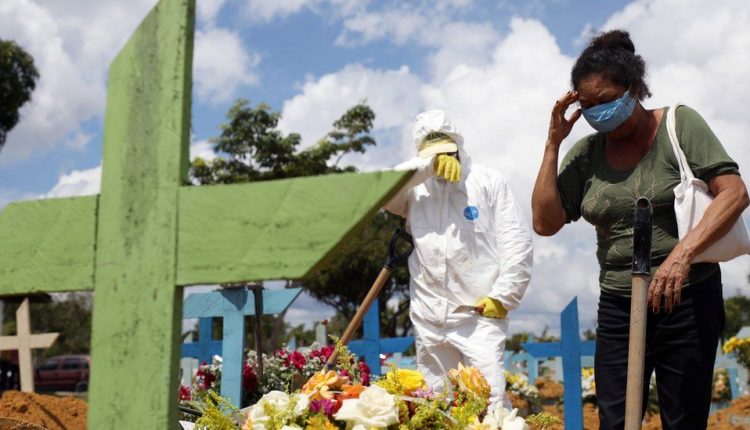 Covid-19 deaths pass five million worldwide
Vaccines have slowed the death rate, but some health experts say the true toll could be far higher.
The milestone comes amid warnings from health officials that cases and deaths in some places are rising for the first time in months.
Nearly 250 million cases of the virus have been recorded worldwide.
The World Health Organization (WHO) estimates the pandemic's real global death toll could be two to three times higher than official records.
In the US, more than 745,800 people have died, making it the country with the highest number of recorded deaths.
COVID MAP: Where are cases the highest?
COVID VACCINES: How fast is worldwide progress?
BEHIND THE STORY: The Indian newsroom counting the uncounted deaths
It is followed by Brazil, with 607,824 recorded deaths, and India, with 458,437. But health experts believe these numbers are under reported, partly because of deaths at home and those in rural communities.
It has taken the world longer to reach the latest one million deaths than the previous two.
It took over 110 days to go from four million deaths to five million. That is compared to just under 90 days to rise from three million to four million.
While vaccines have helped reduce the fatality rate, the WHO warned last week that the pandemic was "far from over".
Its director general Tedros Adhanom Ghebreyesus pointed to a rise in cases in Europe, where countries with low vaccination rates are seeing soaring infections and deaths.
Last week, Russia recorded its highest number of daily cases and deaths since the start of the pandemic. Russia accounts for 10% of the last million deaths recorded globally.

Bulgaria and Romania have some of the world's worst Covid mortality rates, and their hospitals are struggling to cope. They have the two lowest vaccine rates in the European Union.
More than seven billion vaccine doses have been administered worldwide, but there is a gap between rich and poor nations.
Only 3.6% of people in low income countries have been vaccinated, according to Oxford University's Our World in Data.

Dr Tedros said that if the vaccine doses had been distributed fairly, "we would have reached our 40% target in every country by now".
"The pandemic persists in large part because inequitable access to tools persists," he said.
Vaccines have allowed many countries to gradually open up, with most of the world now easing restrictions.
On Monday, Australia reopened its borders for the first time in 19 months.
But China, where the pandemic first emerged, is still perusing a zero-Covid strategy, where even one infection can result in a strict lockdown and mass testing.
A country's death toll is based on daily reports from the nation's health authorities, but the numbers may not fully reflect the true toll in many countries.
Not all countries record coronavirus deaths in the same way, meaning it is difficult to compare their death rates.

A patchy global picture
Comparing how different countries have suffered during the Covid pandemic is difficult.
Total number of deaths is one way, but this number masks some crucial context.
How much testing individual countries carry out will have a bearing on their death figures. Very few deaths have occurred in Africa, for example, compared to other continents and this is likely to be one factor.
Deaths from Covid can also be measured in different ways – as a proportion of the population (Bulgaria fares worst) or as a proportion of people showing symptoms (Mexico fares worst).
And the healthcare systems in different countries as well as the average age of the population will also have an impact – the older the people the more vulnerable they are to the virus.
Vaccinations against Covid have made a huge difference to the number of people dying in the past six months – but not all countries have had equal access to shots which protect against the virus.
That means there will be more deaths to come – but Covid is not the only health problem the world has to worry about. It's worth remembering that each year more than nine million people die from cancer and nearly the same number from heart disease.