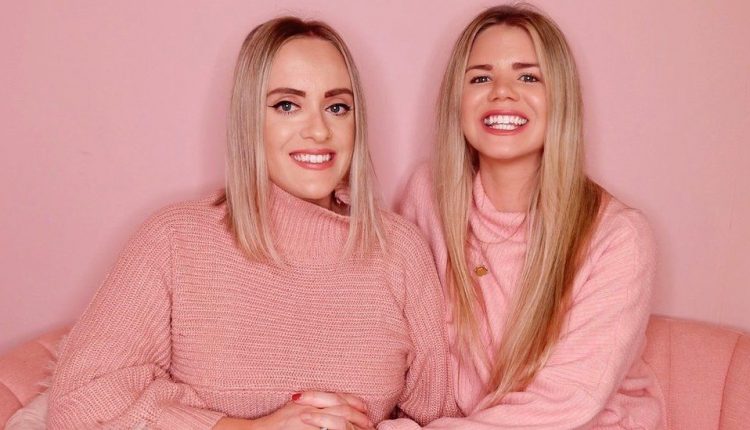 Lesbian couple challenge NHS over 'discriminatory' fertility policy
A lesbian couple are launching a landmark judicial review against their NHS Clinical Commissioning Group for its "discriminatory" fertility policy.
Influencers Megan and Whitney Bacon-Evans say they are required to undergo 12 rounds of costly private treatment before they can get NHS support.
Heterosexual couples have to try to conceive for two years before becoming eligible for NHS-funded treatment.
CCG Frimley, the subject of the review, says its policies comply with guidance.
The social media stars, who were featured on TV show Say Yes To The Dress, and run a lifestyle and travel blog, have been together for 13 years and married for four.
They say they were "shocked and devastated to discover the discrimination that lesbian couples, bisexual women and individuals with wombs face in starting their family".
"There is a huge variation and inequality in the system for everyone, but LGBTQ couples are disproportionally affected, meaning many are faced with either pursuing costly private treatment or risky personal deals such as going online to find private donors."
"For many years we have been talking about wanting to create our family – we've had our children's names picked out for a decade," Megan told the BBC.
"There isn't much information out there so everything was new for us, and as we went along we found out there were a lot of barriers and discrimination.
"With equal marriage coming in, we thought we were equal in the eyes of the law, but not when it comes to starting a family."
Woman denied IVF because partner has son
'We couldn't afford IVF so we found a sperm donor online'
The Bacon-Evans have launched the suit with the law firm Leigh Day, which is applying to proceed with the judicial review on Tuesday.
"Our clients believe that Frimley CCG's policy is blatantly discriminatory on grounds of their sexual orientation and puts them at a huge financial disadvantage by treating them less favourably than heterosexual couples in a comparable situation," solicitor Anna Dews said.
Recommendations as to who can have NHS-funded fertility treatment in England and Wales are set by National Institute for Health and Care Excellence (NICE) guidelines.
NICE suggests women aged under 40 should be offered three cycles of IVF treatment on the NHS, which otherwise costs between £5,000 and £10,000 a round, if:
they've been trying to get pregnant through regular unprotected sex for two years
or have not got pregnant after 12 cycles of artificial insemination, with at least six of those using the intrauterine insemination method (IUI)
However, it is up to individual CCGs to set the policy for their local area, and their criteria can vary.
The couple say it was so difficult to discover the fertility treatment policy for LGBT couples in their local area that they submitted a Freedom of Information request to find out.
They eventually managed to book an appointment with a fertility doctor who told them they must go through six rounds of private treatment, but later found out that the minimum number was 12, which could cost up to £26,000.
The couple estimate that the true cost of having a child as a female same-sex couple, or as a single woman, is between £30,000 and £50,000 once the private treatment, cost of sperm and storage are factored in.
More than one in four CCGs in England require couples to pay for 10 to 12 cycles of treatment before they become eligible for NHS help, according to the British Pregnancy Advisory Service (BPAS).
A 'tax on being LGBT'
"Our research has found that female same-sex couples and single women are disproportionately impacted by policies which require that they self-finance costly, and less effective, artificial insemination, in some cases for at least two years, before becoming eligible for funded IVF," says Marta Jansa Perez, director of embryology at BPAS Fertility.
"These restrictions amount to a tax on LGBT+ families, and the impact can be truly devastating."
The couple say they hope the precedents set by their case will help thousands of other same-sex couples to have a family.
They have launched a crowdfunding appeal to raise £10,000 to help cover the cost of the case, and have pledged to donate the money to charity or to others fighting similar legal battles if they win.
In 2019, then-Health Secretary Matt Hancock pledged that "sexual orientation should not be a factor in access to IVF".
But research from the UK fertility regulator found 14% of female same-sex couples had received NHS-funded IVF cycles, compared with 39% of heterosexual patients. Only 6% of single patients had been given NHS-funded treatments.
The Stonewall charity is supporting the launch of the Bacon-Evans' case and calling for all prospective parents to have access to six rounds of funded IUI, and then to three rounds of IVF if that is unsuccessful.
"Being lesbian, bisexual or LGBTQ+ is a social rather than medical infertility and everyone – regardless of where they live and who they love – should be able to start a family if they want," Stonewall's associate director of policy and research, Eloise Stonborough, said.
"There is a huge variation and inequality in the system for everyone, but LGBTQ couples are disproportionally affected, meaning many are faced with either pursuing costly private treatment or risky personal deals such as going online to find private donors."
A spokesperson for NHS Frimley CCG said: "The fertility services we provide are based on NICE guidance. While we can't comment on individual cases we will fully engage with any legal proceedings,"