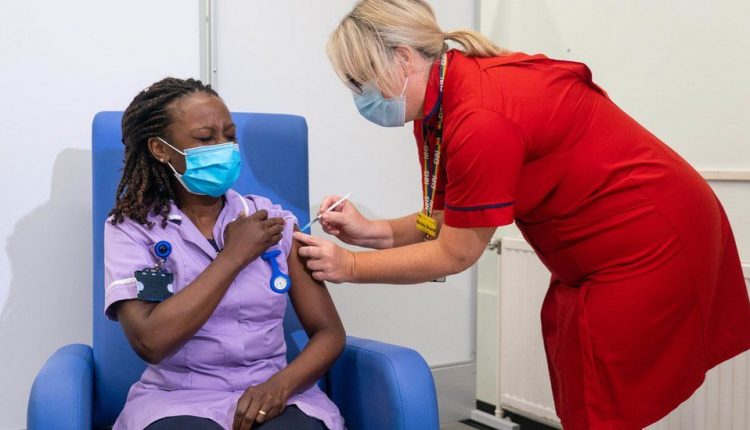 Covid-19: Vaccines to be compulsory for frontline NHS staff in England
Frontline NHS England staff will have to be fully vaccinated against Covid, the government is expected to announce later.
A deadline will be set for next spring to give unvaccinated staff time to get both doses, Whitehall sources told the BBC.
Between 80,000 and 100,000 NHS workers in England were unvaccinated, said Chris Hopson, head of NHS Providers.
Thursday is the deadline for care home workers in England to get vaccinated.
The government's decision follows a consultation which began in September and considered whether both the Covid and flu jabs should be compulsory for frontline NHS and care workers.
The BBC understands that the flu vaccine will not be made mandatory and there will be exemptions for the Covid vaccine requirement for medical reasons.
"We understand why people are vaccine-hesitant. We need to win the argument with them rather than beat them around the head."
Each of the four UK nations makes its own decisions on the issue.
Scotland, Wales and Northern Ireland have not made any proposals to make Covid jabs compulsory for NHS workers or care home staff.
Get Covid jab or restrictions more likely – Javid
Jabs to be compulsory for England care home staff
Mandatory Covid jabs for health staff considered
Last month, Health Secretary Sajid Javid said he was leaning towards compulsory vaccination for NHS staff in England, saying it was the right thing to do to protect staff and patients.
He told the BBC that he did not want the NHS to lose any staff, but said the experience in the social care sector was that the numbers taking up the vaccine "absolutely surged" after it was made compulsory.
Chris Hopson, chief executive of NHS Providers which represents England's NHS trusts, urged the government to think carefully about the tone of any announcement it made, saying unvaccinated staff should not be scapegoated or denigrated.
"We understand why people are vaccine-hesitant. We need to win the argument with them rather than beat them around the head," he told BBC Radio 4's Today programme.
He added that the possibility of losing staff – as social care providers are reportedly experiencing – was a "real problem" as the NHS runs on fine margins and already relies on staff to work extra shifts.
Deputy Prime Minister Dominic Raab told BBC's Breakfast he would not comment on leaked reports but added it was indisputable that the more people who have the vaccine, particularly in vulnerable settings, the safer we will be.

Staffing gaps a worry for NHS bosses
The decision had been anticipated after the Health Secretary Sajid Javid said he was leaning towards the idea of mandatory Covid vaccinations for NHS staff.
Patient safety, he argued, was in his view the central issue.
But health leaders – while expressing support for the idea – also set out reservations.
Losing key workers at a time of concerns about staffing gaps is clearly a worry for NHS bosses.
They have no doubt been watching developments in the adult social care sector where there is a deadline later this week for staff in England to be double-jabbed.
There have been warnings of resignations among care home workers unwilling to get vaccinated.
Health unions are not keen on the idea of mandatory vaccination and will argue that persuasion rather than force is the best route.
The question is whether such a move in England will alienate staff already feeling the strain of growing pressure on the front line.
It remains to be seen whether public opinion is sympathetic to vaccine-hesitant staff or concerned more to ensure patients are treated by people with some protection against the virus.

From Thursday, care homes will be required to refuse entry to workers who have not been fully vaccinated, unless they have a medical exemption or there is an emergency.
In the NHS, more than 92% of frontline staff have had their first dose and 89% are fully vaccinated – higher than the general working-age population, where about 81% have had both doses.
But NHS figures show vaccination rates vary hugely: among hospitals, Dorset County hospital has the highest at 94.6%, while the trust running Bedford Hospital and Luton and Dunstable University Hospital has the lowest rate of fully vaccinated staff, at 79.7%.
Some countries have already introduced compulsory vaccination – including France, which had to suspend 3,000 unvaccinated healthcare workers in September.
But the French government said most suspensions were only temporary, with staff ultimately agreeing to get the jab.
NHS Providers, which represents the trusts which employ frontline workers, has previously said that vaccine mandates could provide an impetus for more staff to get vaccinated.
Chief executive Chris Hopson told the BBC employers wanted a deadline no sooner than April 2022, to avoid the risk of losing staff when "we have a difficult winter coming up and the NHS is going to be absolutely at full stretch".
More than 45.8 million people in the UK have had two doses of a Covid-19 vaccine, meaning 79.7% of people aged over 12 are fully vaccinated, while 87.4% have had a first dose.
The number of daily confirmed cases of Covid-19 remains high but is falling, with 32,322 reported on Monday. Deaths continue to rise week-on-week, with 1,191 reported in the last seven days.