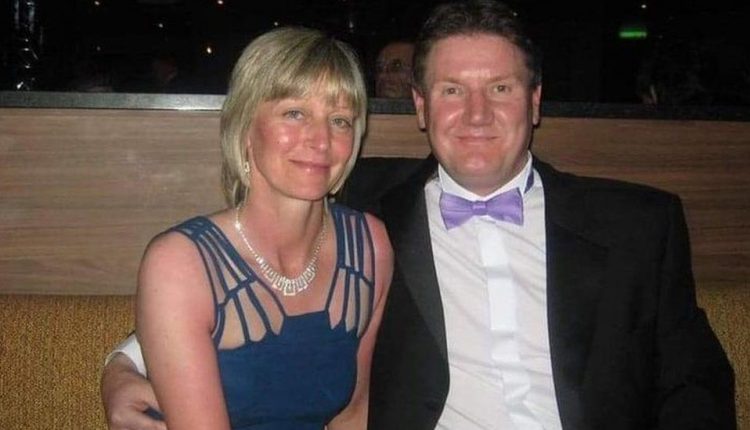 Menopause: Bereaved husband urges men to spot mental health signs
A bereaved husband has urged men to recognise signs of mental health symptoms linked to the menopause.
Linda Salmon, 56, took her own life last April after her anxiety worsened during the Covid pandemic.
Her husband David said he had not realised the menopause could cause suicidal thoughts.
Mr Salmon, from Keighley, West Yorkshire, said: "The physical side of symptoms you might see, but the mental ones are hidden."
He said a feature aired on the BBC's Look North programme after his wife's death led him to realise how the menopause could affect mental health.
"I didn't know there were all these other symptoms," he said.
"We need to talk about it and make people aware. It's the mental side of it,
not just the physical side."
"I honestly thought the menopause was you got a bit warm and had a few moods and then when I saw the programme highlighting suicide it all came together."
He believes he and his wife would have sought potentially life-saving help if they had known more about the link.
When the national lockdown happened, mother-of-two Mrs Salmon worked as a key worker in a supermarket, but felt anxious about possibly falling ill with Covid.
She was signed off work with anxiety and several days later she took her own life.
Mr Salmon, who had been with Linda for 41 years, said he believed the menopause was a "big contribution" to her mental state and that worries about the pandemic had "pushed her over the edge".

Understanding the menopause
The menopause describes the age when women's periods stop and they can no longer become pregnant naturally.
It normally happens between 45 and 55, but can also be brought on by surgery to remove the ovaries or the womb. In the UK, the average age of menopause is 51.
It involves changes to hormones, specifically a reduction in oestrogen, which is key to the production of eggs during menstrual cycles.
The body can start to behave very differently and many women experience symptoms long before their periods actually stop – a phase known as the peri-menopause.
Symptoms of menopause can include hot flushes, night sweats, sleep problems, anxiety, low mood and a loss of interest in sex. Bladder problems and vaginal dryness are also common.
Learn more: What does the menopause do to the body?

Diane Danzebrink, who runs Menopause Support, said it was "no coincidence" that figures published by the Samaritans showed the highest rate of suicide among women was between the ages of 45 to 54.
"The vast majority of women will be peri-menopausal by the age of 45, the average age of menopause is 51.
"It's become absolutely clear to those who work and campaign and advocate in this area that this is simply not a coincidence."
The 55-year-old, from Northampton, set up the organisation after her struggle with the menopause, brought on by surgery, and the lack of help she received.
She said her mental health had deteriorated rapidly and she suffered with "crippling anxiety" which left her unable to leave the house.
"I stopped answering the phone. I wouldn't even open the post because in my head I thought every letter was going to contain bad news," she said.
She would frequently wake in the middle of the night with panic attacks but was "too terrified" to go to the doctor because she thought she was going mad.
Ms Danzebrink added: "Eventually it got to the point where I remember standing in my bedroom and thinking if this is my life, I don't think I want it any more."
After coming "within a whisper" of attempting suicide, Ms Danzebrink said, she sought medical help.
Her doctor recognised her behaviour was a result of the menopause and she started Hormone Replacement Therapy (HRT).
She said: "We have successfully campaigned for menopause to be included in the school curriculum to ensure that all young people have a basic understanding, that will help them as they move through their lives.
"But we need better information for the entire population now so that people can help themselves or their partners, family, friends or colleagues."
Gabby Logan: 'Involve men in menopause discussion'
'My menopause was spotted in an AA meeting'
What we wish we'd known about the menopause
Mr Salmon said he now wanted to help other partners and families spot symptoms so he can prevent others from suffering as he has.
"We need to talk about it and make people aware. It's the mental side of it, not just the physical side," he said.
"If you are in a similar situation, I would say help your wife, hold her hand, get her through it.
"You don't want to be where I am today, nobody needs to do that."