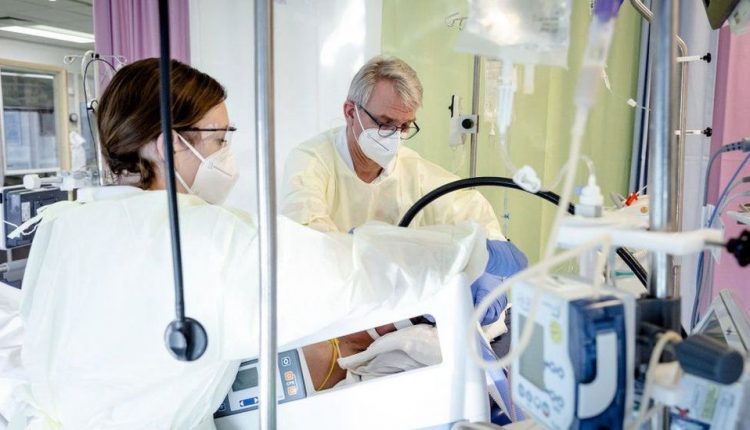 Covid: Dutch set for partial lockdown as infections surge
Dutch Prime Minister Mark Rutte is set to declare Western Europe's first partial Covid lockdown of the winter, with three weeks of restrictions for shops, sport and catering.
His caretaker government is responding to record infections and rising intensive care cases in hospitals.
Much of Europe is facing a surge in cases, blamed partly on low vaccine take-up in several countries.
Austria is expected to back a lockdown for unvaccinated people this weekend.
Restrictions would be imposed first in the two provinces of Upper Austria and Salzburg from Monday, according to Health Minister Wolfgang Mückstein.
Denmark, which had downgraded coronavirus as no longer a "socially critical" disease, has re-instated a Covid pass that was phased out in September. The government wants to push through a law allowing workplaces to require the pass for staff.
Covid passes set to stay as Europe heads for winter
According to widespread reports in Dutch media, the caretaker government agreed late on Thursday that the three-week partial lockdown would start on Saturday evening:
Non-essential shops, cafes, restaurants and hotels would have to close at 19:00 (18:00 GMT)
Professional sport would continue behind closed doors
That would include the Netherlands' football World Cup qualifier against Norway on 16 November
A final decision on restrictions for cinemas and theatres still has to be taken, reports say, along with plans for the existing Covid pass to be issued only to those who have been vaccinated or who have recovered from Covid.
The catering industry has reacted angrily to the leaks; a spokesman told public broadcaster NOS the government had "crossed a line". Last weekend, thousands of protesters marched through The Hague in anger at existing Covid restrictions.
Latest figures on Thursday showed a record 16,364 new Covid cases over 24 hours, up a third on the previous week. Dutch vaccination rates are relatively high, with 82.4% of over-12s having two doses.
The package of measures is due to be confirmed by the prime minister and health minister on Friday evening.
In Austria, vaccine take-up is at 65% and Chancellor Alexander Schallenberg says he will talk to provincial governors on Sunday before the green light is given for a national lockdown for the unvaccinated.
"The situation in Austria is worrying and infection numbers are rising rapidly, especially in Upper Austria and Salzburg," the health minister warned. The two provinces have a combined population of over two million.
Upper Austria governor Thomas Stelzer says people who have not been vaccinated will be able to leave home only for essential reasons such as going to work, buying food or to exercise. It is unclear how that would be enforced.
Germany, which has also seen record Covid numbers this week, declared Austria a high-risk area on Friday, so that anyone visiting who has not been vaccinated or has recovered from Covid will have to quarantine for 10 days.
Eastern European countries have for weeks been fighting record infection rates, as they grapple with the lowest vaccine rates on the continent:
Russia announced another 40,123 cases and 1,235 deaths in the past 24 hours on Friday
Ukraine recorded 24,058 more infections and 750 deaths
Romania recorded another 307 deaths, involving 286 unvaccinated people, but case numbers are down
Slovenia has a record 215 Covid patients in intensive care, a relatively high figure for a population of more than two million
Czech daily Covid infections have topped 10,000 for the third time this week; the government is set to announce tighter restrictions