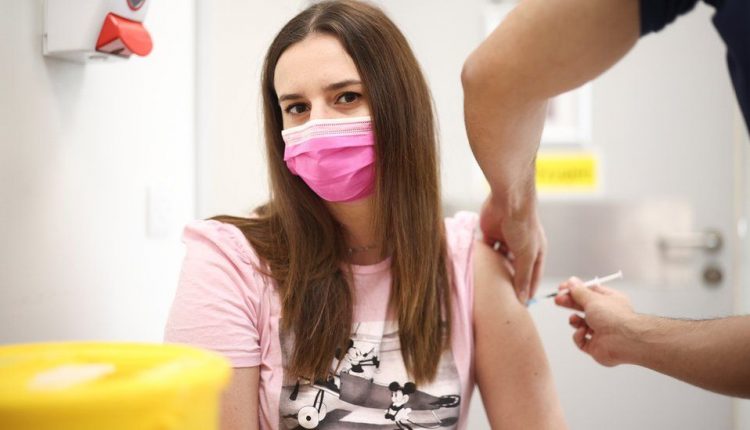 Covid: When can teenagers get a second dose?
A second dose of the Pfizer vaccine will be offered to 16 and 17-year-olds across the UK, following updated advice from the UK's vaccine committee.
All over-18s across the UK can have two Covid vaccine doses, as can some vulnerable, high-risk children over 12.
Healthy, low-risk children between 12 and 15 have only been offered a single dose.
When can teenagers get a second dose?
The Joint Committee for Vaccination and Immunisation (JCVI) says a second dose for those aged 16 and 17 is safe and effective.
The JCVI has previously held back from recommending a second dose because of concerns over a very rare heart condition, called myocarditis, experienced by tiny numbers of young people – particularly boys – after the second dose.
It says it is now reassured by evidence from other countries that a 12-week gap between doses would lower that already very small risk.
A decision on a second dose for 12-15s, has not yet been made.
No vaccine is currently approved for under-12s in the UK.
Will children's Covid jabs be compulsory?
What difference will jabbing young teens make?
Vaccinating children – how the UK compares
How can I get my vaccine?
In England, if you're over 18, or within three months of your 18th birthday, you can book a jab online or by calling 119. You can also visit a drop-in clinic without an appointment. Check local health providers and social media groups for details.
If you're 16 or 17, you should make an appointment through their GP, or go to a walk-in centre. If you're between 12 and 15, you will probably receive your vaccine in school.
In Scotland, over-16s can register via the NHS inform website or by calling 0800 030 8013. Most health boards also have drop-in clinics. Meanwhile ,12-15s are initially being invited to go to vaccination clinics, accompanied by their parents.
In Wales, over-16s should contact their local health board if they've not already been offered a jab.
In Northern Ireland, you can book online or call 0300 200 7813. Walk-in centres are open to older teenagers.
Can I choose which vaccine I get?
No. If you're under 40 or pregnant you'll be given Pfizer or Moderna.
Under-18s have so far been offered Pfizer.
How effective are the vaccines?
The vaccines are very effective at protecting people against becoming seriously ill or dying from Covid-19.
Latest data from the UK Health Security Agency suggests more than 90% protection against hospitalisation and death with all three vaccines.
The vaccines are less effective at stopping people becoming infected by the virus, developing mild symptoms or passing it on – but they do reduce the risk of that happening too.
If you've been double-jabbed, you are far less likely to become seriously ill or die from Covid.
Do I have to have a vaccine?
Covid vaccines aren't compulsory, but everyone is urged to get jabbed to protect themselves, their family, friends and wider society.
Children under 16 don't need parental consent to get jabbed, as long as they are believed to have "enough intelligence, competence and understanding to fully appreciate what's involved in their treatment". This is known as "Gillick competence".
Being fully vaccinated can make travelling to most other countries easier, and in many cases means you will not have to self-isolate either when you return to the UK.
However, it's worth bearing in mind that under-16s are not eligible for their own digital NHS Covid Pass, which is now accepted widely as proof of vaccination.
What's more, the single jab which most UK teenagers have so far received, is not recognised as full vaccination by some countries (including France), and more tests may be required.
Check your destination's rules on the Foreign Office website before you travel.
What are the UK travel rules, what tests do I need and can I visit the US?
No jab. No entry. When will I need a Covid passport?
What are the side effects?
Most are mild, completely normal and disappear after a few days.
They happen because the body's defences are reacting to the vaccine, and include:
sore arm
tiredness
fever
headache
feeling sick
A very small number of people had a severe allergic reaction after the Pfizer and Moderna vaccines, so you should discuss any allergies you have before vaccination.
Can I drink alcohol after the vaccine?
There's no evidence to suggest you should avoid alcohol altogether, but drinking in large quantities can suppress your immune system.
Does the vaccine affect periods?
Some women have experienced unusually heavy, painful or prolonged periods after being jabbed.
This may be because the vaccine prompts an increase in activity in the immune system, which also plays a role in the menstrual cycle.
However, there's no evidence the vaccine has any impact on pregnancy or fertility.
Pregnant women are being urged to get the vaccine, to protect themselves and their babies.
Coronavirus can cause serious illness in some women in later pregnancy, and possibly a slightly higher rate of stillbirth.
If you're planning a pregnancy or are breastfeeding, government guidance says you can still get vaccinated,
Call for vaccine period changes to be investigated
The vaccine fertility myths that just won't go away
What if I've got long Covid?
A recent study suggests vaccination can help improve long Covid symptoms.
Researchers think the vaccine could be pressing the body's reset button and helping it recover.
What are the symptoms of long Covid?
Long Covid: Will I ever get better?