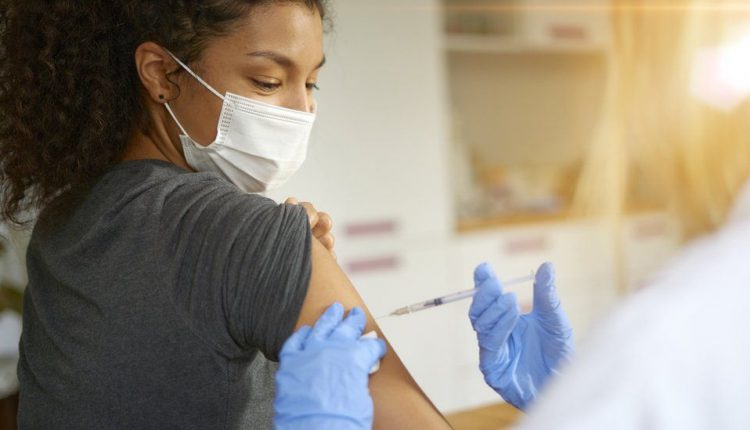 Adults in England aged 40 upwards will be invited to book booster
People in England aged 40 and over can book their booster jabs from Monday.
Almost 500,000 people in their 40s are currently eligible for the booster, having received their second jab at least six months ago, NHS England said.
Sixteen and 17-year-olds will also be able to book their second dose from Monday, after scientists concluded it was safe and effective for this group.
As Europe battles a new wave of Covid, the Health Secretary said the booster would help keep another surge "at bay".
Sajid Javid said getting the booster vaccine was "the best way to keep yourself and your loved ones safe this winter – and will help reduce the pressure on the NHS".
"While the Government is continuing to monitor a wide range of data to ensure the country remains protected, we have very sadly seen a surge in cases in parts of Europe.
"I would urge everyone to get their vaccine whether their first,
second or top-up dose as soon as possible, giving them and their loved ones vital protection over winter and the festive period."
"The most important thing we can do to stop a similar rise in this country is get the jab – so please get your vaccines as soon as you can so we can keep the virus at bay."
Who can have a booster jab and how can you get one?
Is my Covid vaccine wearing off?
Canada authorises Pfizer vaccine for children 5-11
More than 14 million booster jabs have been administered in the UK so far.
Booster doses were initially offered to the over-50s, front-line health and social care staff and people with health conditions that put them at greater risk from the virus.
From Monday 22 November, more than a million 40 to 49-year-olds can pre-book their appointments, and a further 1.5 million invites will be sent out in the coming weeks, NHS England said. The vaccination can be booked online, or by calling 119.
Last week, the Scottish government also confirmed people in Scotland over the age of 40 would be offered the booster jab, once the earlier priority groups had been given theirs.
In Northern Ireland and Wales appointments are currently booking for over-50s and other eligible groups only.
Speaking last week, when the government announced it was extending the booster programme to over-40s across the UK, England's deputy chief medical officer Professor Jonathan Van-Tam cautioned over the loss of vaccine efficacy.
He warned: "Protection will wane over time after the first two doses of a primary course… especially so in older adults and those with risk conditions".
Dr Emily Lawson, head of the NHS Covid-19 vaccination programme, echoed his concerns ahead of "a challenging winter" and urged "everyone who is eligible and invited to take up the offer of a life-saving booster as soon as possible".
Monday also sees appointments opening for second doses of the vaccine to 16 and 17-year-olds in England, following updated advice from the Joint Committee for Vaccination and Immunisation (JCVI).
The JCVI previously held back from recommending a second dose because of concerns over a very rare heart condition, called myocarditis, experienced by a very small minority after the second dose.
Last week the vaccine committee said it was reassured by evidence from other countries that a 12-week gap between doses would lower that already very small risk.
All over-18s across the UK can have two Covid vaccine doses, as can some vulnerable, high-risk children over 12. However healthy, low-risk children between 12 and 15 are currently only being offered a single dose.
Professor Stephen Powis, NHS national medical director, said: "I would urge everyone to get their vaccine whether their first, second or top-up dose as soon as possible, giving them and their loved ones vital protection over winter and the festive period."