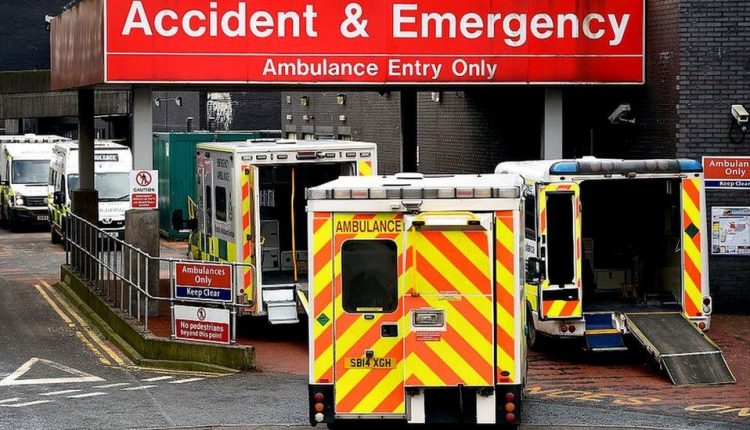 Some vulnerable people use A&E weekly or more
A small group of patients make up a large proportion of A&E attendances, call outs and hospital admissions, a new analysis of NHS data suggests.
The British Red Cross, which did the work, says many are vulnerable people who say they have nowhere else to go for help.
Figures suggest less than 1% of the population account for 16% of emergency department visits in England.
Amanda, from Brighton, says she used to visit her local A&E every week.
The 54-year-old had hit rock bottom after her marriage broke down and she was still dealing with the trauma of being abused as a child.
"Hospital was the only place I felt safe at that time," she said.
"I would overdose, call an ambulance and get taken to hospital.
"The staff would mention how often I would come for help.
"I hated doing it, but I didn't have anywhere else to turn. I wasn't offered any other services – I would see the mental health team in the hospital but when I got back home there were never any follow ups."
"The roll out is being accelerated by the NHS, meaning patients will be able to get a range of support in a more appropriate setting."
High intensity users
Using data between 2012 and 2018, the Red Cross tracked the attendances of 376,000 patients who had been flagged as "high intensity users" – patients attending more than five times in one year (2015).
Despite making up just 0.7% of the population, they accounted for 29% of ambulance journeys and 26% of non-elective hospital admissions.
While the majority would call on emergency care less than nine times in a year, a handful attended their local A&E more than 300 times.
Many lived in the most deprived areas and were often dealing with mental health problems, relationship breakdown, housing insecurity and severe loneliness.
Amanda says her visits reached a peak in November 2020. The loneliness from the second Covid-19 lockdown had made her life almost unbearable. But then she received some different help.
"I got a phone call from someone called Nikki, who said she was from the Red Cross – she said she wanted to come and have a chat.
"I thought I'm in trouble, I honestly thought she was going to tell me off about the amount of times I had been in hospital."
Nikki St-Aubyn leads a Red Cross High Intensity Unit (HIU) and works with the two main hospitals in the Brighton area.
There are 100 HIUs across England and they've been set up to give individual, tailored support to people in crisis and who feel going to their local hospital's emergency department is their only option.
"During my first visit with Amanda, we must have gone through box after box of tissues, but we really made progress," Nikki said.
"I helped co-ordinate the services she needed to support her, and we went through a special steps programme to help her with borderline personality disorder. It took 20 weeks and she worked so hard at it.
"It's made a massive impact."
Amanda has been working with Nikki for over a year, they speak every day and she has got back in touch with her sons, her grandchildren and has started a college course.
She said: "For the first time in my life I feel safe. And I just want to say sorry to the hospital and the emergency teams for all the visits I made."
Across the country, NHS England data shows the HIUs, which co-ordinate crucial support with different agencies, have reduced repeat visits by this small group of patients by up to 84%.
They target the top 50 most prolific attendees at their local A&E.
Naomi Phillips, director of policy and advocacy at the British Red Cross said it was all about meeting patients' specific needs and not just getting them "patched up" in hospital.
"People may have financial difficulties, mental health problems, or they are just struggling to navigate a really complicated system to get the right help.
"If we can step in and give the right support early on then there is far less strain on a system that is already under such intense pressure."
Professor Stephen Powis, NHS National Medical Director said: "The NHS is already experiencing record demand for emergency care, and we are only just heading into winter so the introduction of around 100 High Intensity Units across England will help to reduce unnecessary visits to A&E.
"The roll out is being accelerated by the NHS, meaning patients will be able to get a range of support in a more appropriate setting."