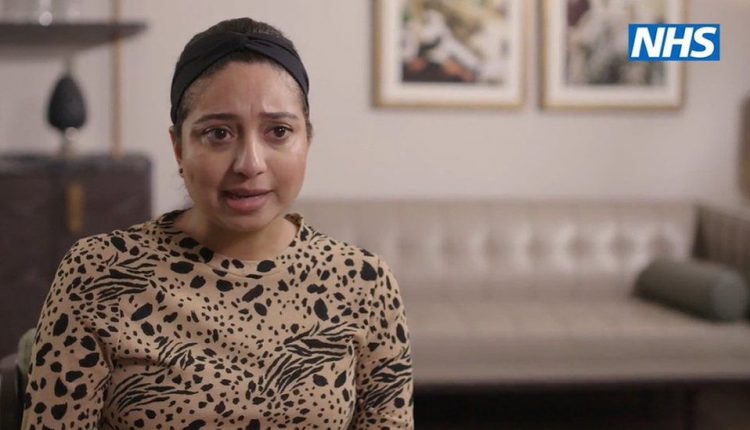 Covid-19: Mums who were severely ill urge pregnant women to get jabs
Unvaccinated women who gave birth while severely ill with Covid-19 have shared their stories to encourage pregnant women to get jabbed.
Three mothers who suffered birthing complications due to Covid feature in a video by the UK Health Security Agency.
One mother, Tanviha, said: "My family were told it was unlikely I'd survive and to prepare for the worst."
The Department of Health said 98% of pregnant women critically ill in hospital with Covid are unvaccinated.
The most recent government figures show 7,373 people with coronavirus in hospital in the UK, down from 7,653 a week earlier. This is far below the peak of nearly 40,000 people back in January.
Rise in unvaccinated pregnant women ill with Covid
Vaccine appeal to pregnant women after mum dies of Covid
Can pregnant women take the vaccine?
"The stories shared as part of this film are heartbreaking and provide invaluable,
first-hand insight into why accepting the offer of a Covid-19 vaccine is
so important for mothers and their babies."
The video also features doctors and frontline staff who treated the women – they warn of the dangers of the virus for pregnant women and their babies.
Tanviha, who works in anaesthesiology and research in Manchester, said the vaccine was not available to pregnant women when she caught Covid.
She quickly became seriously ill and was taken to intensive care and her son was delivered by emergency C-section.
"The day after I was intubated, the nurse told them they were going to switch the machine off, but instead I was transferred to an extracorporeal membrane oxygenation (ECMO) machine, which is a last resort for patients with severe heart and lung failure, and it saved my life," she said.
"The first time I saw my son he was two months old. It's the scariest experience of mine and my family's life but I'm just grateful that me and my son are alive.
"If you're unsure about getting vaccinated please come forward and get your jab, not everyone's as lucky as I am."
Christina, a mental health therapist from Guildford, told BBC Breakfast when she went to get her jab she was turned away as at the time it was not recommended for pregnant women. She said her partner and son were hospitalised with Covid but she did not catch it until 42 days later.
She was taken to hospital in her third trimester and her daughter Ariella was delivered by C-section as doctors feared she could be stillborn.
Christina said: "I don't know what the future holds for me and my baby; I'm still suffering with symptoms now along with the anxiety of not knowing how or when I'll recover."

What are the impacts of Covid in pregnancy?
Nearly one in five Covid-19 patients who are most critically ill are pregnant women who have not been vaccinated
Of those pregnant women in hospital with symptomatic Covid-19, 98% are unvaccinated
No fully vaccinated pregnant women were admitted to intensive care with Covid-19 in England between February and the end of September 2021
Around one in five women who are admitted to hospital with the virus need to be delivered preterm to help them recover
And one in five babies delivered early due to Covid need care in the neonatal unit
Since April 2021, around 84,000 pregnant women have received one dose and more than 80,000 have received two doses of the Covid-19 vaccine
Source: Department of Health and Social Care

Joanne, a make-up adviser from Lincolnshire, said she had planned to have a Covid jab after her daughter Mollie-Ann was born.
But she became seriously ill with Covid and could not feel her baby kicking.
"The team at the hospital quickly spotted the baby's growth had dropped and her fluid was low," she said.
"Her heartbeat was going down and down so the consultant rushed me off for an emergency caesarean when Mollie-Ann was born.
"I'm so grateful to the maternity team for keeping me and my baby safe and I just wish I'd been vaccinated sooner."
Professor Lucy Chappell, chief scientific adviser at the DHSC and honorary consultant obstetrician, said: "The stories shared as part of this film are heartbreaking and provide invaluable, first-hand insight into why accepting the offer of a Covid-19 vaccine is so important for mothers and their babies."