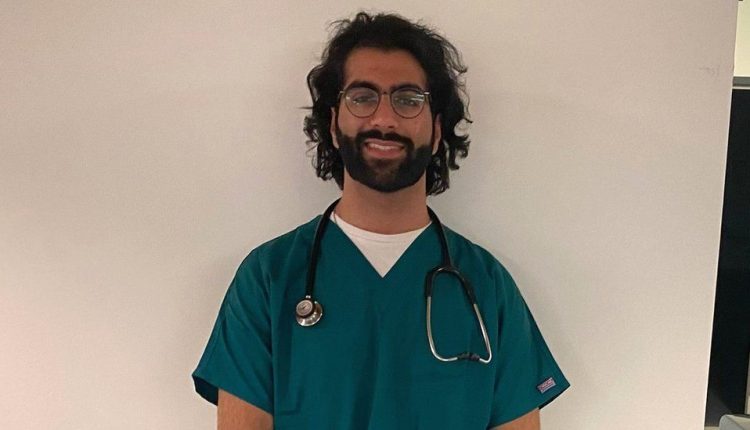 Covid vaccine: Why our black and South Asian friends and family still won't have a jab
The risk of catching and becoming very sick from Covid remains high for black and South Asian people – and it's partly because fewer have decided to get vaccinated against coronavirus.
That's what a recent study found – so what's behind the lower rate of uptake among black and Asian people?
Radio 1 Newsbeat's been speaking to some people about why vaccine hesitancy might be higher in their ethnic groups.
It's as the UK government is making a huge push to get more people vaccinated.
That's because of a new variant of coronavirus, Omicron, which may spread more easily.
We're still finding out how serious Omicron is, and we don't know if it makes people more ill than other versions of the virus.
"Everyone as human beings, we like to feel as though we have a choice."
'Frustrating' conversations
Zain Ahmad, who is British-Pakistani, has had his first and second doses and is getting his booster jab this week.
But the 20-year-old medical student says "a lot" of his South Asian friends back home in Buckinghamshire don't want the vaccine because they "are not sure about the evidence or the safety".
The vaccines approved for use in the UK have met strict safety standards and scientists have repeatedly said the serious complications of Covid itself are a far greater risk to people than any rare complications associated with vaccines.
Zain thinks more South Asian people might have the jab if there was better education and clearer messaging around the benefits of it, as well as better trust of the government and the healthcare system.
"There is a lot of health inequality in this country and South Asians, among other groups, have been adversely affected. Does this group feel they can trust the healthcare system the same as their white British peers? I don't know."
Covid risk remains higher for some ethnic groups
Watchdog probes racial inequalities in healthcare
Covid 'has thrived on racial discrimination'
The government has said it will use the report findings to help tackle health disparities, which have been raised an issue throughout the pandemic.
Last year an inquiry was launched to find out why people in the UK from black, Asian and other ethnic minority groups were twice as likely as white people to be infected by coronavirus, and more likely to need intensive care and to die from the virus.
And the British Medical Association says racial disparities have a "significant impact" on people's health in general.
Zain says he's tried to help educate friends to encourage them to take the vaccine, but that beliefs "can be quite deeply embedded into someone's mind".
"Even though I'm studying about vaccines and how beneficial they are at controlling diseases like Covid… sometimes you can't convince people, and that's their right to choose," he says.
"Those conversations are quite hard, they're frustrating, but they're not as easy as saying someone is right and wrong – there's more to it than that."
'There's no trust'
The issue of trust is the main reason roughly a third of Cameron Cole's black friends and family haven't had the jab yet.
That figure matches up to research which has found black people are the least likely to have the vaccine in England. Some 95% of white people aged 50 and over have been jabbed, compared with 87% of South Asian people and 73% of black people, the research says.
Cameron, who is black Caribbean, has had the jab but can understand why some of his loved ones have chosen not to have it yet.
"If they did feel trust in what they're being told by the powers that be, then they'll do it," the 28-year-old from south London says.
"The government, somehow, needs to regain the trust of its people."
Cameron, a project manager in construction, says the distrust also makes his unvaccinated family and friends more likely to believe misinformation and conspiracy theories they see on social media.
"People make their minds up for themselves and always edge towards the rubbish that they hear on YouTube because it goes against what the powers that be are saying."
Group chat 'tension'
Sharnie May Crooks, who is black Caribbean, says about 20% of her family has had the vaccine.
The standout reason stopping her from having the jab is a concern about the possibility of unknown long-term effects, even though reports of serious side-effects are very rare.
"There's definitely a lot of tension when it comes to discussing it, because obviously we completely disagree on each other's stances," Sharnie May says.
"The tension comes when we send different news reports and statistics into the family group chat – it's usually just all the unvaccinated people speaking and all the vaccinated people not saying anything."
Sharnie May says some people who she goes to uni with in Warwick have called her selfish for not having the vaccine but that she feels her view should be respected.
"Instead of pointing the finger at the people who are unvaccinated, maybe we should point the finger at the fact that this vaccine is just not good enough," she says, referencing that people who have been vaccinated can still catch and pass on Covid.
Covid vaccines suppress infections and reduce the risk of severe illness. They were never expected to completely stop the spread of the disease.
The Pfizer-BioNTech vaccine has 93% effectiveness against symptomatic infection of the Delta variant of the virus – which is the most common one in the UK at the moment – two weeks after the second dose, compared with 71% for the Oxford-AstraZeneca jab.
First data points to Omicron re-infection risk
Ethnic Covid-jab gap 'not due to area or education'
'Vaccine passports make me reluctant to get a jab'
Sharnie May says people will become "more reluctant" to get the jab the more they feel it's being "forced upon them".
"Everyone as human beings, we like to feel as though we have a choice."