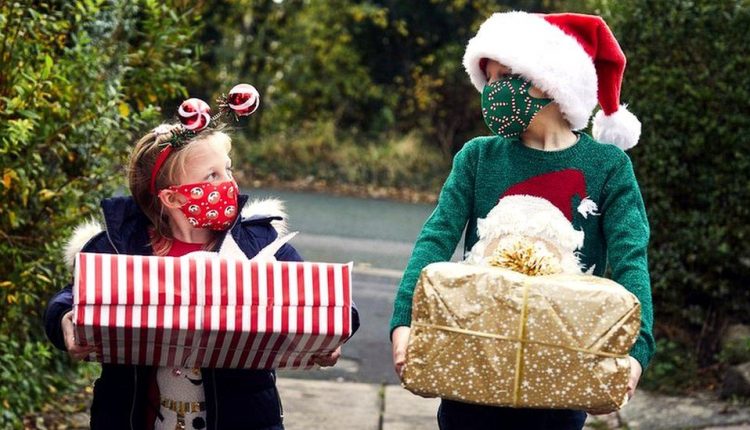 Omicron: Wales expects significant wave of new Covid variant
A significant wave of Omicron is expected to hit Wales with a peak expected by the end of January, the health minister has said.
Eluned Morgan's comments came as Wales announced all adults will be offered a booster jab by the end of that month.
She said it was now clear the coronavirus variant "spreads very rapidly" and she believed "that is clearly cause for concern".
Ms Morgan said it was urgent that people get vaccinations and boosters.
On Tuesday health officials confirmed a fifth Omicron case had been found in Wales, among 101 cases reported in the UK on Tuesday.
It brings the total to 437. The variant is believed to be spreading in the community in England.
The prime minister's official spokesman has also said Omicron appears more transmissible than Delta – the variant of coronavirus currently dominant in the UK.
Live: Welsh government press conference
All adults offered booster jab by end of January
Could Wales go into another lockdown?
While Eluned Morgan refused to rule out tightening Covid rules, no new restrictions have yet been introduced in Wales in response to the new variant.
"We can't give you any assurances on that because we are still learning about the situation," she told a Welsh government press briefing.
Ministers have instead stressed the need to take care over the festive period, and Ms Morgan recommended people take lateral flow tests before meeting friends over Christmas.
"It's clear people should act with caution," the minister said.
First Minister Mark Drakeford is due to announce his latest review of coronavirus restrictions on Friday.
Omicron will peak 'by the end of January' in Wales, says Health Minister Eluned Morgan
LIVE: https://t.co/E2Z7KYNcRj pic.twitter.com/vky0nZtFXg

— BBC Wales News (@BBCWalesNews) December 7, 2021
The BBC is not responsible for the content of external sites.View original tweet on Twitter

The health minister said it was not yet known how sick the Omicron variant can make people.
Hospital admission in South Africa had gone go up from about 143 to 788 in two weeks, she said, but added that "we don't know if that's a pattern we would see reflected in our population".
"We don't know the extent to which vaccines will give us protection but we do think they will give us a lot more than having no vaccine at all. So that's why our plea today is please help us in this situation."
Is Omicron more harmful than other Covid variants?
Covid: Is an office Christmas party too risky?
Ms Morgan said: "We are expecting a significant wave of Omicron to hit Wales.
"The modelling suggests that it will reach its peak by around the end of January, which is why there is an urgency in terms of getting people vaccinated and boosters done as soon as possible."
The overall seven-day rolling case rate per 100,000 people has risen slightly to 493.3, with two more deaths reported by Public Health Wales on Tuesday bringing the total to 6,441.
How is the booster programme being rolled out in Wales?
On Tuesday the Welsh government announced it would offer all adults a booster vaccine by the end of January, in line with targets announced last week in England and Scotland.
It follows advice to bring forward the gap between second and third doses from six months to three – significantly increasing the number of adults eligible for a third dose.
More vaccination centres, with drive-through options and longer opening hours.
Walk-in centres for over-65s without an appointment
Asking for additional help from the military to allow some parts of Wales to double the number of vaccinations provided
Students, fire services and council staff to provide help at clinics, alongside GPs and community pharmacies
This will allow the NHS to ramp up the number of vaccinations from 19,000 a day to the goal of more than 200,000 a week.
At Tuesday's press conference, Ms Morgan there may be a need "to reduce some planned care" in the NHS to run the booster programme "but we're obviously hoping that we can keep our GP surgeries going as usual".
Some family doctors had "stepped up and offered support, but we're not expecting that provision within our community to be reduced at this time", Ms Morgan added.
Pregnant women urged to get vaccine
Deputy Chief Medical Officer Dr Gill Richardson encouraged pregnant women to get vaccinated before the variant takes hold.
She said intensive care admissions for unvaccinated pregnant women "are really much higher than they should be".
According to recent figures, one in six patients receiving the ECMO treatment, the most intense form of intensive care, were pregnant.
Dr Richardson accepted that the decision was " very difficult" and "women are worried and concerned".
But she asked them to talk to their midwives and partners about the vaccine, "because we have seen some real tragedies amongst pregnant ladies who have sadly left their families behind and succumbed to the Delta variant".
Expanding Covid passes 'would be slap in the face'
Welsh Conservative and shadow health minister Russell George said: "I am pleased that the minister has finally heeded our calls to rapidly roll out booster jabs and redeploy our volunteer army, even implementing our proposal for walk-in centres which she called free-for-alls only a few days ago.
"However, the reported possibility of extending vaccine passports to hospitality business is a slap in the face for one of the worst-affected sectors of the pandemic."
Plaid Cymru said ministers should base any decisions on new restrictions or lockdowns on emerging evidence of the seriousness of the Omicron variant.
Delyth Jewell said: "In the interim, being in a vacuum is not a good place to be, so businesses need to have clarity on whether there are going to be further restrictions."