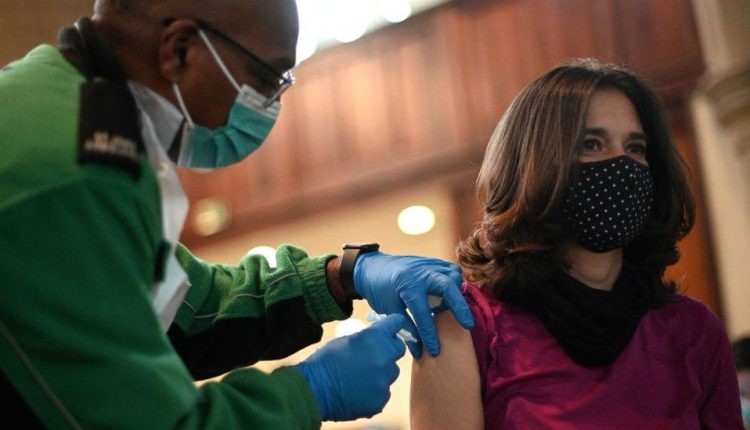 Covid booster jab booking system opens to over-40s in England
People aged 40 and over in England can now book their booster jab for three months after their second dose.
The latest expansion means another seven million people can book their top-up jab amid continuing concerns over the new Omicron variant.
NHS chief executive Amanda Pritchard said the vaccine rollout was continuing "at speed" in the run up to Christmas.
The booking system will open to people a month in advance – two months (61 days) after their second dose.
People in high risk groups in England are also now able to book.
The announcement comes exactly a year after Coventry-based grandmother Margaret Keenan became the first person in the world to be given a Covid jab – the Pfizer-BioNTech vaccine – outside of a clinical trial.
"We are halving the gap that people have to wait to get their booster to three
months – prioritising those most at risk of serious illness and strengthening our collective defences in light of the Omicron variant, as this virus goes on the advance this winter."
Since then, the NHS in England has delivered almost 100 million jabs – first and second doses, and boosters.
All UK adults are to be offered a Covid booster, and 12 to 15-year-olds will be able to have a second primary dose.
The NHS in England, Wales and Scotland have said all adults will be offered a booster by the end of January – although their appointment may be later than that.
How vaccines changed the course of the pandemic
First data points to Omicron re-infection risk
How many people have had boosters so far?
Some people aged 40 and over have already been invited for their top-up, but the latest change means they can now book the appointment themselves.
Booster jabs were originally offered to the over-50s, front-line medical staff and people with health conditions that put them at greater risk. Last month the rollout was widened to include the over-40s.
The programme is being vastly expanded due to the threat of the Omicron variant, which early data suggests spreads more easily than the current dominant variant Delta.

Officially there have been just over 400 Omicron infections. But that's just the tip of the iceberg.
It is based on positive tests sent to labs to check for variants, which only happens in a minority of cases.
Because of a quirk in the way Omicron shows on PCR tests it is possible to identify suspected cases too.
Using this data, researchers at the University of East Anglia believe there could have been five to six times as many Omicron cases as the official total shows.
This data is what is behind suggestions the number of cases is doubling every three days or so and the conclusion that it is more transmissible than Delta.
What is not clear is why. To what extent is it down to Omicron's ability to get past immunity, greater infectiousness or because it has a shorter incubation period?
The answer to that could have a big bearing on how quickly and how far infection levels will climb.
Another unknown is what that will mean for serious illness. You would expect reinfections or infections post-vaccination to be milder.
If that is the case, the proportion of cases ending up in hospital will drop.
But even if it halves, if infection rates more than double, pressure on the NHS will still increase.
The threat of hospitals being overwhelmed is now back on the table.

NHS chief executive Amanda Pritchard said: "There is a lot we do not know about the Omicron variant but experts believe that even if existing vaccines are less effective they will give protection."
Dr Jenny Harries, head of the UK Health Security Agency, said boosters were critical to "bolster our defences against this new variant" and urged people to book their first, second or booster jab "without delay".
Almost 21 million people in the UK have now had their booster, official figures show. Some 88.9% of people aged over 12 in the UK have had their first dose and 81% have had their second.
Meanwhile, the NHS is appealing for tens of thousands more vaccinators and volunteers to support the ramped up programme.
Another 1,300 vaccination sites have opened in England since February, bringing the total number of sites to almost 3,000.
In summer, modelling suggested more than 60,000 deaths had so far been prevented in England as a result of the Covid vaccine programme.
Health Secretary Sajid Javid said: "We are halving the gap that people have to wait to get their booster to three months – prioritising those most at risk of serious illness and strengthening our collective defences in light of the Omicron variant, as this virus goes on the advance this winter."