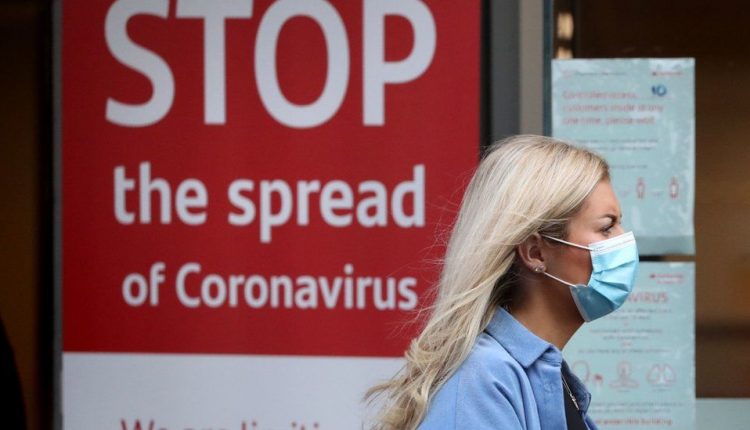 Scotland could return to past restrictions
Scotland could return to tougher restrictions used in the past if the Omicron variant spreads out of control, the deputy first minister has said.
John Swinney told the BBC the first minister had requested financial assistance from the UK government last week in case businesses had to close.
Scientists believe Omicron could spread more easily than Delta.
Nicola Sturgeon told parliament on Tuesday that Covid measures would be reviewed on a daily basis.
She said while no further measures would be immediately introduced, people should tighten up on existing protections, for example businesses should "ensure" staff were working from home if possible.
People were also urged to take more lateral flow tests, including on every occasion when they plan to mix with other households.
"I think it shows contempt at the heart of Downing Street for members of the public and that is exactly what you do not need in time of national emergency."
'Range of options'
Speaking to the BBC's Good Morning Scotland programme, Mr Swinney said he couldn't give a definitive answer on whether socialising would be restricted over Christmas.
However, he said there were a "range of options" the government was considering such as extending the vaccine passport scheme.
He said: "It could also involve some of the restrictions that people are more familiar with that we've had to use in the past.
"There isn't a new repertoire that we could suddenly bring out, we would have to go back to some of the previous versions but we want to avoid that if we possibly can do."
More schools and firms 'will face Omicron closures'
Vaccines should work against Omicron variant, WHO says
Take a test every time you leave home, says Swinney
There are currently 99 known cases of Omicron in Scotland, accounting for 0.92% of infections reported on Tuesday, and over 400 across the UK.
But researchers at the University of East Anglia believe there could have been five to six times as many Omicron cases as the official total shows.
The number of cases appears to be doubling every three days or so, prompting concern that the new variant is more transmissible than Delta.
It is expected that more schools and businesses across Scotland will close because of local outbreaks in the lead up to Christmas in order to slow the spread of the variant.
Two primary schools, in Renfrewshire and South Lanarkshire, have already been forced to close after suspected outbreaks.
Meanwhile, Mr Swinney confirmed that a joint letter from Nicola Sturgeon and the Welsh first minister, Mark Drakeford, requested more money to support people if the UK had to toughen up wider restrictions.
He Swinney said: "We have pressed for there to be further dialogue with the UK government on that very subject so that should there be a requirement for different parts of the UK – or the whole of the UK – to take steps to apply restrictions we have got the ability to provide the support to individuals through what I recognise would be a very difficult period."
Leaked No 10 video
While Mr Swinney said he hoped for further discussions on the matter, he suggested UK ministers may be "distracted" by the news of senior Downing Street staff joking about holding a Christmas party during lockdown last year.
A video obtained by ITV shows the prime minister's then-press secretary Allegra Stratton joking at a rehearsal news conference that "the fictional party was a business meeting and it was not socially distanced".
Downing Street continues to insist no party took place.
But a source previously confirmed to the BBC that a party did take place there on 18 December, with "several dozen" people in attendance.
SNP Westminster leader Ian Blackford said Boris Johnson should resign if the party happened, claiming he "doesn't deserve trust of the public".
Scottish Labour have not echoed this call, however the party's shadow health secretary Ian Murray said Mr Johnson should "apologise" and would have to "consider his position".
And Conservative MSP Liz Smith told the BBC that it was "reprehensible" that anyone would have thought a party was appropriate at that time.
According to Mr Swinney, the Conservatives had "lied" about the party and the video had dealt a "very serious blow" to the government's handling of the developing Covid situation.
He said: "I cannot think of a worse set of images than the behaviour of the UK government in last seven days – that video last night is just one of most appalling things I've seen in my political life.
"I think it shows contempt at the heart of Downing Street for members of the public and that is exactly what you do not need in time of national emergency."