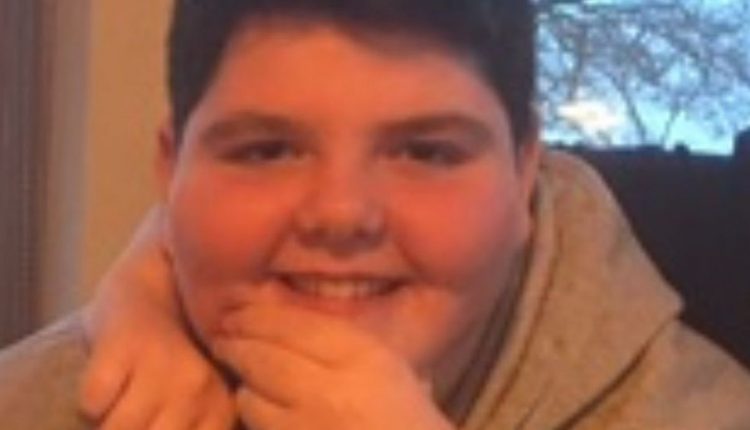 Covid-19: Boys from same Staffordshire school died within a week
Two teenage boys from the same school in Staffordshire who died within a week of each other had both contracted Covid-19.
A coroner confirmed Mohammed Habib and Harry Towers both had the virus before their deaths during October half-term.
Charlotte Nugent, sister of 15-year-old Harry, paid tribute to him and confirmed he had not had a vaccination.
Fourteen-year-old Mohammed's vaccine status is unclear, but he is not believed to have received a first jab.
The deaths of children from Covid-19 are incredibly rare.
Students at St John Fisher Catholic College, in Newcastle-under-Lyme, which both boys attended, had been due to have Covid vaccinations just weeks before the pupils died.
However, only flu vaccinations were given at the school on 8 October, the vaccination service said, and Covid jabs were rescheduled for 19 November.
North Staffordshire Senior Coroner Andrew Barkley confirmed Year 10 pupil Mohammed died from a bleed on the brain following a stroke, caused by Covid-19.
"My rational head tells me that we did everything we could and it was a tragedy in both situations, but with my irrational head, I beat myself up every day."
Death 'unexplained'
He said he was satisfied the cause of death on 24 October was natural and further investigations were not required.
Harry's death on 30 October is being treated as unexplained, but the coroner is expecting the cause of death may be natural.
"It is correct that the pathologist is considering Covid-19 as being contributory to the death of Harry Towers, but at this stage, the cause of death is still under investigation," he said.
After suffering from the effects of Covid-19, the Year 11 pupil returned a negative lateral flow test on Thursday 28 October and was due to go back to school the following week, but died suddenly on the Saturday.
Paying tribute, his sister described him as a "kind, gentle lad who always stood up to bullies" and wanted to be a history teacher.
Neither Harry nor Mohammed had known underlying health conditions.
Almost all children and young people are considered at very low risk from Covid-19.
Data for England suggests about 25 children died from the virus in the first 12 months of the pandemic, and only six of those did not have other health conditions.
Vaccinations for healthy 12-15-year-olds in England were recommended in September, but primarily to avoid disruption to education, as there was not enough benefit to warrant it on health grounds alone.
Garrett Murray, head teacher of the boys' school, said: "We went above and beyond what was expected with our Covid restrictions.
"My rational head tells me that we did everything we could and it was a tragedy in both situations, but with my irrational head, I beat myself up every day."
Two boys from same school die over half-term break
What difference will jabbing young teens make?
The latest lab science on Omicron's threat
Although Covid-19 jabs at the school were rescheduled, NHS Midlands and Lancashire Commissioning Support Unit, responsible for the programme, said vaccinations for children were also being offered at other centres in the area.
Since the boys' deaths, there has been international speculation they were caused by the vaccine. This is not the case.
The school confirmed it had also been under the spotlight from anti-vaccination campaigners.
Mr Murray said the school did not take a stance on children's vaccination and it respected everybody's opinions regarding the arguments for and against.
Neither the Staffordshire director of public health Richard Harling nor University Hospitals of North Midlands NHS Trust felt it appropriate to comment on the teenagers' deaths.