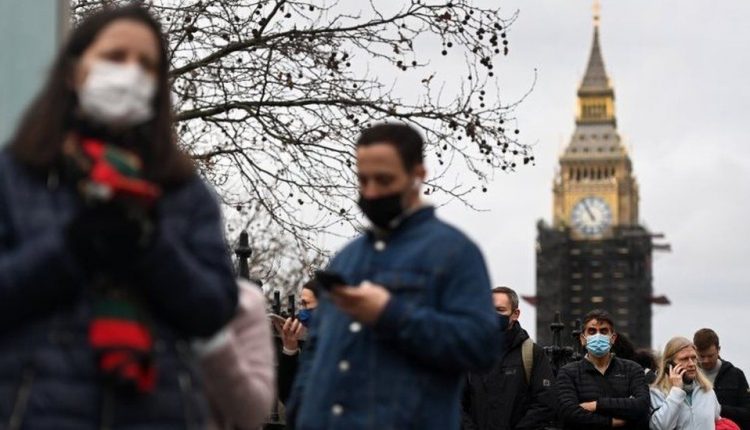 Covid: PM faces big rebellion as MPs vote on new restrictions
MPs will vote on new Covid rules for England later with around 70 Conservatives expected to rebel against Boris Johnson.
The prime minister has defended his plans as a "proportionate" response to rising cases of the Omicron variant.
However, his proposal to make Covid passes a requirement of entering large venues such as nightclubs has angered many of his own MPs.
The measures are still likely to pass as Labour says it will support them.
Following a House of Commons debate on Tuesday afternoon, there are three key votes for MPs:
The new rules on face masks which came into force last week. Under these restrictions, face coverings have become compulsory in most indoor settings, except for pubs and restaurants
A measure allowing fully-vaccinated people who have been exposed to a positive Covid case to avoid self-isolation if they take daily lateral flow tests, and receive a negative result
The introduction of a Covid pass which would ensure that someone can enter a large venue, if they can prove they are fully vaccinated or have a negative lateral flow test
This last measures has proved controversial on the government's own benches, with one Conservative MP, Marcus Fysh, telling the BBC it was "the thin end of an authoritarian wedge".
Another Conservative, Andrea Leadsom, said one of her constituents was now "now less afraid of Covid than she is of intrusive and incoherent government regulations".
Mr Johnson sought to reassure his colleagues, describing the measures as "balanced and proportionate", but added there was "no room for complacency".
If 70 Conservative MPs voted against the government, it would amount to the largest rebellion Mr Johnson will have faced during his time in office.

Big rebellion would hit Johnson's authority
Ministers have tried to soften the ranks of Tory rebels. In the Commons on Monday the Health Secretary Sajid Javid pointed out Plan B contains very limited restrictions compared to measures in force across Europe.
He implored backbenchers to believe Covid certification to enter certain venues did not amount to a "Covid passport". But in spite of these assurances – and the prime minister warning of a "tidal wave of infections" – the potential Conservative revolt could be the biggest of Boris Johnson's premiership.
While the government and Labour see the Plan B measures as necessary to protect public health, dozens of Conservatives view them as a step too far. An infringement on liberty. A slippery slope. A slide towards a future Plan C and further restrictions.
If 70 or more Tory MPs do ignore Conservative whips tomorrow and either vote against or abstain, it could make No 10 very wary about introducing further measures in the new year.
For Boris Johnson, relying on Labour votes to get his plan through Parliament would be galling and a sign of how grouchy backbench Conservative MPs are with their beleaguered leader. His authority would take another hit.