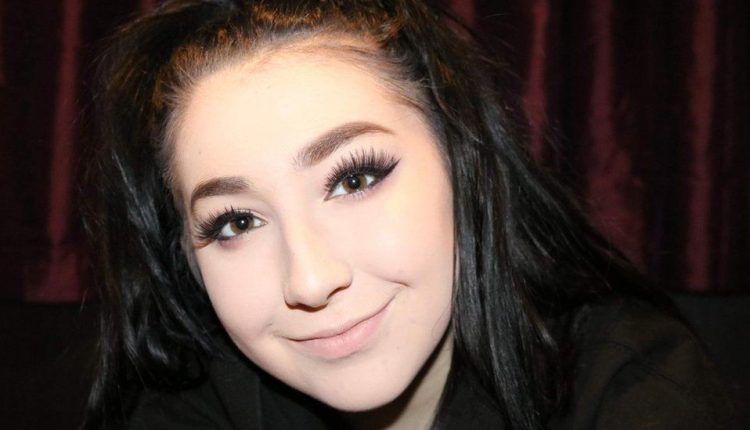 Sex and cancer: 'I was ashamed to ask for help'
When Cait Wilde was diagnosed with cancer at the age of 17, her sex life was way down the list of things to worry about. But after treatment, when she was ready to get intimate again, she was met with pain, discomfort, shame – and didn't know how to get help.
Warning: This article contains adult themes.
Cait, from Manchester, had a type of blood cancer called acute myeloid leukaemia.
She describes her sex life before cancer as "pretty wild", but during chemotherapy doctors told her sex could actually be dangerous.
Some 46% of younger people with cancer say it negatively affects their sex life, compared with an average across all age groups of 37%, according to research by Macmillan Cancer Support.
Almost 2,400 people aged 15-24 are diagnosed with cancer every year in the UK, according to the latest available data from Cancer Research UK.
"Even if it's bit TMI, it's our experiences, and we want to encourage people to be more honest."
'A hypothetical chastity belt'
Treatment had left Cait with a low platelet count. Not enough platelets means if you get even a small cut or skin tear, as can happen quite often during sex, your blood won't clot and you'll just keep bleeding.
"It was kind of like having a hypothetical chastity belt put on me," Cait tells Newsbeat.
As she "jealously" watched her friends from college head out on dates, Cait battled various side effects of her illness and treatment – including hair loss, weight fluctuations and excruciating bone pain.
BBC Ouch podcast: 'Did anyone else miss sex during chemo?'
She lost interest in sex during chemo but after a successful bone marrow transplant, "certain feelings started coming back" and Cait wanted to have sex again.
But when she tried to masturbate one night, she experienced "discomfort and pain".
Cait didn't know at the time, but her chemotherapy and radiotherapy treatment had caused her body to go into chemical menopause.
One of the many possible symptoms of menopause is vaginal atrophy, where the vagina gets thinner and drier – making sex uncomfortable.
But no-one had warned Cait this might happen so she felt "left in the dark".
"I thought: 'This isn't as fun as I remember it to be,'" Cait says.
She had just begun to feel ready to try dating again but the bad experience meant she lost confidence, as she started to imagine having to explain to anyone she wanted a relationship with that she couldn't have sex.
"I felt, in a way, kind of broken. It brought on quite a bit of shame," she says.
'I thought I was too young to have breast cancer'
'Get checked' says Mark Wright after lump removal
Woman with incurable cancer had treatment delayed
Cait was so ashamed she didn't speak to anyone about what had happened for months.
But eventually she found out "by chance" that a nurse at her transplant clinic had set up a clinic for women's health – where Cait finally managed to get support and advice.
"By the end of that appointment I walked out a lot more confident," she says.
"I had to rediscover everything, but I was able to do that educated and much more safely."
Jack Fielding found it too "embarrassing and awkward" to ask his healthcare team for advice about sex after he was diagnosed with a type of sarcoma known as MPNST.
When Jack, from Bolton, lost weight and his hair during treatment in 2019, he felt "a part of who I was" had disappeared too.
"My self-esteem was knocked so much," the 26-year-old tells Newsbeat.
"It made me feel almost alien-like. I'd just look in the mirror and I wouldn't see myself anymore.
"Getting naked in front of somebody at the time was such a scary thought to me because I felt so ugly."
Macmillan Cancer Support says cancer can affect someone's sex life in loads of ways, including:
Emotional impact of diagnosis, leading to a loss of interest in sex
Short-term impact of treatment such as fatigue
Body image issues from hair loss, weight loss/gain, and scarring
Long-term impacts such as reduced mobility or physical changes in how your body works sexually
Psychosexual therapy is "under-resourced" in the NHS so most people have to pay for private care if they want help, according to Caroline Lovett, who's one of a "small group" of such therapists employed by the health service with specialist cancer training.
"Going through puberty and thinking about your sexual wellbeing is difficult enough, but if you're a teenager living with cancer it can feel even more lonely," she says.
Watch: 'Why your blood matters so much to me'
Tom Parker: 'Brain cancer treatment must improve'
'The lump on my jaw was cancer'
Dr Richard Simcock agrees the availability of specialist therapy is "very patchy" across the UK.
The consultant cancer specialist and clinical advisor for Macmillan Cancer Support says the NHS would benefit from more specialists because problems faced by people like Cait and Jack aren't always being addressed.
"We need to make sure that healthcare professionals are trained to deal with those questions sensitively, but also trained to make sure that they answer those questions," he says.
Cait's now campaigning to improve sex advice and information for people with cancer and has worked with other young cancer survivors to write a magazine about their sex stories.
"Even if it's bit TMI, it's our experiences, and we want to encourage people to be more honest," she says.
"I don't want people to feel left in the dark like I did."