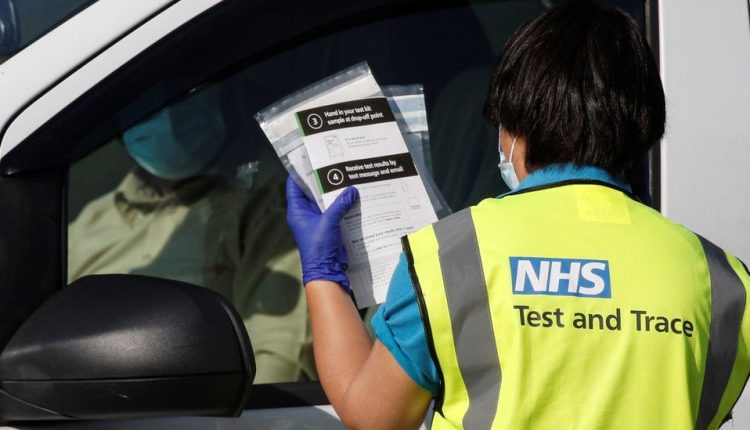 Covid-19: High demand blamed for shortage of PCR appointments in England
The temporary lack of in-person PCR tests in England on Tuesday was due to exceptionally high demand, UK Health Security Agency sources say.
While home testing kits remained available, the UK's official booking website briefly showed no appointments available anywhere in England.
However, more time slots have since been released to cope with demand.
PCR tests are required for people who have Covid symptoms or who have tested positive on a lateral flow test.
As the testing slots ran out, a statement on the booking website read: "If you cannot get a test now, try again later. You will not be able to get a test through the helplines."
PCR tests are now once again available at testing sites in England, Scotland, Wales and Northern Ireland.
But there are still none listed as available in London, Hertfordshire, Suffolk, the Isle of Wight, Bristol, and Mendip – while there are "very few" in Stockton-on-Tees.
How do I book my vaccine booster?
How do I get a lateral flow or PCR Covid test?
On Monday, the ordering of lateral flow test kits from the government website was also temporarily suspended – again due to high demand – while members of the public complained of waiting for hours in online queues for the chance to book a Covid vaccine appointment.
Downing Street said ministers were working with Royal Mail and Amazon to ensure more lateral flow tests can be delivered.
The surge in demand for both tests and vaccines comes as the UK battles to slow the spread of the Omicron variant in the run-up to Christmas.
Prime Minister Boris Johnson has said all over-18s across the UK will be offered the chance to get a booster jab before the end of the month, while MPs are set to vote later on a raft of new restrictions for England, some of which are already in effect.
Face coverings are compulsory in most indoor public venues, including theatres and cinemas – as well as on public transport and in places like shops and hairdressers
People should work from home "if they can"
Daily lateral flow testing for seven days is required for fully-vaccinated people who are contacts of positive Covid cases
From Wednesday, some venues and events would be legally required to check the Covid status of visitors
During the Commons debate on the new rules, Health Secretary Sajid Javid described Omicron as a "grave threat", adding scientists "have never seen a variant capable of spreading so rapidly" and the government needed to slow its advance.
However, due to the widespread prevalence of Omicron internationally, England's travel red list, which restricts travel to certain countries, will cease to exist from Wednesday at 04:00 GMT, Mr Javid said.
Monday saw online booster jab bookings open for people aged 30 and over – a day after the prime minister announced an expansion to the rollout amid the "Omicron emergency". People aged 18 to 29 will be able to book their booster jabs online from Wednesday.
More than 500,000 people booked a vaccine appointment online on Monday, while others queued up at walk-in centres across the country.
Modelling by the UKHSA estimates the current number of daily Omicron infections is around 200,000, and Dr Susan Hopkins, its chief medical adviser, has said the growth rate of Omicron seems to be "shortening rather than lengthening".
"We have been studying this virus for three weeks today and in that time period we have shown that in the UK this is growing very fast, with a growth rate initially two to three days and that growth rate seems to be shortening, rather than lengthening at the moment," she told the Science and Technology Committee of MPs.
UK expected to remove 11 countries from red list
Why do boosters work if two doses struggle?
The latest official figures show there are 4,713 confirmed cases of the Omicron variant, with 10 people, aged between 18 and 85, hospitalised with the variant in England.
However, Deputy Prime Minister Dominic Raab caused confusion on Tuesday when he told Sky News there were 250 Omicron cases in hospital, then immediately afterwards told the BBC there were nine cases. When contacted by the BBC, the UKHSA said neither answer was right, and the actual number was still 10.
The PM's official spokesman said ministers had been told by England's chief medical officer, Prof Chris Whitty, that a "significant increase in hospitalisations" from Omicron is expected.
But the spokesman added it was still "too early to say" how severe the illness caused by the Omicron variant is.