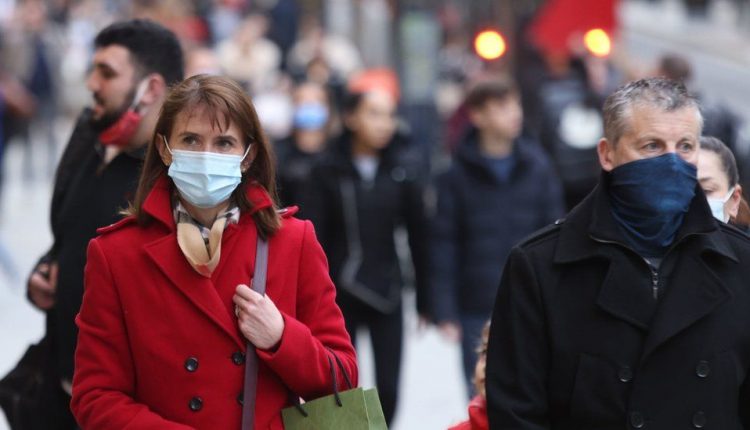 Covid: UK reports highest daily cases since the pandemic began
The UK has recorded the highest number of daily Covid-19 cases since the beginning of the pandemic, with 78,610 new cases on Wednesday.
The previous record was 68,053 on 8 January – when the UK was in lockdown.
The head of the UK Health Security Agency, Dr Jenny Harries, earlier warned the Omicron variant is "probably the most significant threat" since the pandemic began.
Prime Minister Boris Johnson is due to hold a press conference at 17:00 GMT.
How many cases are there in my area?
How do I book a booster?
Where will I need a Covid pass?
"That is a stark reminder of why the current national mission to get
Covid vaccination is the right one."
Cases have risen by nearly 20,000 in one day – on Tuesday, 59,610 confirmed cases were confirmed by the government.
The jump in cases follows the introduction of new measures in recent days, with mandatory face masks in most indoor settings and Covid passes for large events in England.
Health Secretary Sajid Javid refused to rule out introducing new restrictions over the coming weeks, but insisted the measures in place currently are the right ones.
Asked if more guidance would be issued instead of legislation, he told reporters: "We keep the whole situation under review. It is fast moving, I think people understand that."
Mr Javid also said around 60% of cases in London are now of the Omicron variant.
Also on Wednesday, the UK gave out 656,711 booster or third doses of a vaccine – up by over 140,000 on the day before.
There were 165 deaths of people who tested positive for Covid in the previous 28 days.

Health officials have been clear we should expect cases to surge because of the Omicron variant.
The first UK case was identified last month – and by last weekend it was thought to account for nearly a quarter of cases.
And with Omicron infections doubling every two days it was only a matter of time before it began to drive up overall infection levels.
These numbers are only going to go up from here as both Delta and Omicron circulate.
What is not clear is what it means for serious illness.
There are suggestions it is causing milder illness. There is logic to that – reinfections or infections post vaccination are likely to be milder.
But if infections continue to rise as quickly as they are that will push up hospital admissions.
Left unchecked, the peak will come quickly with modelling suggesting it could range between just over 2,000 a day to more than 6,000 in England alone.
Last winter it topped out at 3,700.

Concerns over the speed at which the Omicron variant is spreading in the UK have been expressed by scientists and government advisers.
The chief executive of NHS England said the case numbers "should worry all of us" and emphasised they show how important the booster programme is.
Amanda Pritchard told the House of Commons Public Accounts Committee: "That is a stark reminder of why the current national mission to get Covid vaccination is the right one."