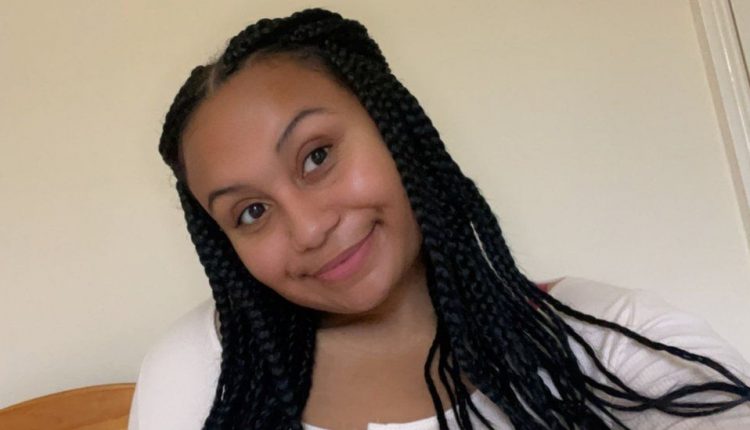 'I've got Covid so am self-isolating alone at Christmas'
"All of my housemates are going home so it looks like it's going to be a Christmas dinner for one."
Katelyn Mensah is one of the tens of thousands of people to have tested positive for Covid in the UK in the past few days – which means she'll be self-isolating over Christmas.
Term at the University of Lincoln ends today, so the 19-year-old journalism student had taken a lateral flow test to be on the safe side before leaving her student house to get the train home to London tomorrow.
She was on FaceTime to a friend when she realised the test she'd taken had two lines on it, meaning she'd tested positive and all her Christmas plans "came crashing down".
"I think I jinxed myself. I was telling my friend that throughout this whole time I've never had Covid, never had to self-isolate – and then I see the test," Katelyn tells Radio 1 Newsbeat.
"I was just really sad and frustrated."
Omicron symptoms: Is a runny nose a cold or Covid?
Gig tickets, Christmas and Covid: Can I get a refund?
UK reports 88,376 cases on Thursday
"I've been working non-stop for so long that finally having this downtime
is actually quite relaxing."
Katelyn is currently waiting on the outcome of a PCR test but fully expects to be self-isolating for 10 days – which will take her to 26 December.
She plans to fill the time doing a bit of uni work and watching Christmas TV – something she usually loves doing with her nan and uncles back home.
"It's a tough situation but there's not a whole lot we can do so I'm trying to see the positive outlook on it," Katelyn says.
"I'm quite lucky, the fact that I'll be back on Boxing Day means I'm not missing out on the whole lot."
Katelyn's going to try to stop herself from feeling "deflated" by adding one or two treats into the online food shop she's got planned.
"Maybe a box of Celebrations that no-one can steal the Maltesers out of – they're all for me."
'I can't believe it's happening'
Molly Nancarrow, 20, felt "very stressed, anxious and overwhelmed" when her lateral flow test came back positive for Covid on Tuesday.
"I just can't believe this is happening," she tells Newsbeat.
Molly, who's a student at the University of Gloucestershire, says it's "heartbreaking" to be missing the build-up to Christmas with her family in Bath because the days before 25 December make the day itself "more magical".
"It's what gets me in the Christmas mood, spending time with my family. Being on my own is going to make it a little bit harder."
Instead of going on walks and visiting Christmas markets with her mum, step-dad and brothers, Molly's going to spend time on FaceTime with them instead.
She's waiting on a PCR test result, but no matter what comes back, she'll stay away from home until she's feeling better because her brothers are vulnerable.
"I probably won't be contagious but you don't want to risk it," she says.
"I'm really hoping that I'll be alright because it'll be so upsetting if I have to stay here on Christmas Day."
Last year Molly spent almost an entire month self-isolating after two housemates got symptoms.
She says she's learnt a few things from that time to help her cope this time around.
"I stayed in my room a lot, more than I should have," she says.
"I will make sure I get out of bed everyday and maybe not be on my phone 24/7, and just do something else, like colouring.
"I know that being in my room the whole time is just not going to help make me feel better, mentally and physically."
How to manage Covid at home
Omicron now dominant virus variant in Scotland
It's the second year running Cosmo Wilson will be spending Christmas away from family.
Last year the UK's travel restrictions meant he couldn't fly back to see his parents in Thailand, so he spent the festive season with friends in Nottingham instead.
This year he had been planning to stay with his sister and their aunt and uncle, in Uckfield, East Sussex.
But the 22-year-old waiter tested positive this week and his self-isolation ends as the clock ticks past midnight into Christmas Day. So he'll spend the day in London with a friend instead.
Cosmo says seeing the positive test result was a "jarring" moment.
"The main feeling was just disbelief," he tells Newsbeat.
To stay away from housemates Cosmo is spending most of his time in his bedroom – which has no windows.
When they do spend time together they take precautions and sit "across the living room, socially distanced and with a mask on".
As well as binge-watching some TV and starting work on an application to join the Army, Cosmo's going to spend a lot of this week planning his Christmas dinner.
"Perfecting that turkey, brining it, good stuffing, I've got myself a beautiful oven tray," Cosmo says.
Like Katelyn, he's trying to stay positive and says self-isolation is in some ways a "blessing".
"I've been working non-stop for so long that finally having this downtime is actually quite relaxing."