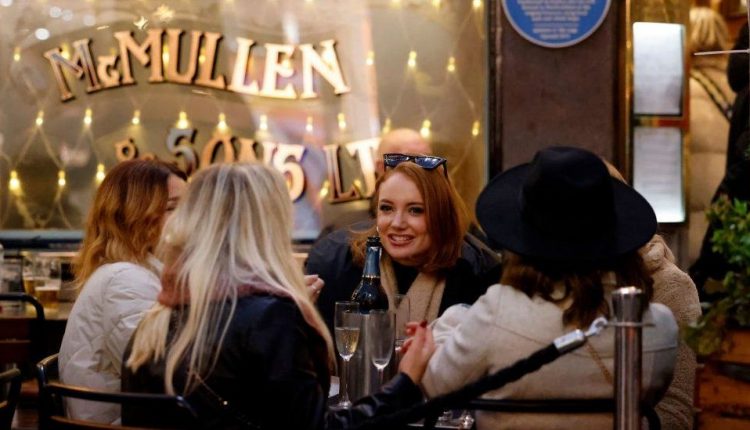 Covid: Enjoy new year but be cautious, care minister says
People should enjoy themselves but be cautious when celebrating new year, UK care minister Gillian Keegan has said.
Revellers should take a lateral flow test before going out and celebrate in well-ventilated areas, she advised.
The government is not imposing further Covid restrictions in England, but there are limits on socialising in Scotland, Wales and Northern Ireland.
The hospitality sector described the decision not to add further measures as a "lifeline" for pubs, bars and clubs.
Ms Keegan said while people should try to enjoy themselves, the Omicron variant of coronavirus was "highly infectious" and they needed to exercise caution.
There has been an increase in cases and people were going into hospital with Covid, Ms Keegan said, adding that the government was watching the data "all the time".
NHS England data shows there were 1,281 Covid-19 hospital admissions on Christmas Day – the highest number for any day since 16 February.
"If the self-isolation rules are what's making the pain associated with Covid, then we need to do that perhaps sooner rather than later."
Ms Keegan also said 214,000 people had received their booster jab over the Christmas weekend and a total of 32.4 million had now received a third dose.
Earlier, environment Secretary George Eustice said the evidence on Covid cases and admissions did not support more interventions at the moment but the government would keep its decision not to impose further curbs in England under review.
Record levels of demand for Covid PCR tests have left some people waiting for up to five days to receive their results over Christmas – meaning they had to self-isolate until they receive their negative result.
The UK Health Security Agency apologised and said action had been taken to add extra capacity to its laboratory network.
The new places where you'll be asked to wear a mask
Record demand leads to Covid test result delays
What are the new Covid rules for the UK?
How can I get my booster jab?
Pubs, bars and restaurants have been hard hit in the run-up to Christmas, due to mass cancellations over Omicron fears.
UK Hospitality chief executive Kate Nicholls said the decision not to go beyond Plan B measures in England would give "a real lifeline" to many businesses.
But there are also calls for more support – Adnams brewery boss Andy Wood, told BBC Radio 4's Today programme more than half of Christmas business had been lost.
Ms Keegan said the government had introduced a £1bn package to support businesses before Christmas.
Concerns have also been raised about the impact on hospitals and schools of staff having to self-isolate.
Prof Paul Hunter, professor in medicine at the University of East Anglia, told BBC Breakfast that in time people with Covid should be allowed to "go about their normal lives" as they would with a common cold.
"If the self-isolation rules are what's making the pain associated with Covid, then we need to do that perhaps sooner rather than later," he said.
He suggested this might be able to happen "once we're past Easter", depending on the effects of the disease at that time.
Prof Sir John Bell, regius professor of medicine at Oxford University told the Today programme the decision not to introduce new curbs before the new year is "probably fine", with data showing "very low" numbers of vaccinated people in intensive care.
He said the Omicron variant was "not the same disease" we had seen a year ago and added he thought "the horrific scenes that we saw a year ago" were "now history".
Staff quarantining was putting additional stress on the health service, Sir John said, and lateral flow tests were "quite a good way" of showing who was infectious – rather than cutting isolation periods as has been done in the US.

Restrictions do not stop Covid, they just buy time by delaying its spread.
Last winter that time was used to rollout the vaccine programme, which meant when cases started to rise as restrictions were lifted the population was better protected.
Given the extent of the booster rollout – nine in 10 of the most vulnerable have had one – we are about as well protected as we can be.
So the argument for restrictions is more about spreading out the pressure on the NHS and wider economy given high rates of infection leads to lots of people isolating. But that then needs balancing against the costs and harms of restrictions.
There are finely balanced trade-offs that need to be made.
Ministers in England have clearly decided on a different course to their peers elsewhere in the UK in the belief the levels of serious illness caused in this wave will be manageable.
But even then there is no guarantee the approaches in Scotland, Wales and Northern Ireland will have much of an impact anyway.
Many scientists believe it will take pretty severe restrictions, perhaps a complete ban on indoor mixing, to dent Omicron's spread.

Chris Hopson, chief executive of NHS Providers, which represents NHS trusts, said some trust executives felt staff absences due to self-isolation were going to be a "bigger problem and challenge" than the number of people being treated for Covid.
He told BBC Breakfast that while there may come a point where Covid was treated like a common cold, that should not be the case for people who work in the NHS, as they worked with potentially "very, very vulnerable" people.
Geoff Barton, general secretary of the Association of School and College Leaders, said the big issue would be whether there would be enough staff to sustain in-person education when term began in January due to self-isolation.
Not all experts have agreed with the government's decision not to impose further measures with Prof Andrew Hayward – epidemiologist and a member of the advisory group Sage – saying ministers seemed to be acting "on the optimistic end of the spectrum".
Public health professor Andrew Watterson, of the University of Stirling, accused England of being "really out of step" by not introducing further restrictions, saying there was a "real mismatch" between some of the data and policy.

This variant is very contagious and spreads faster than others
Vaccines and boosters are still essential and do a great job at protecting against severe disease
It is milder – if you catch it, the risk of needing hospital treatment is up to 70% lower than with previous variants – but that is largely because many of us have built up immunity from vaccines and past infections rather than changes to the virus

After a two-day halt in publishing data, it was revealed that more than 300,000 new Covid cases had been recorded on Saturday, Sunday and Monday.