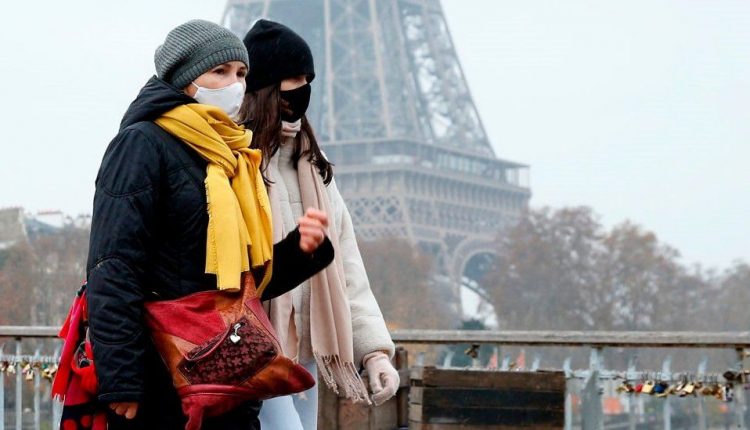 Covid: US and France report record daily case rises
The US and France have reported their highest daily rises in new Covid cases since the pandemic began, as the Omicron variant continues to spread.
According to the US Centers for Disease and Prevention (CDC) the country reported more than 440,000 new infections on Monday.
However, officials said the numbers could be an "overestimate" due to reporting delays over Christmas.
France meanwhile reported Europe's highest ever number of new daily cases.
It saw 179,807 infections on Tuesday, with French health minister Olivier Véran earlier warning that "everything suggests" France could see as many as 250,000 daily cases by the start of January.
In the US however, a CDC spokesperson told news site Politico the figure was likely an "overestimate" due to lags in testing and test centre closures over the Christmas period, adding that case counts "will become more stable after the new year".
Italy, Greece, Portugal and England all also reported record rises on Tuesday.
It comes as the World Health Organization (WHO) warned that the risk of the Omicron variant "remains very high" in its weekly Covid update.
According to the update published on Tuesday, the number of new Covid infections of all strains grew by 57% in Europe in the week before 26 December, and by 30% in the Americas region.
Studies suggest the Omicron variant is milder than Delta, with a 30% to 70% lower chance of infected people ending up in hospital. But fears remain that the sheer number of cases stemming from the highly infectious variant could overwhelm hospitals.
Record rises in Europe and US
The CDC data tracker says cases rose by 441,278 on 27 December, by far the highest number of daily cases ever reported to the agency. US media report the seven-day average rise in infections is now at its highest level since January 2021.
However, officials from the agency also revised down the prevalence of Omicron in the US, saying it accounts for 59% of cases rather than 73% as previously reported.
Medical policy expert Scott Gottlieb said the new estimate could suggest that a "good portion of current hospitalisations" in the US are still being driven by the Delta variant.
Setting aside the question of how the initial estimate was so inaccurate, if CDC's new estimate of #Omicron prevalence is precise then it suggests that a good portion of the current hospitalizations we're seeing from Covid may still be driven by Delta infections. https://t.co/ZacVjEhk5x

— Scott Gottlieb, MD (@ScottGottliebMD) December 28, 2021
The BBC is not responsible for the content of external sites.View original tweet on Twitter
Meanwhile France announced its own massive spike in infections on Tuesday.
The French Hospital Federation has said that the "most difficult weeks are yet to come".
Prime Minister Jean Castex announced new restrictions earlier this week including at least three days a week mandatory working from home for those who can from early January.
The country's booster rollout has also ramped up, with more than 23 million having received a booster to date.
A number of other European countries also reported record daily cases on Tuesday:
Infections in Italy topped 78,000 cases, hitting a new record since the start of the pandemic. It also recorded 202 deaths, bringing the total number of deaths in the country to 136,753
Portugal recorded 17,172 new cases, a rise on Monday's total
Greece's Health Minister, Thanos Plevris, called for calm after the country reported 21,657 cases
Cyprus also recorded a single-day record high of infections, with 2,241 new cases
Meanwhile, health authorities in England reported a record 117,093 cases. Full UK-wide Covid data has been unavailable over the Christmas period
However, while a number of cities – including Paris, London and Berlin – have cancelled official New Year's celebrations, some governments have been less willing to bring in nationwide restrictions.
People in France and England have been asked to use their common sense, while the Spanish capital Madrid has said it will go ahead with its celebrations with a cap on the number of attendees at Puerta del Sol square.
Italy, meanwhile, has banned outdoor events and closed nightclubs but there are no restrictions on private gatherings.