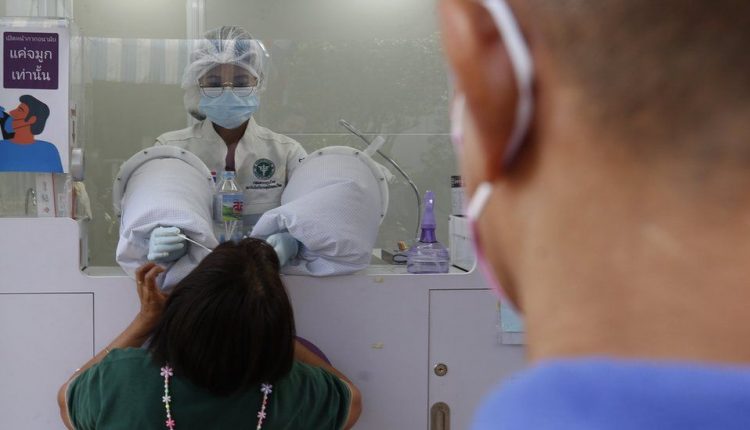 Covid: Omicron and Delta driving tsunami of cases – WHO
The combination of Delta and Omicron variants is driving a dangerous tsunami of Covid-19 cases, the World Health Organization (WHO) chief has said.
Tedros Adhanom Ghebreyesus' words came as the US and countries across Europe reported record new cases.
France reported Europe's highest ever daily figure for the second day in a row, at 208,000 cases.
And the US has reported a record average of 265,427 cases a day over the last week, according to Johns Hopkins.
Denmark, Portugal, the UK and Australia have all also reported record-breaking figures.
Poland reported 794 Covid-related deaths on Wednesday, the highest number in its fourth wave of the pandemic. More than three-quarters of the victims were unvaccinated.
EXPLAINER: Omicron up to 70% less likely to need hospital care
IN CHARTS: Tracking the pandemic
"This is and will continue to put immense pressure on exhausted health workers,
and health systems on the brink of collapse."
Studies suggest that Omicron – which has quickly become dominant in numerous countries – is milder than the Delta variant, but more contagious.
However, Dr Tedros warned the "twin threat" of the two variants was "leading to a tsunami of cases". At the moment, some 900,000 new cases are being reported around the world every day, Reuters news agency reports.
"This is and will continue to put immense pressure on exhausted health workers, and health systems on the brink of collapse," Dr Tedro added.
Rising cases in Europe and the US have prompted a push on booster doses of vaccines. In the UK, 57% of people over 12 have received all three jabs.
However, Dr Tedros told reporters richer countries' large-scale booster campaigns were "likely to prolong the pandemic", as they diverted supplies away from poorer, less vaccinated countries, thereby "giving the virus more opportunity to spread and mutate".
He went on to ask "everyone to make a New Year's resolution to get behind the campaign to vaccinate 70%" of the world by mid-2022. Almost 100 countries are yet to meet the original target of vaccinating 40% of their populations, the WHO says.
According to a report published by the body on Tuesday, the number of new Covid infections of all variants grew by 57% in Europe in the week before 26 December, and by 30% in the Americas.
Those numbers still seem to be climbing, with yet more records set on Wednesday:
France reported 208,000 cases, with another 53 people in intensive care and 184 deaths
The UK reported 183,037 new cases and 57 deaths
Italy's new daily case count rose from 78,313 on Tuesday, to 98,020 new cases on Wednesday
Denmark reported a record 23,228 new cases. Of those, some 1,205 had previously had Covid
Portugal reported 26,867 cases – up from 17,172 the day before
Australia reported 18,241 – far higher than Tuesday's record-breaking 11,300
Greece also reported a new 24-hour record of 28,828 cases
Officials have warned that some of the high figures may be due to delays in reporting because of Christmas.