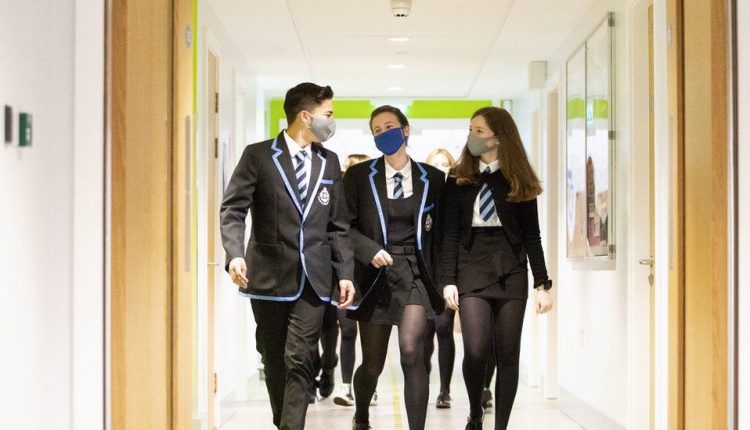 Covid: Evidence on face masks in schools 'inconclusive'
The government admits the evidence for using masks in schools to reduce spread of Covid is "not conclusive".
The uncertainty is acknowledged in a review used by ministers in England to make their decision to introduce face coverings in classrooms.
The government's own study in the autumn did not provide proof of a statistically significant impact.
The evidence review says other studies have provided mixed results, but taken together suggest they may help.
The review has only just been published following the announcement on Monday about the return of face coverings in classrooms.
It includes the results of a study in 123 schools in England which used masks and compared that to others that did not during the Delta wave of Covid. The UK is currently experiencing the spread of an even more infectious variant – Omicron – but there is not enough data yet on this one and masks.
"We support the Department for Education's decision to reintroduce the use of face masks in secondary schools temporarily whilst Covid rates remain high."
Schools where face coverings were used in October 2021 saw a reduction two to three weeks later in Covid absences from 5.3% to 3% – a drop of 2.3 percentage points.
In schools which did not use face coverings absences fell from 5.3% to 3.6% – a fall of 1.7 percentage points.
It said this was not statistically significant and the greater reduction in schools where masks were worn could be down to chance.
The review also acknowledges the use of face coverings could harm learning.
But a full analysis of the costs versus benefits of the policy has not been done.
This is despite 94% of school leaders and teachers saying it made communication between teachers and pupils more difficult.
Some 80% of pupils also said it made communication harder, but 70% said it made them feel safer.
The review said a "balanced judgement" had been made.
Ministers have maintained face coverings have a material impact, but will not be used for a "day longer than necessary".
Susan Hopkins, chief medical adviser to the UK Health Security Agency, said: "We support the Department for Education's decision to reintroduce the use of face masks in secondary schools temporarily whilst Covid rates remain high."