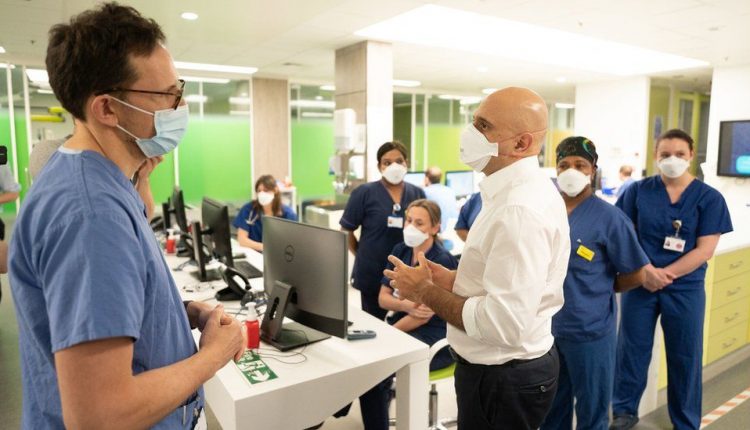 Covid: Hospital boss admits they may lose staff over compulsory vaccines
The boss of one of London's busiest hospitals has said he is worried about losing staff when new rules come in requiring them to vaccinated.
From April, front-line NHS staff in England will need to have the Covid jab – or will be moved to another role.
King's College Hospital chief executive Clive Kay said 10% of his staff of 14,000 were still unvaccinated, but he was encouraging take-up.
The government's Nadhim Zahawi defended the policy as "the right thing" to do.
From the start of April, under law NHS staff in England who have direct face-to-face contact with patients will need to have been vaccinated against Covid.
A similar policy has already been brought in for staff working in social care in England – with care homes warning it has worsened the staffing crisis.
Mandatory jabs: Three reasons for and against
Why compulsory vaccination is nothing new
How can I get my booster jab?
"Normally you go through this process of informed consent, where you weigh up as a doctor with the patient, the risks the benefits and that person's personal preference."
The issue of mandatory jabs also made headlines this weekend after a doctor challenged Health Secretary Sajid Javid about the plan, saying he was "not happy" that he faces being dismissed for not getting the jab.
The doctor, Steve James, an ICU consultant at King's College Hospital, argued that he believed he already had antibodies after catching Covid – and has since told the BBC he believes vaccination should be a matter of personal choice.
Mr Kay said staff were "not being forced" to have the jab, but instead "being encouraged".
But pressed on the rules, he added: "There's a possibility if they choose not to be vaccinated they could be redeployed. And if we can't find that opportunity to redeploy them then the consequence is that they will [not have a job]."
"We will not make individuals be vaccinated," Mr Kay told the BBC's Sophie Raworth on the Sunday Morning programme. "We must treat them with kindness, with compassion, we must give them every single opportunity to talk through if they don't want the vaccine… but ultimately it is their choice."
Asked on how many front-line staff he could lose under the law change, Mr Kay said: "I am confident that we are already seeing a number of staff choosing to be vaccinated. I don't want at this stage to predict or give any numbers."
But he said he was "of course" worried about staffing, adding: "My job is to worry about everything in relation to whether or not we have enough staff here to provide care for patients safely."
According to Mr Javid in November, more than 93% of NHS frontline staff had had their first dose and 90% were fully vaccinated. This is higher than the wider population, where 90% have had a first dose and 83% have had both.
Each of the four UK nations makes its own decisions on the issue.
Scotland and Wales have not made any proposals to make Covid jabs compulsory for NHS workers or care home staff, while in Northern Ireland there is to be a public consultation.
Speaking to the BBC's Sophie Raworth on Sunday morning, Education Secretary Nadhim Zahawi defended mandatory vaccines for NHS staff in England, saying: "We have a duty of care when looking after the most vulnerable to protect ourselves and to protect them."
Dr James told the BBC's Broadcasting House programme on Sunday: "My view is that we should not mandate vaccination."
"Normally you go through this process of informed consent, where you weigh up as a doctor with the patient, the risks the benefits and that person's personal preference."