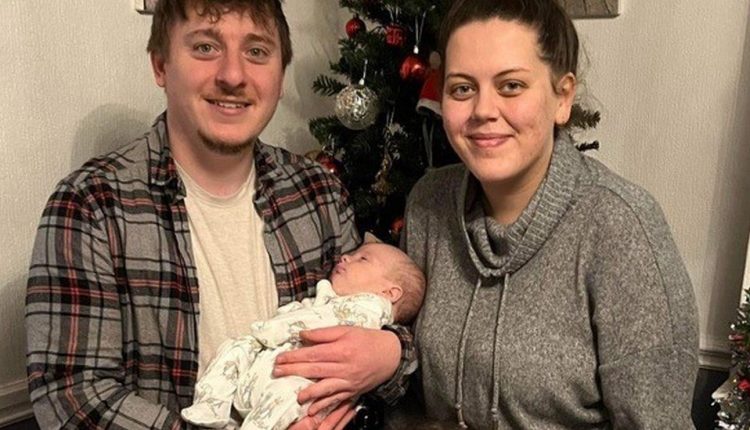 RSV: Parents should be alert to symptoms of common winter virus
A charity is warning parents to be alert to a common winter virus that can cause breathing problems in very young children.
The British Lung Foundation says respiratory syncytial virus (RSV) could rebound in January after few cases last winter – but numbers are currently low.
As with Covid, most children have mild symptoms but a small number need hospital treatment.
Many more coughs and viruses are circulating this winter than last.
In a normal year, RSV is responsible for 20,000 hospital admissions in the under-ones – but most parents had not heard of it, the charity said.
During the pandemic, with lockdowns and little mixing, RSV virtually disappeared.
But it returned last summer, out of season, and contributed to emergency departments becoming overwhelmed with children, before another rise in cases in the autumn.
And during the past three months, more than 1,000 children have been admitted to hospital with RSV in England.
Dr Michelle Jacobs, consultant in paediatric emergency medicine, at Watford General Hospital, said RSV "rears its ugly head every winter".
The numbers of children affected in the last week of December "had gone right down" and were "a lot lower than feared", she said.
But it could start to affect more children once they had been mixing at school for a couple of weeks.
Dr Andy Whittamore, a GP and clinical lead at the British Lung Foundation, said doctors "are seeing a lot of children with coughs and viruses that weren't circulating last year".
With their immunity lowered, he predicts a surge in RSV.
But not everyone agrees this is inevitable.
RSV starts with a blocked or runny nose and can progress to a dry cough, fever and sometimes breathing problems
For most children, it will be mild and can be treated at home with infant paracetamol or ibuprofen
Call your GP or seek medical advice if your child is not feeding normally, is breathing fast or has a high temperature that will not go down
Call 999 if your child is exhausted from trying to breathe – you may see the muscles under their ribs sucking in with each breath or they may be pale and sweaty
When parents see symptoms, they often do not know if their child has a cold, Covid, asthma or something else.
Dr Damian Roland, honorary professor of paediatric emergency medicine, at Leicester University, said: "It doesn't matter what the disease is.
"If your child has a fever but is still eating and seems well, then you don't need to be concerned."
The difference in these photos is unbelievable😍 we have a healthy little boy again! RSV is so dangerous for little ones, please be mindful this winter! #RSV #WINTER pic.twitter.com/M8V9PReVXX

— Chloe-Ann Ford (@chloeannford2) December 4, 2021
The BBC is not responsible for the content of external sites.View original tweet on Twitter
Chloe-Ann Ford, 23, from the Isle of Wight, tested positive for Covid in November and thought her baby son Teddy was also infected when he became unwell – but it turned out to be bronchiolitis caused by RSV.
"One minute he seemed alert and then he brought up his feed and started breathing quickly, as if he was holding his breath," she says.
"Then he went blue around his mouth and nose," she says.
Her partner called an ambulance and Teddy – who was less than a month old – spent five nights in hospital being given oxygen and fed through a tube.
"It was horrible, awful," Ms Ford says.
"We didn't leave the house for two weeks afterwards while he recovered."
Doctors suggested Teddy's five-year-old sister might have picked up RSV at school and passed it on.