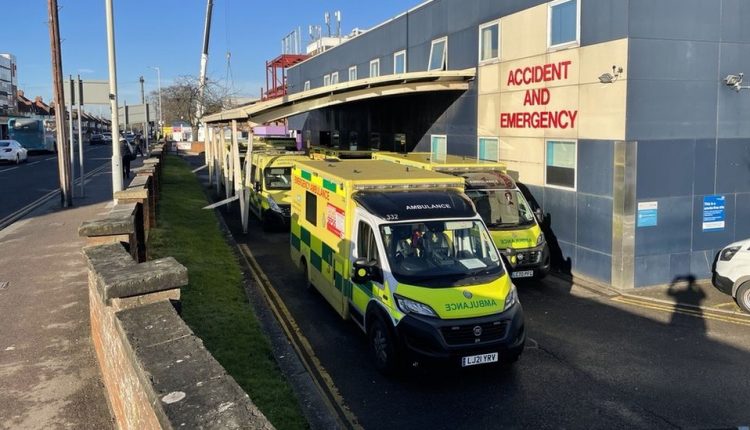 Covid: Hospital staff come in on days off to cover absences
Hospitals are under immense pressure due to the Omicron variant of Covid-19, bringing emergency admissions and higher staff absences, alongside the usual issues the NHS faces during winter. How is the Luton & Dunstable University Hospital coping with colleagues off and patients coming in?
"I've got a thing about hospitals; some people have claustrophobia or fear of flying, mine is hospitals."
'It's brighter today, next week could be different'
David Kirby, a consultant in emergency medicine at the hospital, says "emergency medicine is always busy".
"I think we are able to cope with our attendances right now and we are seeing patients at probably the same levels as before the pandemic," he says.
The emergency department will see about 250 to 300 patients a day, with about 350 at its busiest.
Mr Kirby is also deputy medical director of Bedfordshire Hospitals NHS Foundation Trust, which runs Bedford Hospital as well as the Luton & Dunstable.
He says admission to A&E have increased since New Year.
"About 30-40% [of patients] are Covid-related but we are seeing patients with all manner of things," he says.
"The patients we are seeing with Covid-related illness, some of them are very sick indeed and we are still having to put patients on the critical care unit because they are that unwell."
He says the sickness levels across NHS staff have "been compounded by the sheer transmissibility of Omicron".
Although he says the hospital is coping with the number of patients, it is always planning for more.
"What we have learnt about this pandemic is a lot of it is unpredictable in terms of demand on the NHS," he says.
"Whilst at the moment we are starting to see maybe a reduction in the number of patients attending, we are aware the schools went back a little over a week ago and we tend to see peaks two to three weeks after that.
"Whilst it's a little bit brighter today, next week could be whole different story."

'Absences put real pressure on services'
Cathy Jones, the trust's chief operating officer, says both hospitals are "really busy but we're coping".
"We've got just under 200 patients in with Covid across the two hospital sites… this time last year we had 350," she says.
The vaccine rollout has put the hospital and patients "in a better position" and those admitted last year with Covid were "staying longer and coming to us sicker", she says.
Hospitals stop visits due to rise in Covid-19
Luton Airport delays plans for second terminal
Why Luton is self-imposing tier 2 Covid rules
"January is always an unpredictable month in acute hospitals so we are making sure we can cope with daily fluctuations in demand so we can manage a busy day if we have to," says Ms Jones.
"We're trying to balance the demand between our urgent and emergency care service and our planned and routine care; it's really important we keep routine care going as much as we possibly can."
She says there is "quite high number of staff away from work" with 650 off across the two sites, which equates to just under 7% of staff.
More then half are off with Covid.
"It's put real pressure on our clinical services but our staff are doing an amazing job of covering each other and we've had a lot of staff coming in to support on their days off," she adds.

'Staff deserve a pay rise'
Jennifer Aylward came into the Accident and Emergency department at 08:00 GMT with some swelling in her face which she says "looked awful".
She says: "I had a problem that I knew wasn't going to go away and knew what it was like to get through to the doctor these days."
The 81-year-old says she is now not feeling "too bad" and the service at the hospital has been "very good".
She is not worried about coming into hospital because of Covid, but says: "I've got a thing about hospitals; some people have claustrophobia or fear of flying, mine is hospitals."
Ms Aylward says she wants to say "thank you" to the staff and they "deserve a pay rise and better conditions".