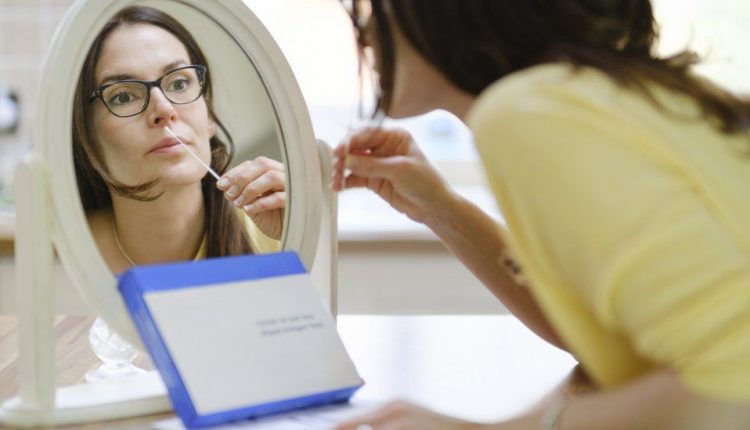 Covid: Self-isolation cut to five full days in England
The minimum self-isolation period for people testing positive for Covid-19 in England has been cut to five full days.
The quarantine period has been reduced after a review of the medical evidence, to help ease staff shortages across the economy.
But people will need to produce negative lateral flow tests on days five and six of their isolation.
Meanwhile, 16 and 17-year-olds are now able to book a booster jab or attend a walk-in vaccination centre in England.
Invitations will initially be sent to the 40,000 teens who had a second vaccine dose at least three months ago. Eventually more than 600,000 people aged 16 and 17 who have had two doses will be eligible for the booster.
And about 500 clinically vulnerable 12 to 15-years-olds who are most at risk from coronavirus will also be able to get a booster.
Is the pandemic entering its endgame?
When should I take a Covid test now?
How long do I need to self-isolate for?
Call to cut Covid isolation to five days in Wales
On Sunday, 70,924 positive Covid cases were reported across the UK, the lowest daily figure since 14 December. A further 88 deaths within 28 days of a positive test were also recorded.
The isolation period in England was last month cut from 10 to seven days – subject to negative tests on days six and seven last month.
Under isolation rules, the day symptoms begin or people test positive is day zero. The next day is day one of the isolation period.
People in England can now take a lateral flow test on day five. If it is negative, they can take another test 24 hours later on day six. Assuming this is also negative – and they do not have a temperature – they can immediately leave isolation.
Health Secretary Sajid Javid said reducing isolation to five days would "restore extra freedoms and reduce the pressure on essential public services over the winter".
He stressed the lateral flow tests on day five and six were a "crucial" part of the "balanced and proportionate" plans.
People who still test positive on these days must stay in isolation until they have had two negative tests taken on consecutive days, or after 10 days.
The rules apply whether someone is vaccinated or not.
UK Health Security Agency (UKHSA) data showed two-thirds of positive cases were no longer infectious by day five, the health secretary said previously.
Those who leave self-isolation on or after day six following negative tests – and do not have a temperature – are strongly advised to wear face coverings, limit close contact with other people in crowded or poorly ventilated spaces, and work from home if they can do so.
In Scotland, Wales and Northern Ireland people must still self-isolate for at least seven days as soon as symptoms develop, or – if they have no symptoms – when they test positive.
The government is continuing to urge people to get vaccinated as soon as they are eligible as the best defence against the virus.
It added it would also be considering the guidance on isolation for close contacts of people with Covid, including that for fully vaccinated contacts to take daily rapid lateral flow tests for seven days.
According to the Department of Health and Social Care, under the previous testing rules, about 6% of people leaving self-isolation on day seven following two consecutive negative rapid lateral flow tests would be infectious.
It said modelling from the UKHSA suggested this figure would rise to about 7% for people leaving isolation on day six under the new system.