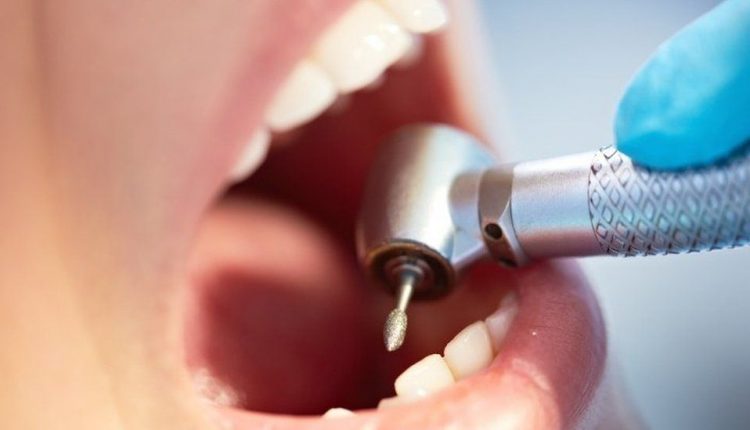 Patients 'wait two years' for check-ups as dentists drop NHS work
NHS dentistry is "hanging by a thread" with some patients facing two-year waits for check-ups, the British Dental Association has said.
Department of Health data analysed by the BBC shows almost 1,000 dentists working in 2,500 roles across England and Wales left the NHS last year.
One woman told how she had been in pain for more than a year while waiting to have root canal surgery.
NHS England said patients who most needed care should be prioritised.
"While the pandemic has paused some of this work, we will continue to support practices during the recovery period as focus is placed on increasing access to those most at risk."
Pamela Carr, 58, from Carlisle, has been looking for an NHS dentist to fix her root canal since November 2020.
"I've become used to the pain," she said.
"I can't afford the private care, and I've tried every practice within 30 miles. I phoned NHS England too.
"They said there's nothing they can do because there are no NHS dentists. That was the end of the conversation."
Clinical Commissioning Group North Cumbria, which covers the area, lost 4% of its dentists in the last year.
The worst-affected area was NHS Portsmouth CCG, which lost 26% of its NHS dentists over 12 months.
At least 10% of NHS dentists were lost in 28 other English CCGs.
One group of dental practices in Barnsley has failed to attract a single applicant for a number of full-time and part-time NHS dental posts vacant for almost four years.
TSJ Smile clinical director Sarfraz Khan runs six practices in Barnsley. He told BBC Look North that rural-based groups found it harder to recruit, and have to offer higher wages to compete with city practices.
"The work load in a city is less, but you get paid the same amount," said Mr Khan.
"You might get a young man who needs four fillings and an extraction. You get a band 2 payment for that. In the city for doing one filling, you get a band 2 payment for that. Which one would you choose? Less work, same pay.
"That's one of the issues we've got with the dental contract. For one role I've been advertising for nearly four years, with no one interested, yet I'm paying over the odds.
"If I can't get associates to come in to work, the waiting times are getting longer. Patients are waiting at least four to six weeks, some of whom are in a lot of pain."
What's behind the shortage?
The British Dental Association (BDA) and the charity Healthwatch have called for reform of the NHS dental contract.
Until last year, NHS dentists in England and Wales had been using the units of dental activity (UDA) system.
UDAs are used to measure a practice's activity. Courses of treatment – for example, a check-up or a filling, are banded into UDAs.
Practices are set targets of UDAs to achieve, and if that target is missed, the contract holder and the practice can be forced to pay back money.
Critics have claimed the UDA system does not incentivise preventative work and is a key reason for dentists leaving the health service.
Wales moved away from the UDA system in 2021, but it is still in place in England.
What does the British Dental Association say?
The BDA's General Dental Practice Committee chairman Shawn Charlwood wants UDAs scrapped in England.
"NHS dentistry is hanging by a thread," he said.
"Every dentist that is lost or every vacancy for NHS dentists affects thousands of patients.
"Ministers have failed to grasp that we can't have NHS dentistry without NHS dentists."
Concern has also been raised about the usefulness of NHS England's Find a Dentist tool, which was created to help patients find an NHS dentist in their area.
BBC analysis shows about 75% of practices in England had not updated the site to show whether they were accepting NHS patients or not within the last three months.
'Being in pain not an emergency'
Matthew Drake, 30, from Deal in Kent, used the tool to call dozens of dentists last summer when his gums became infected.
He eventually got through to an emergency out of hours practice, but was told he did not qualify for treatment.
"It felt like I was getting passed around without getting anywhere," said Mr Drake.
"Being in pain wasn't enough of an emergency."
Mr Drake used all his savings to pay for private treatment but is now having problems with his wisdom teeth.
Latest figures show NHS Kent and Medway CCG lost 7% of its dentists in the last year.
"I'm angry. I pay a lot of National Insurance and I can't get the treatment I need on the NHS.
"It feels like I'm in no man's land. I'm not quite poor enough to qualify for help, but I'm not rich enough to pay for private care."
Interim director of Healthwatch Chris McCann said the problems were increasing pressure on the NHS.
"Information on practices can be out-dated," he said.
"We've seen some people having to contact up to 20 practices before finding someone to take them.
"The main impact will be the increase in waits for treatment. We've heard examples of people being told to wait up to two years for routine check-ups, and up to six weeks for emergency care.
"These lengthy waits can lead to more serious problems and increased pressure on the NHS. We've even seen people performing DIY extractions.
"There are children as young as five who are in pain and unable to access treatment."
An NHS England spokesman said it had taken "unprecedented action" to support NHS dentists throughout the pandemic including additional funding for practices unable to deliver their usual levels of activity, as well as setting up 600 urgent dental centres across England.
"People should continue to come forward for the dental care they need, and the care and treatment of people who need it most should be prioritised," he added.
In Wales, some 6% of NHS dental posts were lost, with 83 fewer dentists working across health boards than the year before.
The worst-affected area was the Swansea Bay University Health Board, which had 22% fewer NHS dentists compared with the year before.
A Welsh Government spokeswoman said it would meet the needs of patients through preventative care and increased access, supported by contract reform.
She added: "While the pandemic has paused some of this work, we will continue to support practices during the recovery period as focus is placed on increasing access to those most at risk."
The number of NHS and HSCNI dentists in Scotland and Northern Ireland has remained steady over the last three years.